HOME DIGITAL MEDIA ARTICLES

Manifest Technology Blog -- Site: | Articles | Galleries | Resources | DVI Tech | About | Site Map |
Articles: | PC Video | Web Media | DVD & CD | Portable Media | Digital Imaging | Wireless Media | Home Media | Tech & Society |
Home Media: | Home Media Articles | Home Networked Media Gallery |

---
Digital Holiday Trends 2007:
Portable Media Players -- Video & Connectivity (11/2007)
by Douglas Dixon
Apple iPod -- shuffle, nano, classic, touch
Creative ZEN Line
Samsung -- Bluetooth, Touchscreen, AAC
SanDisk Sansa -- Wi-Fi
Microsoft Zune -- Wi-Fi
ARCHOS gen 5 -- Widescreen, Wi-Fi

Find related Players articles in the Manifest Tech Blog

See my Portable Media Players Gallery
for more on these trends and related products.
---
It's holiday shopping season again, and time to explore the trends and new possibilities in portable electronics and associated accessories -- media players, mobile phones, and portable navigation systems. And this is also the season of high definition -- digital cameras, widescreen TVs, and high-definition camcorders.
So let's look at the trends in these areas, and some sample products that illustrate them. Just be warned that prices continue to change drastically, especially in the holiday season, so the numbers listed here are a snapshot as of early winter.
For "How-to" guides and tips on connecting digital devices, also see the Digital Tips site from the Consumer Electronics Association, covering digital televisions (HDTV), home audio, MP3 players, plus digital cameras and camcorders and accessories (www.DigitalTips.org).
---
What was originally known as the "MP3 player" market has expanded into what are now called "portable media players" -- as basic MP3 music playback has expanded to include photos and then videos. Even small players with flash memory now have color displays and multi-gigabyte capacities to show least short-form videos.
Media players also are starting to add wireless connectivity. Even smaller flash players can use Bluetooth to interconnect with mobile phones and wireless headsets and speakers. And larger players are adding Wi-Fi to bring Internet radio, streaming video, and even Web browsing to larger displays.
Each generation of devices continues to improve -- smaller and lighter, cheaper (or with more capabilities at a similar price), and with more stylish designs and customizable looks. But the market really continues to be driven by the ever-falling price of storage, as capacities double and then re-double at the same price points. It's now feasible to think about 8 to 16 GB of solid-state storage in a tiny player -- enough for a serious collection of some 2000 songs in 8 GB, and even some longer videos.
This portable media player market continues to be defined by the Apple iPod line -- which dominates in sales and, of course, style, coolness, and inducing lust (www.apple.com/ipod).
The iPods are part of the beautifully integrated Apple ecosystem, with the Apple iTunes software for Mac and PC to manage your media collection, the Apple iTunes Music (and video) Store to buy new clips, and Apple's proprietary Digital Rights Management technology to lock down your purchases. Other players from companies including Microsoft, SanDisk, Creative, Samsung, and Sony use the competing Microsoft Windows Media infrastructure, with a broad choice of players and on-line stores, including purchased individual downloads and subscription access to entire music collections.
---
Apple iPod -- shuffle, nano, classic, touch
The iPod line received its annual make-over in September 2007, continuing the emphasis on a simple product line, with one product that defines each major price / functionality point in the market, and limited options for capacities or colors.
The simplest design for a music player starts with a USB thumb drive that's full of music, and adds a headphone jack so you can listen, some controls to choose what to play, and some kind of display to explore the collection.
The Apple iPod shuffle (yes, Apple's product names are lowercase) is a minimalist music player designed to go anywhere (www.apple.com/ipodshuffle). Last year's re-design changed from a stick of gum look to more of a matchbox, to hide unobtrusively in a pocket, or on your belt with the built-in clip. The shuffle is tiny at 1.62 x 1.07 x 0.41 inches and 0.55 ounce. It's is now available in five colors, with 1 GB of storage, for $79. The battery is rated at 12 hours of playback before recharging.

Find the Apple iPod shuffle on Amazon.com
The shuffle has a control pad, but still no display. While you can step though your tracks searching for a specific song you want to listen to, the idea is that you should want to "shuffle" your music and enjoy the spontaneity of random playback.
This was a reasonable idea for the original 512 MB player which held only some 120 songs, or even with the current 1 GB capacity and 240 songs, but it breaks down as capacities grow into multiple gigabytes, and you really want to be able to choose the type of music to listen to at any given time.
Other basic MP3 players extend the iPod shuffle with at least a simple display to help you browse albums and songs, and add features like voice recording, FM radio reception and recording, plus memory card expansion slots and removable batteries -- at similar or even lower prices (Apple does not believe these additional functions are useful, so you can't have them in the iPod line).
The steady growth in capacity of flash memory has driven the need for better displays to explore your collections, and the availability of small but full-color displays has allowed MP3 players to expand to other media -- adding music album art, photo slideshows, and now motion video.
The Apple iPod nano stepped up in this way to its third generation in September, with a chubbier look for a wider display to support video playback (www.apple.com/ipodnano). The new 2 inch LCD display with backlight has the same 320 x 240 resolution as the video iPod, and it picks up the Cover Flow user interface from the iPhone to scroll through your music collection by album cover artwork.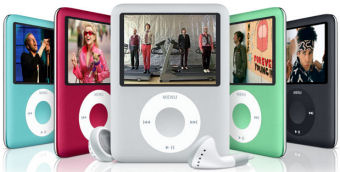 Find the Apple iPod nano on Amazon.com
The nano is encased in a sleek all-metal design, with an anodized aluminum front and polished stainless steel back. The battery is rated to provide up to 24 hours of music or 5 hours of video playback. It's amazingly thin and light at 2.75 x 2.06 x 0.26 inches, and 1.74 ounces. The 4 GB nano is $149 in silver, and the 8 GB is $199 in five colors. (That's some 2000 songs in the 8 GB player.)
Other competing flash-based media players offer additional features, larger displays (2.5 inch), and capacities up to 16 GB. But that's the current end of the line for cost-effective flash memory. More storage requires a jump up to mini hard disks (HD), offering multiple 10's and even over 100 GB of storage at competitive prices.
The Apple iPod classic (the former "video iPod") was bulked up in September to 80 and 160 GB (at the same prices as the previous 30 and 60 GB). This is the only iPod with hard disk storage -- but it can fit some 40,000 songs or 200 hours of video in the 160 GB (www.apple.com/ipodclassic).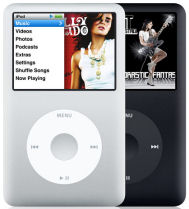 Find the Apple iPod classic on Amazon.com
The classic has a larger 2.5 inch display, plus an all-metal enclosure and enhanced user interface like the new nano. The battery is rated to provide up to 30 / 40 hours of music or 5 / 7 hours of video playback (80 / 160 GB units).
It measures 4.1 x 2.4 x 0.41 / 0.53 inches, and weighs 4.9 / 5.7 ounces (80 / 160 GB). It's priced at 80 GB for $249, and 160 GB for $349, in silver and black.
That's the current price / size trade-off for flash memory vs. hard disk -- The 8 GB nano at 1.74 ounces is $200, and the 80 GB classic for $249 has 10X the storage and almost 3X heavier.
Other competing hard disk players add larger screens, more storage, speakers, and audio/video connectors, as described below.
Just as mobile phones and PDAs are adding media player features, media players are adding wireless networking and connectivity, also as described further below.
The Apple iPhone breaks storage limits by merging the full iPod sync and playback experience with a mobile phone, plus Wi-Fi wireless networking for fast downloading. The iPhone has a whole bunch of fun features for Phone, PDA, and Web use, which we'll ignore here. But as a media player, it has an impressive 3.5 inch widescreen touch display, at 480x320 resolution, with battery life rated at up to 24 hours for audio and up to 7 hours for video.
The iPhone front is filled with the display, at 4.5 x 2.4 x 0.46 inches, and 4.8 ounces. Of course, the iPhone is a tad pricy as a wireless media player, at 8 GB for $399.
The new Apple iPod touch is a media player that's actually a hybrid in the other direction -- it's basically the iPhone display and interface extracted as a media player, with the touch screen, plus Wi-Fi wireless networking, and minus the phone and related features (www.apple.com/ipodtouch).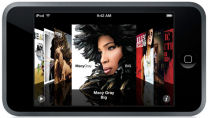 Find the Apple iPod Touch on Amazon.com
Battery life is rated at up to 22 hours for music, 5 hours for video. The design shrinks a little from the iPhone, at 4.3 x 2.4 x 0.31 inches, 4.2 ounces. And the price drops to 8 GB for $299, and 16 GB for $399.
---
Apple's iPod product line is focused and sparse: three basic player products, no display on the shuffle, a handful of color choices, a limited selection of memory capacities, no removable batteries, no memory card expansion, no support for features such as FM radio reception or voice recording, and no model for sharing with a group. The competing players add many of these features, and offer lower prices (which are more likely to be further discounted), but with arguably less elegant and lust-worthy designs.
In addition, while the iPods obviously are tightly integrated with Apple's iTunes player and iTunes Music (and video) store, the other players tend to support MP3, WAV, and WMV (Windows Media Video) format (and Audible audio books), which means they work with a wide variety of applications, and can be used to purchase music (and subscribe) from a variety of online stores.
If you like choice, then the Creative product line will make you really happy -- with some 20 models of portable media players, each in a variety of capacities and colors (www.creative.com).
These range from the simple ZEN Stone (like the iPod shuffle), to the MuVo and ZEN Nano MP3 players with simple displays, to ZEN Neeon [sic] with color displays for photos, to the ZEN and ZEN V with video (like the iPod nano), to the disk-based ZEN Vision (like the iPod classic).
The Creative ZEN Stone is a tiny music player designed to fit like a pebble in your pocket. It measures 2.1 x 1.4 x 0.5 inches and 0.65 ounce, and has no display like the iPod shuffle. But it's only $39 for 1 GB of storage.

Find the Creative ZEN Stone on Amazon.com
The Creative ZEN Stone Plus adds a tiny blue OLED display, at 64 x 64 resolution. It measures 2.2 x 1.4 x 0.5 inches, and 0.74 ounces. And it's available with 2 GB for $69.
For example, the Creative ZEN (with no suffix) is a video player with up to 16 GB of flash memory. Beyond playback, it has FM radio, voice recording, and an expansion SD card slot. Plus it can sync organizer data with Microsoft Outlook.
Find the Creative Zen on Amazon.com
The ZEN front is sized like a credit card with a 2.5 inch screen, at 3.3 x 2.2 x 0.44 inches, and 2.3 ounces. It's available with 4 GB for $149, 8 GB for $199, and 16 GB for $299. Besides the usual audio and video formats, the ZEN also plays AAC4 (.m4A) audio (as used on the iPod), and MJPEG and DivX video. The battery is rated for up to 25 hours of audio playtime, and 5 hours of video.
(For comparison, the iPod nano is the same resolution, but has a smaller 2 inch screen, and is noticeably smaller and lighter at 2.75 x 2.06 x 0.26 inches and 1.74 ounces -- available with 4 and 8 GBs at the same price )
---
Samsung -- Bluetooth, Touch screen, AAC
But these products seem to be more of the same -- new form factors, nice video displays, but mostly the same features in stylish new packages. What's the next step?
Samsung is pointing the way with a focused line of highly differentiated media players, with slim and sylish players that show a different design approach, including clean and slim designs, more sophisticated interfaces (with animation and drop shadows), and interesting colors. The new players also feature Bluetooth connectivity and support for firmware updates to add significant new functionality (www.samsung.com).
The Samsung YP-T10 is a slim player with full features:. It has a 2 inch display, 240 x 320, and supports Bluetooth 2.0 support to connect to two wireless stereo headsets. The device is 3.8 x 1.6 x 0.3 inches thin, and 1.5 ounces. It's available with 4 GB for $149, in black, white, and purple.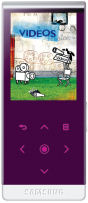 Find the Samsung T10 on Amazon.com
The new Samsung YP-P2 (part of an unfortunate set of unmemorable names -- P2, T10, S5, U3, K3) starts with a widescreen display at 480 x 272 resolution -- video plays at full width with the player flipped sideways (product.samsung.com/p2). Plus the display is touch screen, controlled with taps and finger gestures, so the clean design has minimal controls.
Find the Samsung P2 on Amazon.com
The P2 is 3.9 x 2.1 x 0.4 inches, and 3.0 ounces. It's available with 4 GB for $199, and 8 GB for $279, in black, white, and burgundy.
The major new addition by Samsung in the P2 and other media players is Bluetooth connectivity, to play wirelessly to stereo headsets, and to portable speakers so you can share the fun. If your wireless headset supports pairing with multiple devices, you then can be listening to music and switch the headset to answer incoming calls -- while both devices remain put away in your briefcase.
And, with a firmware upgrade due in December, the Samsung media players will support directly paring with mobile phones to answer calls -- so you can use them to control the phone connection and your music listening, without having to switch between two devices.
Samsung is promising an aggressive upgrade schedule, adding Bluetooth file transfer and support for AAC audio in December, games and more functionality in January, and more user-derived features in March.
The AAC audio support is another new trend (also in the Creative ZEN and Microsoft Zune), that opens up the possibility of sharing music between the Apple/iTunes and the non-iPod universes. You can use the MP3 format for this, but AAC promises better compression -- the same quality at half the size.
The Samsung YP-S5 adds another interesting option: integrated 1.5 watt stereo speakers that slide out and tilt for playback. It even can be used directly as a speaker phone when paired with a Bluetooth-enabled mobile phone.
---
SanDisk has successfully expanded from its core in solid-state memory to become the number two player in the flash-based player market, leading the group following after Apple's iPods (www.sandisk.com). Part of its success is a continued emphasis on fun and design as well as technology functionality, as it also moves into connected devices.
The tiny SanDisk Sansa Clip music player is a clip-on design with a multi-line display plus FM radio and voice recording. It's available with 1 GB for only $39, and 2 GB for $59 in flashy colors.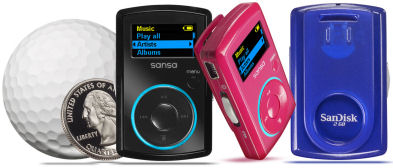 Find the SanDisk Sansa Clip on Amazon.com
The SanDisk Sansa Express stick music player has a four-line 1.1 inch OLED screen, and sports a built-in USB connector at the other end. The microSD expansion slot can provide 2 GB of additional storage. It's 0.99 x 3.09 x 0.64 inches, and is available with 1 GB for $59 and 2 GB for $79.
Find the SanDisk Sansa Express on Amazon.com
But the SanDisk Sansa Shaker is quite different -- a fun and inexpensive music player, designed for kids, with a round hourglass design, built-in speaker, two headphone jacks for sharing music -- and runs on removable AA batteries.
Find the SanDisk Sansa Shaker on Amazon.com
You even can shake it to skip randomly to a new song. However, it does not have a display, or any internal memory -- instead store and swap up to 2 GB of music on SD cards.
The Shaker is around 2 3/4 inches high and 1 1/2 inch in diameter. It comes with 1 GB for $59, and 2 GB for $79.
The SanDisk Sansa Connect is the company's first step into connected media players. It is a music and photo (but not video) player, with 2.2 inch screen plus an internal speaker, on a 2.05 x 3.58 x 0.63 inch unit, with 4 GB for $129, plus has a microSD expansion slot to add more storage.
Find the SanDisk Sansa Connect on Amazon.com
Plus the Connect adds Wi-Fi networking support, focused on managing and exchanging entertainment content, from listening to Internet radio, to subscribing to the Yahoo! Music Unlimited To Go library, plus community features for recommending music and photos with a Yahoo! ID.
It worked great in public hotspots in New York hotels, but unfortunately not in Bryant Park (It saw the signal, but could not connect, apparently because the service requires acknowledging a terms of service screen). In fact, the Connect makes a handy Wi-Fi meter, listing the available networks, signal strength, and whether they are open or locked.
For larger-screen video playback, the SanDisk Sansa View flash video player has a similar design to the Sansa e200 series, but with a larger 2.4 inch screen at 320x240 resolution. It has the FM radio, voice recording, and a MicroSD/SDHC expansion slot for up to 8 GB of additional storage.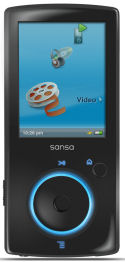 Find the SanDisk Sansa View on Amazon.com
The View supports WMV, MPEG-4, and H.264 video playback. The battery is rated for 35 hours of audio playback, and 7 hours of video. It measures 4.29 x 1.95 x 0.35 inches and weighs 2.9 ounces. It's available with 8 GB for $149, and 16 GB for $199.
---
Wi-Fi networking is also a centerpiece of the Microsoft Zune line of portable media players, but in a rather constrained way (www.zune.net).
Find the Microsoft Zune 80 GB on Amazon.com
New Zune family: Zune 8/4 flash, Zune 30, Zune 80 HD
The original 30GB Zune could only use Wi-Fi to share media between Zunes. Even worse, any shared audio clip expired after 3 plays over 3 days (even if not copy protected). Microsoft also chose not to support its own Windows Media DRM (Plays For Sure) format for purchased music, which it had evangelized for years for all the non-iPod players and content providers.
The new Zune models, which arrived in mid-November, come with upgraded Wi-Fi sharing, including the ability to listen to received songs up to 3 times with no time restrictions, and to pass along shared songs to other Zunes. The Zune also now can use Wi-Fi to sync with content on a PC over a home wireless network.
The November models add a Zune 80 GB hard drive model for $249, with a 3.2 inch display, 320 x 240, at 61.1 x 108.2 x 12.9 mm, 4.5 ounces. The original Zune 30 GB model is $149.
And there are now two Zune 4 / 8 models with flash memory -- 4 GB for $149, and 8 GB for $199. These have a 1.8 inch display, and are 41.4 x 91.5 x 8.5 mm, 1.7 ounces.
---
But Wi-Fi networking does not have to be so limited. With enough screen resolution, a media player can become a full-fledged Internet browser, offering online media playback and downloading.
The ARCHOS line of media players is focused on this kind of more flexible Internet usage, also with bigger screens and built-in speakers to allow a shared viewing experience (www.archos.com). The ARCHOS "generation 5" line includes both flash and hard drive players with a similar design approach. These are great to use as a traveling portfolio -- to show slideshows and videos to prospective clients and customers.
These products share the same basic form factor, with the silver case, large screen, integrated speakers, and rectangular rocker controls down the right side. And they support video and TV capture with a common DVR Station docking station accessory, including scheduled TV recording. They differ in the device size, capacity, and key features like built-in Wi-Fi and camera.
The ARCHOS 105 is a simpler media player for music and photos, with a 1.8 inch 160x128 OLED display. It measures 1.8 x 3.3 x 0.3 inches, 1.8 ounce. It's available with 2 GB for $89
The ARCHOS 405 is a flash media player with 3.5 inch, 320 x 240 display, plus SD card slot. It measures 3.9 x 3.1 x 0.5 inches, and 4.2 ounces. It's available with 2 GB for $169.
Find the ARCHOS 405 on Amazon.com
The Wi-Fi players then wireless file sharing and general Web browsing on the 800x480 widescreen display. And they can play embedded videos in Adobe Flash format.
The ARCHOS 605 WiFi steps up to a 4.3 inch, 800x480 widescreen and touchscreen display. It's available in a Flash version with 4 GB and SD card slot for $199, or with hard disk storage -- 30 GB for $299, 80 GB for $349, 160 GB for $399. The smaller players are 4.8 x 3.2 x 0.6 inches, and 4.2 (flash) or 6.7 (disk) ounces. The larger players are 4.8 x 3.2 x 0.75 inches, 9.2 / 9.8 ounces.
The top of the line is the new ARCHOS 705 WiFi, with a huge 7 inch, 800x480 widescreen -- and touch screen -- display. It's available with 80 GB for $399, and 160 for $499.
Find the ARCHOS **605** WiFi on Amazon.com
The Wi-Fi players then wireless file sharing and general Web browsing on the 800x480 widescreen display. And they can play embedded videos in Adobe Flash format.
The ARCHOS players provide real Internet access -- You can connect the device to your home network to transfer files or play content directly from your home devices, or reach out over the Internet to surf the Web with the included browser (although Flash and Java are not supported), and send and receive e-mail from Web-based mail applications.
---
Portions originally published in Camcorder & Computer Video magazine, 23, 6, December 2007.