HOME DIGITAL MEDIA ARTICLES

Manifest Technology Blog -- Site: | Articles | Galleries | Resources | DVI Tech | About | Site Map |
Articles: | PC Video | Web Media | DVD & CD | Portable Media | Digital Imaging | Wireless Media | Home Media | Tech & Society |
Home Media: | Home Media Articles | Home Networked Media Gallery |

---
Digital Holiday Trends 2007:
Digital Cameras & Accessories - Beyond Megapixels (12/2007)
by Douglas Dixon
HD Cameras
Accessories: Tripods
Digital Photo Frames
Eye-Fi SD Card

Find related Digital Camera / Photography articles in the Manifest Tech Blog

See my Digital Camera Gallery
for more on these trends and related products.
---
This looks to be another tough holiday season for retailers, with sales trending lower through the fall, stressed by rising fuel prices, falling property values, and recalls of tainted toys. Retailers like Wal-Mart held early "secret" sales on specific items, recalling the brutal competition last year, especially with price-cutting of digital televisions. This is good news in the short term for consumers, though, with continued dropping prices and more pre-holiday sales. Plus online shopping continues to give consumers more power to compare prices and find good deals.
Hot gift ideas this year start with portable devices -- media players, mobile phones, and portable navigation systems. But this is also the season of high definition -- digital cameras sport multi-megapixels, flat-panel widescreen televisions are finally dropping to a price point where you're ready to buy, and you can step up to shooting your own home videos in high-definition. But with these new opportunities come a sometimes bewildering variety of choices and associated technologies that require some serious thinking before you can make the best decisions for your needs.
So let's look at the trends in these areas, and some sample products that illustrate them. Just be warned that prices continue to change drastically, especially in the holiday season, so the numbers listed here are a snapshot as of early winter.
For "How-to" guides and tips on connecting digital devices, also see the Digital Tips site from the Consumer Electronics Association, covering digital televisions (HDTV), home audio, MP3 players, plus digital cameras and camcorders and accessories (www.DigitalTips.org).
---
Digital Cameras and Accessories - Beyond Megapixels
While cameras in cell phones have become ubiquitous, and are great for informal shots, there's still plenty of reason to use a digital camera for higher-quality shots. Today's consumer cameras have plenty of resolution, friendlier interfaces, and amazing assists for automatic focus, exposure, face finding, and red-eye reduction. Choosing a camera has become an issue of comfort and style -- Beyond the basics of lens and resolution it's really an issue of finding the right size and shape and interface controls for you.
---
The key point about digital cameras is not to get caught up in the "Megapixel War" --you just do not need more than 5 or 6 megapixels of resolution, certainly for Web photos or normal prints, or even for blowing up to 11 x 14 inch posters. See David Pogue's article on "Breaking the Myth of Megapixels" for a real-life comparison (www.nytimes.com/2007/02/08/technology/08pogue.html). The idea here is that cramming too many pixels into a camera requires more and smaller image sensors, which will pass a point of no return and just result in more noise in the image. Instead, spend your money on a better lens to capture a cleaner image in the first place.
More megapixels also means bigger image files, which fill up the camera memory (and your hard disk) faster. One advantage of higher-resolution images, however, is that you can use them to do a kind of zoom -- cropping a portion of the image and still having enough resolution for a good print.
As just one example of current camera design, the new Sony Cyber-shot DSC-T200 is a compact but very usable camera with a huge 3.5-inch diagonal LCD display, featuring a touch-screen interface -- with menus replacing all those tiny buttons (www.sonystyle.com, $359).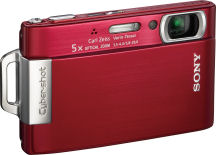 Find the Sony Cyber-shot DSC-T200 camera on Amazon.com
The T200 has 8.1 megapixels of resolution, a 5X optical zoom lens, and 31 MB internal memory, but squeezed into a rectangular body that's only 3.7 x 2.3 x 0.8 inches and 6.6 ounces. The lens is folded into the body (it's all optics and mirrors), so the front cover slides down to expose the lens, which does not protrude from the camera.
The T200 also has some nice features like optical image stabilization, face detection, exposure bracketing, extra close-up Macro mode (closer than 3 1/2 inches), VGA-res movies (640x480) with optical zoom available while shooting, and a variety of modes to help when photographing people, and in difficult low-light situations.
To show how advanced today's in-camera processing has become, the DSC-T200 not only has face detection to track up to 8 faces to maintain focus and exposure, but it also has a Smile Shutter Mode which shoots automatically when a selected subject laughs, smiles, or even grins.
---
Camera Accessories: Tripods
But there's more happening with digital photography than the cameras themselves. There are all kinds of interesting accessories for shooting and sharing your photos, which also can make great holiday gifts.
Tripods
High-res cameras and HD camcorders demand more careful attention to shooting higher-quality images -- there's only so much you can do to clean up shaky or underlit material after the fact.
One great help is a tripod to hold the camera steady as you focus on shooting a scene. Even a small tripod can be tremendously helpful -- like the Joby Gorillapod, with flexible bendable legs that bend and rotate, and stay steady with rubberized ring and foot grips (www.joby.com). You can set it up standing on a car or a rock, or wrap and hang it to take advantage of vertical objects like trees or doors.
Find the Gorillapod Original on Amazon.com
The Gorillapod is available in three sizes: The Gorillapod Original for compact digital cameras, under 1.6 ounces ($24.95), the Gorillapod SLR for lightweight SLR cameras and camcorders up to 1.75 pounds ($44.95), and the Gorillapod SLR-ZOOM for heavier pro cameras up to 6.5 pounds ($54.95).
For shooting events, full-size tripods can be clumsy to carry around and obtrusive to set up. Instead, I've found monopods tremendously useful for informal shoots. They are much easier to collapse and carry, and I can just sit in the audience at an event and shoot quietly with my camcorder on a stick. It's even possible to pan and zoom a bit without being too obtrusive.
The Trek-Tech TrekPod offers the best of both worlds -- a line of monopods that you also can use as a walking stick (www.trek-tech.com), and then open with a set of tripod legs (the bottom section is actually three tripod legs held together with a Velcro strap). These also use an innovative MagMount attachment system with a powerful magnet -- just screw the one plate into your camera to make it very easy to quickly mount and unmount from the TrekPod head.
The original Trek-Tech TrekPod extends from 47 to 62.5 inches as a monopod, or 43 to 57.5 inches as a tripod ($139.99). The new Trek-Tech TrekPod Go! adds a more collapsible design that fits diagonally into an overhead carry-on ($199.99).

Find the Trek-Tech TrekPod Go! on Amazon.com
---
Once you shoot all those beautiful photos, how do you share them? Today's consumer photo software products like Apple iPhoto and Adobe Photoshop Elements offer a wonderful variety of options. For tangible gifts, you can make prints with all kinds of fancy papers, or use online services to order prints, professional-looking photo books, greeting cards, photo stamps, and other fun items including flip books. Or for electronic sharing, you can create animated electronic slide shows to play on a computer, burn to CD or DVD discs, or to post on the Web. And, of course, you can post your images to free Web photo sites like Flickr.com to share around the globe.
Another hot gift option, particularly for people who are not big into photos on computers, is digital photo frames. You can load one up from a computer, or a memory card from a camera, and then have it automatically display favorite photos or a continuous slide show. But then wouldn't be great to be able to update the photos remotely, so the show could change to display new images for your relative or friends -- or even send fresh shots directly from your mobile phone?
One approach to this challenge is the CEIVA Digital Photo Frames, which include a phone jack to dial in to the CEIVA service each night to download new images to display (www.ceiva.com). You post the shots, and your family members can see them the next day. The 7 inch frames are $139, and 8 inch frames are $184, plus the CEIVA service for $9.95 / month, or $99.95 annual subscription.
Find the CEIVA Digital Photo Frames on Amazon.com
Or there's the Parrot MMS Digital Photo Frame, due in Europe before the end of the year (www.parrot.com). These accept a phone SIM card with a dedicated call number built directly into the photo frame, so you can dial in directly to update the photos. The Parrot frames also include a position sensor that automatically rotates photos when you tilt between portrait and landscape, and a light sensor that adjusts the brightness.
Find the Parrot Bluetooth Photo Viewer 7" on Amazon.com
---
Camera Accessories: Eye-Fi SD Card - Wi-Fi-enabled for Digital Cameras
But why fuss with manually transferring photos at all? With wireless connectivity, your devices should just take care of such details. Enter the Eye-Fi SD Card -- a 2 GB memory card with built-in Wi-Fi networking (www.eye.fi).
Find the Eye-Fi Card on Amazon.com
Set it up on your home network to interface with the Eye-Fi software on your PC or Mac, and whenever it is in range of your network it will automatically transfer new photos from your camera to the Eye-Fi service, which then can upload to share on a variety of Web photo sites. You can transfer and store photos on your home computer using the Eye-Fi software, or transfer them directly over the Internet via the Wi-Fi site.