HOME DIGITAL MEDIA ARTICLES

Manifest Technology Blog -- Site: | Articles | Galleries | Resources | DVI Tech | About | Site Map |
Articles: | PC Video | Web Media | DVD & CD | Portable Media | Digital Imaging | Wireless Media | Home Media | Tech & Society |
Home Media: | Home Media Articles | Home Networked Media Gallery |

---
Digital Holiday Trends 2007:
Mobile Media -- Video and Internet (11/2007)
by Douglas Dixon
Apple iPhone
Palm Centro -- Slimmed-Down Smartphone
Google - Open Handset Alliance
Verizon V CAST Mobile TV -- LG VX9400
Wi-Ex- zBoost -- Cell Phone Signal Booster

Find related Wireless Media articles in the Manifest Tech Blog

See my Mobile Communications Gallery
for more on these trends and related products.

---
It's holiday shopping season again, and time to explore the trends and new possibilities in portable electronics and associated accessories -- media players, mobile phones, and portable navigation systems. And this is also the season of high definition -- digital cameras, widescreen TVs, and high-definition camcorders.
So let's look at the trends in these areas, and some sample products that illustrate them. Just be warned that prices continue to change drastically, especially in the holiday season, so the numbers listed here are a snapshot as of early winter.
For "How-to" guides and tips on connecting digital devices, also see the Digital Tips site from the Consumer Electronics Association, covering digital televisions (HDTV), home audio, MP3 players, plus digital cameras and camcorders and accessories (www.DigitalTips.org).
---
You may like the idea of having separate dedicated devices -- a phone, a media player, maybe even a PDA / organizer. But why carry multiple devices, when you can combine them into a single integrated smartphone device, and add Internet access as well? It makes sense, but the bulk and cost and interface issues with smartphones have caused them to lag far behind the huge popularity of mobile phones. Companies like Apple, with the iPhone, and Palm, still plugging away, and now Google, are out to change all that.
In addition, Internet access through Wi-Fi networking is great when you're at home or settled in a free public hotspot. But depending on Wi-Fi for constant communications can be a problem, as you search around a new town for a hot spot, and find yourself paying stiff fees for hourly access. Meanwhile, your phone is always on and always connected, and now provides both voice and data service -- so you can get DSL-like mobile broadband rates to your phone, PDA, or even your notebook computer.
Then last year saw the widespread deployment of third-generation service ("3G"), with Verizon Wireless BroadbandAccess EV-DO (Evolution-Data Optimized) service (www.verizonwireless.com). Further upgraded this year to EV-DO Rev. A (Revision A), it offers typical download rates of 450 to 800 kbps to 1.4 mbps, with bursts to 3.1 mbps, and typical upload rates of 300 to 400 kbps to 800 kbps, with bursts to 1.8 mbps.
---
The Apple iPhone has been a tremendous success in revitalizing the smartphone concept (www.apple.com/iphone). It combines phone, PDA, and Web usage, with the full iPod player experience (syncing content with iTunes), mobile phone, plus Wi-Fi wireless networking.
As a media player, it has an impressive 3.5 inch widescreen touch display, at 480x320 resolution, with battery life rated at up to 24 hours for audio and up to 7 hours for video.
The front of the iPhone is filled with the display, at 4.5 x 2.4 x 0.46 inches, and 4.8 ounces. The price has dropped to $399 with 8 GB, from the original $599.
The iPhone aims for the best of both communications worlds -- fast Wi-Fi connectivity when available, or otherwise falling back on the mobile network. But the current iPhone uses the relatively slow AT&T (Cingular) EDGE mobile data network, with average data speeds between 75 to 135 kbps (www.wireless.att.com).
---
Palm Centro -- Slimmed-Down Smartphone
Meanwhile, Palm has developed the new Palm Centro to try to drive the smartphone market, it's basically a slimmed-down (but fully functional) Treo, available from Sprint for only $99 -- with two-year service agreement, and mail-in rebate (www.palm.com/centro).
Find the Palm Centro on Amazon.com
The Centro is significantly smaller and lighter than the Treo (down from 6.3 to 4.2 oz.), but with the full Palm keyboard, interface, applications, and functionality. So it shoots ands plays video, streams video from (some) websites, and can display live TV with applications like MobiTV.
---
Then there's Google, seeking to extend its search and advertising businesses into the mobile market, though not (yet) in the form of the rumored Gphone or Google phone. Instead, Google and some 34 partners have just announced the formation of the Open Handset Alliance, developing a smartphone software platform under "open source" licensing terms (www.openhandsetalliance.com). The resulting Android platform for mobile devices is being built on the open Linux kernel, and will include the operating system, middleware, and key mobile applications.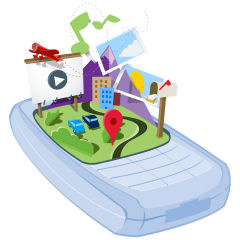 The Alliance seems to have all the right players, starting with leading chip manufacturers including Broadcom, Intel, Qualcomm, and Texas Instruments. Products are due in the second half of 2008, to be manufactured by handset companies including HTC, LG, Motorola, and Samsung. T-Mobile and Sprint are signed on as carriers in the U.S., along with leading carriers in China, Japan, and Europe. (Notable absences from the list include Apple, Microsoft, Palm, Nokia, RIM, Verizon, and AT&T.)
The early demonstrations show features and design similar to the iPhone, but the idea is that manufacturers, carriers, and independent developers will be free to modify and customize the software, from new applications to basic functionality.
---
With a wireless PDA like the iPhone or Palm Treo, it's now not only reasonable to send and receive e-mail, with attachments, but also to browse the Web, play streaming media, and upload photos and videos. With these fast wireless connections, you also can use services like Sprint TV or Verizon V CAST to browse and play libraries of video and music clips. Or run MobiTV to watch live TV channels on your mobile phone or PDA, and now also on your computer (www.mobitv.com).
But these approaches do not scale into the future -- Continuous streaming of different content to each individual mobile subscriber would swamp the cellular network. Instead, the industry is moving to a broadcast model for mass-market content, developing a parallel network that can broadcast a core group of popular channels to all mobile subscribers at the same time. The rest of us then can use the standard data service for our own personal uses and more niche content.
Verizon Wireless has introduced this service with the LG VX9400 V CAST Mobile TV phone, with swing bar design -- a large color LCD screen that swivels for landscape TV viewing. It supports the QUALCOMM MediaFLO technology, with TV service launched in major U.S. markets this year -- New York City but not yet Mercer Country (www.qualcomm.com/mediaflo). The service includes scheduled live content and other programming for mass audiences (CBS, Comedy Central, Fox, MTV, NBC News, NBC Entertainment, Nickelodeon).
Find the Verizon Wireless / LG VX9400 on Amazon.com
It's really not clear how popular mobile video will become in the U.S. -- not many people regularly watch full-length movies or even TV shows on their iPods, and mobile TV services have not been breakout successes. Yet it's clear we love TV, and we love online videos like YouTube. Mobile video can provide instant gratification, especially for "snacking" on the shorter-form (and lower-res) video snippets found online. These new technologies will not only bring more mass-market entertainment to portable devices, they also can broaden the audience for creative individuals by making it easier to share and access good-looking media on the go.
---
However, the more we rely on the instant and always-on connectivity of our mobile phones, the more frustrating it is to be caught somewhere with a weak signal, and have to rush to another side of the building or hang out with the smokers at the back entrance in order to check in.
If you're in one of those dead zones, check out the Wi-Ex zBoost cell phone signal boosters (www.wi-ex.com). These grab the cellular signal from a window and extend it into the building, improving signal strength for better voice and data (and even improve the phone battery life).
The zBoost zPersonal ($99) works for a single user at a time, in a zone of 4 to 6 feet, for both the cellular bands: 800 MHz Cellular (typically Verizon and Cingular) and 1900 MHz PCS (Sprint, T-Mobile) bands -- but not Nextel.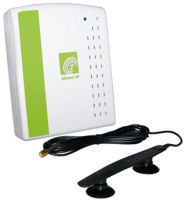 Find the Wi-Ex zBoost zPersonal on Amazon.com
The zBoost Home / Office ($299) provides simultaneous coverage for multiple phones up to 2500 square feet, with models for the 800 MHz and 1900 MHz bands.
There's also a zBoost Dual Band ($399) and a dual-band zBoost for the Car ($299).