Just last week a friend was on the road when his laptop's power flaked out. Luckily, he was able to open up the case and find that a stuck fan was allowing his system to overheat. He was able to kick-start the fan and get it spinning again, so he could get back to work (albeit after doing some quick backups).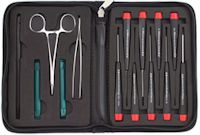 If you're a DIY (do-it-yourself) type, or concerned that you may need to do similar emergency surgery on your computers or electronic devices, then can get prepared with a toolkit like the Newer Tech 14-Piece Portable Toolkit.
This has a variety of tools that you'll need to open both laptop computers and small electronics, conveniently packaged in a zippered nylon case that has a padded interior with cutouts to keep the tools in place.
The tools start with tweezers and a scissor clamp, plus nine screwdrivers with hardened, magnetic blades: straight 1.8 & 3.0mm; Phillips #00 & #2; Apple Pentalobe 1.2mm; and Torx T5, T6, T8, T10.
The Portable Toolkit also includes two nylon pry tools ("spudgers") and a nylon probe / stick (with point & blade). These are designed not to scratch devices, but are disposable since the edges wear down with use.
For more focused work to open recalcitrant electronic devices, you can use the Newer Tech iSesamo Pry Tool.
The iSesamo is designed to pop open devices by slipping between their panes, including batteries, LCD displays, touch screens, and internal components.
It has a thin, flexible, and rugged professional grade stainless steel blade, with a rubber handle for a secure grip.
The Newer Tech 14-Piece Portable Toolkit is available for around $17, and the iSesamo Pry Tool at around $9.

Find the Newer Tech Portable Toolkit
and the iSesamo Pry Tool on Amazon.com