As we integrate more and more electronic devices into our lives, we come to appreciate accessories that can work across multiple devices -- like wireless speakers that play from multiple sources and wireless keyboards that work with computers and mobile devices.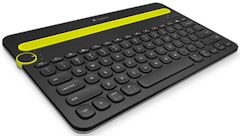 Logitech has keyed off this idea with the Logitech Bluetooth Multi-Device Keyboard.
This is a full-size desk keyboard, with the familiar layout and shortcut keys. Plus it's a universal wireless keyboard that also works with your tablet and smartphone.
The keyboard can connect to three different Bluetooth wireless devices at once, with an Easy-Switch dial that you simply turn to switch typing between the devices.
And for working with your mobile devices, it has an integrated cradle slot to hold a smartphone or tablet and angle it to read while you type.
This is not an ultralight or particularly portable keyboard. It's a full-up solid desktop keyboard replacement, that also is designed for working with your tablet (to type documents or long emails), or with your phone (albeit typically for shorter tweats or texts).
The Logitech Bluetooth Multi-Device Keyboard (K480) is around 11.8 x 7.7 x 0.8 inches and 1.8 pounds. It runs on 2 AAA batteries for around two years. It's available in white or black for $49.

Find the Logitech Bluetooth Multi-Device Keyboard on Amazon.com