The Logitech Ultrathin Keyboard Cover for iPad and Ultrathin Keyboard Cover for the iPad mini have a very smart design -- combining three functions into a coherent product -- a Bluetooth keyboard, a tablet stand, and a protective cover.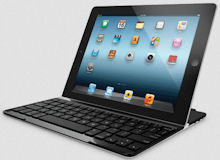 It's a Bluetooth wireless keyboard -- so you can more easily type with your iPad apps. The small membrane keys have enough travel for touch typing.
And the keyboard includes handy cursor control keys for moving through clusters of text, plus shortcut command keys (copy, paste, undo).
It's a tablet stand -- with an integrated slot to hold your tablet at the right angle while you are typing. The recessed groove runs behind the keyboard, so you can position the tablet vertically or horizontally.
And it's a protective cover -- to store and carry the keyboard along with your device. It's sized to fit the tablet and protect the touch screen, and snaps on with magnetic clips to attach securely -- and supports instant on/off, like the Apple Smart Cover.
The keyboard cover is well made, with an aluminum design that complements the iPad. Yet it's remarkably thin and light, at 10 mm thick / 12.5 oz. for the iPad, and 7.3 mm / 7.3 oz. for the iPad mini.
It charges through a miniUSB port, with enough charge for 6 months of use for the iPad version and 3 months for the iPad mini (assuming 2 hours of use a day).
The Logitech Ultrathin Keyboard Cover for iPad is available for $99 ($73 street) in standard black or white, and now more exciting red or purple. The Keyboard Cover for iPad mini is available for $79 ($68 street) in black or white.
Logitech also offers personalization of the cover with laser engraving at no additional cost.
This is a very clever approach to providing a useful keyboard for a tablet -- so that you can type like you are using a laptop, and then pack it up as conveniently as closing a laptop cover.
See my Holiday Gadgets & Portable Accessories 2013 coverage for more on portable devices.

Find the Logitech Ultrathin Keyboard Cover for iPad and Keyboard Cover for iPad mini on Amazon.com