You may think you know CyberLink from years of using PowerDVD to play and explore DVDs on your PC, and also seeing its backup and burning bundled across a wide variety of DVD players and Windows systems.
But CyberLink has been leveraging its technology in video compression and display much more broadly -- particularly in its PowerDirector video editor, which I've been covering at least since version 2 from February 2002 (see screenshot), and which has just been updated to version 12 from version 11 last year (see previous post).
PowerDirector 2, circa 2002
The early PowerDirector was clearly a consumer tool, with a simple storyboard and a very modal interface for different functions, controlled by the dial in the top left corner. But as CyberLink has expanded its technology over the past decade, it also has focused on interface design to organize the plethora of capabilities in a clean and approachable way.
In addition, CyberLink has expanded its digital media product line into a full PowerDirector 12 suite with audio and color tools -- now upgraded with AudioDirector 4 for audio-for-video soundtrack editing and ColorDirector 2 for video color grading.
Plus, CyberLink has added a photo editor and manager, also upgraded to PhotoDirector 5. And while the majority of these tools are for Windows only, PhotoDirector also is available for Macintosh.
Then there's the tablet world, where CyberLink has introduced PowerDirector Metro and PhotoDirector Mobile, available separately or bundled with the new releases of their namesake tools. These are currently only for Windows 8 tablets.
One interesting example of CyberLink's approach to building technology into applications is the way it shares filters and effects between photo and video editing. So as PhotoDirector 5 adds Bracket HDR (High Dynamic Range) processing to merge multiple exposures into a single high dynamic range image -- the same idea also moves into ColorDirector 2, with the HDR Video effect to add expanded dynamic range and a visible pop to video segments.
The result is a comprehensive and functional suite of digital media tools, with cutting-edge technology both to handle the latest formats and to assist in your editing tasks:
- PowerDirector 12 already had video analysis to help select scenes and 3D and 4K Ultra HD editing, and now adds multicam editing of up to four tracks (to add in that GoPro footage), and a motion blur effect for picture-in-picture and animated titles.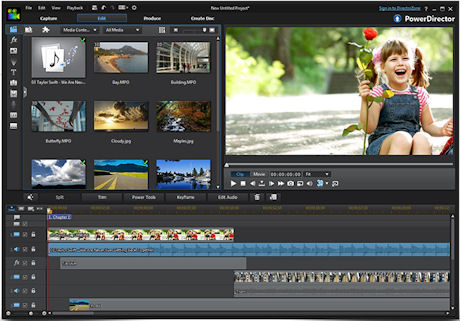 PowerDirector 12
- ColorDirector 2 already had extensive color correction tools and motion tracting support for color enhancements, and now adds High Dymanic Range video.
- Audio Director 4 extends its spectral visual restoration with new background noise and hum removal, and a Surround Sound Panner for 5.1/7.1 multichannel audio.
- PhotoDirector 5 steps up to 64-bit processing, adds High-DPI support for high resolution monitors, provides auto lens correction for over 60 popular DSLR lenses, and exports slideshows in glorious resolution as 4K UltraHD video.
PowerDirector 12 Deluxe starts at $69.99, or $99.99 for the Ultra version with 64-bit / high-def support, or the Ultimate version for $129.99 with bundled NewBlueFX effect packs and CyberLink Creative Design Packs.
ColorDirector 2 Ultra and AudioDirector 4 Ultra are each $129.99, and PhotoDirector 5 Ultra is $99.99.
CyberLink also offers a variety of bundled suites, including the full Director Suite 2 for $299.99 with all of the above, and the Ultimate Suite for $249.99 without PhotoDirector.
For a technology-centric company, CyberLink has done a great job designing these applications, pouring in these cutting-edge technologies while still not overwhelming users with features and options.
CyberLink also has worked to develop its DirectorZone.com online creative community, with tutorials and user-contributed content, now including over 400,000 free effects available for download.