All these cases and screen protectors (see previous posts) are great for protecting your portable devices from bumps and scratches in your pocket or bag, and can save the day when you accidentally drop your device. But wouldn't it be better to not drop it in the first place?
So here's a simple solution, especially for people who are constantly working with their smartphone or tablet: the iTatch Lanyards -- with a suction cup on the end to hold on tight to your handheld device, even when you don't.
Just slip the lanyard around your neck, and attach the suction cup to secure your iPhone, iPod, iPad, or other smartphone, phone or portable device.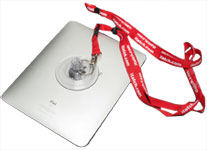 There's the iTatch for iPhones/iPods for $9.95, with a roughly 20-inch lanyard and 1-inch suction cup for smaller handheld devices.
And the iTatch EBook Anchor for $14.95 has a longer lanyard and significantly bigger 3 1/4-inch suction cup for iPads, E-book readers, and larger and heavier tablet-sized devices.
The lanyards have a snap-off anchor near the base so you can remove your device when needed. They're available in blue, red and black with white text, or gray, white, black and green with black text
For more fun, try out the iTatch Puppy Anchor for $14.95 -- You can restrain your (smallish) pup in the kitchen by applying the suction cup to the refrigerator or dishwasher, or on the go by quickly attaching to a store window!
See related article - iPad Cases for 2011

Find the iTatch Lanyards on Amazon.com