Mini to micro -- It's not just skirts that shrink, it's also our now-indispensible electronic gadgets, continually being reduced in size so they can be with us wherever we go. But how small can this go? Displays and controls and keyboards can get so tiny that they are really no longer readily usable, at least for some of us.
One clear example of shrinking to the edge of usability is the microSD card format -- gigabytes crammed into tiny plastic slices, some 5/8 x 7/16 of an inch, literally the size of a fingernail.
The small size fits well for adding storage to portable devices like cell phones, for more photos and music and video on the go, now cramming in up to 16 GB for under $90.
But the tiny cards also are tricky to handle and so easy to lose. So microSD cards are often sold in sets, with adapter cards and USB readers. The SD and miniSD adapters allow you to access the cards with devices that have the larger SD or microSD slots. And the USB reader lets you access the card on a computer with a USB slot.
But now even the USB card readers are getting amazingly miniaturized. The previous Kingston microSD USB reader was basically the metal USB connector -- just one inch long -- with a slot for the microSD card.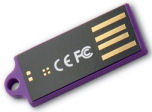 But now there's a new form factor for tiny USB connectors, as in the Verbatim Tuff-'N'-Tiny / Store 'n' Go Micro USB Drive, which dispenses with the metal frame of the USB connector and just retains the internal connector, so it's actually half the thickness of a USB connector slot.
The updated Kingston microSD Mobility Kit has a similar design -- with the microSD card, mini/SD adapters, plus a USB card reader that is itself about a third of the size of a standard SD card, and still half the thickness of a USB connector slot.-- It's about an inch long, with the USB connectors on one side and a tiny slot for the microSD card on the other. No wonder it comes with an attached lanyard to help you try to keep track of it!
So as you downsize your storage, you can get a microSD card by itself, or bundled with a USB reader, adapters, or a full Mobility Kit with both.
See my full article: Flash Memory: Technology Summary for more on memory card formats and features
See my Portable Storage Gallery for more on memory cards and USB drives.

Find the Kingston microSDHC USB reader and
Verbatim Store 'n' Go Micro USB Drive on Amazon.com