I've used LaCie external hard drives and storage devices for many years, based on functionality, performance, and a flair for design (see previous posts).
That same emphasis on design comes though in LaCie's line of interesting and fun accessories.
For example, the LaCie USB / FireWire Hubs have a distinctive design with polycarbonate round shape, glossy white finish, a variety of flexible cables for sharing connections and/or charging your portable devices.
The USB & FireWire Hub even includes a USB fan and light ($79 USB 2.0, $89 USB & FireWire).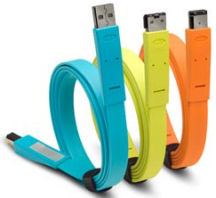 And the LaCie Flat Cables are easy to coil up and carry without tangling, with bright colors -- and even come with 24 adhesive labels preprinted for common uses.
The line includes seven different interfaces: eSata (yellow, $12.99), FireWire 400/800 (orange, $12.99), and USB A/B/Mini (blue, $9.99), each around four feet.

See my Peripherals and Accessories Gallery for more electronics accessories and PC peripherals.
See my Portable Storage Gallery for LaCie flash and hard disk storage products

Find the LaCie Hub and LaCie Flat Cables on Amazon.com