The Pure Digital Flip has helped to popularize the idea of pocket camcorders -- small and light, easy to carry and simple to use -- and now even for shooting high-def video (see previous posts on the Flip, Kodak Zi6, and RCA Small Wonder lines).
In addition, the Creative Vado Pocket Video Cams offer a nice blend of features at aggressive pricing: standard definition is now down from $99 to $79 (and a street price of $59!), and high-def for $229.
Compared to the Flip Mino HD, the Vado HD has some very attractive features:
Twice the recording time: 2 hours, vs. 1 hour on the Flip (with twice the internal memory - 8 GB vs. 4 GB)
Multiple shooting modes: (HD, more compressed HD, and VGA), vs. only HD on the Flip
1/3 larger display screen: 2" vs 1.5" on the Flip (4 cm vs. 3 cm wide active picture area)
Removable battery (although custom)
The Vado HD is just slightly larger and heavier, and both are priced at $229, although the Flip's street price currently is around $209.
Interestingly, the Vado HD has a significantly wider angle lens than the Flip HD (and the Kodak Zi6) -- the picture is almost a 2X zoom back from the view captured by the other cameras, as in this scene from the Princeton Public Library, shot with the two cameras side by side. With the Vado, you get a lot more of the scene in the frame, but as a result you get less detail (fewer pixels) on any specific element of the picture (like if you try to read the titles on the books). Also note that both cameras did well in the difficult evening lighting conditions with bright lights in the scene.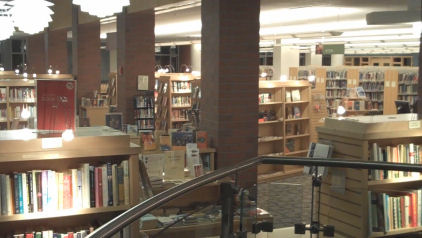 Flip HD

Vado HD
See full article: Creative Vado / HD Pocket Video Camcorders
See my Digital Camcorders Gallery for more on the pocket camcoders.

Find the Creative Vado HD on Amazon.com