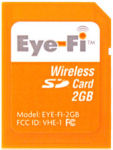 As promised at CES (see previous post), the Eye-Fi Wi-Fi SD Memory card now can upload video clips as well as photos wirelessly from your digital camera to to your computer, or to a photo sharing site like Fickr or Facebook, or now to video sites like YouTube.
The Eye-Fi is standard SD memory card, but with built-in Wi-Fi networking. It comes in 2 GB versions for photo uploading (just reduced to $49 to $99), and in the two new 4 GB (SDHC) versions for video uploading -- the Eye-Fi Share Video for $79 and the Eye-Fi Explore Video for $99 with geotagging and Wayport Wi-Fi hotspot access for 1 year.
See my article on using the Eye-Fi Wi-Fi SD Card for Digital Cameras.
See my Digital Cameras Gallery for details on the Eye-Fi cards.

Find the Eye-Fi Share Video and Eye-Fi Explore Video on Amazon.com