Verbatim is not just a storage company anymore. You may know its CD, DVD, and tape media, or flash memory and USB drives, or portable and external hard drives, or associated storage accessories. But Verbatim also offers a variety of computer peripherals, including wireless mice and keyboards.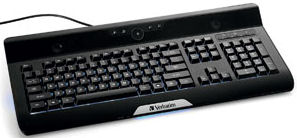 The latest addition is the Verbatim TuneBoard Speaker Keyboard, which combines a PC or Mac keyboard with integrated dual stereo speakers, so you don't need a tangle of additional cables and external speakers (unless you need high-quality sound).
The speakers are positioned on a tilted bezel running along the top of the keyboard, angled towards the listener. The keyboard also has dedicated sound control keys on the bezel and multimedia control keys for play/previous/next, that work with iTunes on the Mac, or Windows Media Player or other players on the PC.
There's also hotkey for enhanced bass, and to turn on the cool blue luminescent backlit illumination under the keys to improve visibility in low light.
The Verbatim TuneBoard is available for around $79, with versions for Windows or Macintosh.
See my Portable Peripherals and Accessories Gallery for more fun devices, organized by company.

Find the Verbatim TuneBoard Keyboard on Amazon.com