Today's earphones are all about isolating you from the outside world so you can enjoy your music. They nest in your ear canal to block the sound, and some even have active noise cancellation technology.
But sometimes it's important to hear what's going on in the real world outside your mind -- for example when you are crossing streets while you are out walking or jogging or biking and don't want to get run over by a truck. And wearing a tube stuck in your ear all day can be uncomfortable, so it might be nice to have an earphone that is more comfortable for extended wear.
In the past, I've looked at the Mad Catz AirDrives outer-ear earphones that hook over your ear and hang the speaker outside your ear. But the sound does leak, so could bother people sitting nearby. And the Innovelis BudFits over-the-ear adapters make wearing iPod earbuds more comfortable as they rest gently in your ear.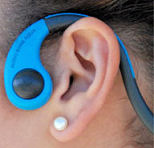 And now there's another approach -- Audio Bone Bone Conduction Earphones that transmit the sound through your bones directly to the inner ear. These are on a band that sits loosely behind your head, with ends that loop over your ear and rest on your face in front of your ears.

The original Audio Bone 1.0 is waterproof (for cleaning, but not necessarily for swimming with your iPod unless you get an OtterBox case). It's available for around $179 in orange, black, blue, and white. There's also an Audio Bone Special Edition in "fashion colors" for $219, and the foldable Audio Bone Adjustable is $219, but is speced with lower quality sound. These come with a 30 day unconditional money back guarantee
The major issue with bone conduction technology is the need to ramp up the volume level, especially with iPods -- At low volume levels, you may hear nothing at all. There is some sound leakage when you crank up the volume, but it's not obnoxious.
See my Portable Audio Accessories Gallery for more information on headphones and earphones.

Find the Audio Bone Earphones on Amazon.com