Cell phones have become our ever-present comfort, not only carrying our contact list to stay in touch, but also storing our favorite music to soothe the journey.
And with Bluetooth wireless communications, it's really easy to connect to useful accessories to make more efficient use of the phone, or to share the experience.
Here are three examples of some of your options, courtesy of the Verizon Wireless collection of Bluetooth Accessories:

Noise-Reduction Headset -- Jawbone II
You may already have a wireless Bluetooth headset for chatting on the go. But today's noise reduction technology makes conversations much more pleasant with devices like the second-generation Jawbone II Bluetooth headset ($129)

The Jawbone provides standout voice clarity even in ridiculously noisy environments (see previous post).

Find the Aliph Jawbone II headset on Amazon.com
or from Verizon Wireless

In-Car Music & Hands-Free FM Transmitter -- Venturi Mini
Your car has become a great place to listen to music, with in-car entertainment systems with great speakers, and digital radios with informative displays. So until Bluetooth comes to cars, devices like the Venturi Mini FM transmitter ($129) can bridge the gap to your portable devices.

The Mini connects to your MP3 player to play music on the car speaker system (through the FM transmitter), and can switch to your cell phone as a hands-free device (with integrated microphone). With support in your devices, you also can control music playback from the Mini, search your contact list, and even display caller information on your car's digital radio display. It also has connectors for audio in (for direct connect from non-Bluetooth players) and output (for headphones) -- plus a bonus USB connector for charging your devices.

Find the Venturi Mini FM transmitter on Amazon.com
or from Verizon Wireless

Bluetooth Speakers -- Altec Lansing SoundBlade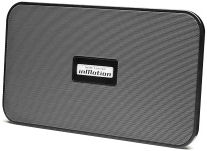 A wireless headset is great for listening privately, and an in-car transmitter lets you talk hands-free and share your music on the go, but what about sharing with a group? The next step is a portable wireless speaker unit like the Altec Lansing SoundBlade stereo Bluetooth speakers ($129).

These are dual 2" full-range high output stereo speakers, with stereo headset support (Bluetooth A2DP) for playing music from mobile phones, laptops, and some MP3 players, plus two-way remote control support (AVRCP) for adjusting volume and forward/back from the speaker unit. Even better, it's also a wireless speakerphone for hands-free calling, with an echo-canceling microphone and voice-activated dialing.

Find the Altec Lansing SoundBlade speakers on Amazon
or from Verizon Wireless

See my Audio Accessories Gallery for details and related products