Our portable devices need more storage, so we collect a growing variety of memory cards -- SD and MMC, and reduced to mini and micro. And these removable cards provide another option for copying files between devices and a PC -- after all not all devices have USB interfaces (like some mobile phones), or they require an extra and sometimes non-standard cable that is not always at hand.
The answer, then, especially for travel, is small USB card readers about the same size as USB thumb drives. Slide in the card, plug in to a PC's USB port, and access the memory card like a removable disk drive.
Kingston has recently added several such portable card readers, with different numbers of slots to support various memory card formats. And there's also a USB drive with built-in memory, plus a slot to read additional cards.
The Kingston USB microSD Reader is a tiny device -- Pull out the USB connector, insert the microSD card, and reassemble.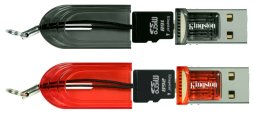 It's available bundled with a 1 GB microSD card $25 (black), and 2 GB $41 (red).

The Kingston DataTraveler Reader is a 1 or 2 GB USB Flash drive with a card reader slot.

It reads SD, SDHC, MMC, and MMCplus cards, plus (with a separate adaptor, not included) miniSD, microSD, RS-MMC, MMCmobile, and MMCmicro.
It's available bundled with a 1 GB SD card for $24, 2 GB for $54 (list), with 4GB coming soon.

The Kingston MobileLite 9-in-1 Reader opens on both sides with three card slots.

Side A reads SD, SDHC, MMC, MMCplus, RS-MMC, and MMCmobile. Side B has a slot for miniSD, and a second slot for microSD and MMCmicro (the reader appears in Windows as three drive letters).
The reader is $11, or is available bundled with a 1 GB SD card for $29, 2 GB SD soon, or 1 GB microSD for $29.
See more in the Portable Storage Gallery, under USB Memory Card Readers.

Find the Kingston USB microSD Reader on Amazon.com
Find the Kingston DataTraveler Reader on Amazon.com
Find the Kingston MobileLite 9-in-1 Reader on Amazon.com