Manifest Technology Blog -- Site: | Articles | Galleries | Resources | DVI Tech | About | Site Map |
Articles: | PC Video | Web Media | DVD & CD | Portable Media | Digital Imaging | Wireless Media | Home Media | Tech & Society |
Digital Imaging: | Digital Imaging Articles | Digital Cameras Gallery | Digital Camcorders Gallery |

---
RCA Small Wonder Digital Camcorders (3/2007)
by Douglas Dixon
RCA Small Wonder EZ-105 Digital Camcorder

RCA Small Wonder EZ-201 Digital Camcorder 
There's a major trend to the high-definition home, with wide-screen HDTV home theatre and even consumer high-def HDV camcorders. But in this era of YouTube and Flash video with short-form, low-res clips, there's also a place for easier and faster shooting, from your camera phone to even highly-portable camcorders that record to flash memory.
In contrast to powerful HD camcorders, the emphasis of the pocket-size RCA Small Wonder is on easy and fun shooting (www.mysmallwonder.com). Even the packaging even says nothing technical -- nothing about resolution or storage, megapixels or megabytes.
The interface is a simple as possible, with few controls, and no confusing menus or profusion of options.
Plus, there's a minimum of connectors, with no power adaptor:, it just uses two standard AA batteries. And no additional cables required to access the clips, with a built-in pop-out USB connector. There is an A/V jack to connect directly to a TV set for immediate viewing.

Look up the RCA Small Wonder digital camcorder on Amazon.com.
The RCA EZ-105 Small Wonder digital camcorder is amazingly light and comfortable to hold (2.43 x 4.27 x 1.33 inches, 0.31 lbs.), and great for quick and easy videos ($129).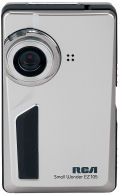 RCA EZ-105 Small Wonder
This update from the EZ-101 adds more memory (to 512 MB) and a handy tripod mount on the bottom. But the key is that it's so easy to use, with only a few buttons. Just press Power to turn it on, then the red Record button to start recording. The 1.5 inch color LCD screen keeps you updated with simple on-screen status. And press the surrounding rocker switch for up to 2X digital zoom.
Then press the Play button to play back your clips, using the rocker switch to adjust the volume through the built-in speaker, and to skip back and forth between your clips. There's also a Delete button to free up storage for unwanted clips.
There's no confusing menus and profusion of options on the Small Wonder (also no MBs used or battery status display). The only option is a switch between LP and HQ quality (60 or 30 minutes). To make life even simpler, there is no power adaptor -- it runs on two standard AA batteries.
To share your shots, the Small Wonder includes an A/V jack for displaying directly on a television for immediate viewing.
And to share digital files, RCA even has made uploading easy -- the Small Wonder includes a built-in pop-out USB connector so no extra cables are needed, and comes preloaded with software that can autorun when you connect to a PC or Mac to simplify transferring the files (or you can just drag and drop yourself). RCA uses the Pure Digital Video platform that is compatible with some 8,000 retail partner locations for 1-hour DVD processing.
The actual video format is MPEG-4 at 30 fps, with ADPCM audio (64 Kbps, 4-bit). It shoots up to 60 minutes at good LP quality (VGA 448 x 336, 173 Kbps), and 30 minutes at best HQ quality (Half-VGA 640 x 480, 340 Kbps).
The new model, coming in spring 2007, is the RCA Small Wonder EZ-201 ($129). about the same size as a deck of cards.
This adds a 1.5-inch LCD panel that flips out 180 degrees for easier viewing while shooting. It also adds a SD memory slot for expandable storage.
See more about the new EZ-201 on the Manifest Technology Blog.
RCA also has announced the RCA Memory Maker, a DVD docking and recording system for simple one-touch, at-home DVD burning of favorite clips.

Portions originally published in Camcorder & Computer Video magazine, 23, 1, February 2007.
| | |
| --- | --- |
| | RCA Small Wonder EZ-201 digital camcorder features a flip-out LCD display and SD/MMC memory slot. |