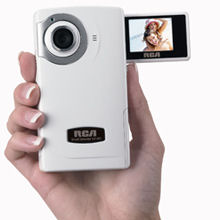 Here's the perfect wedding present of consumer electronics fun -- the new RCA Small Wonder model EZ-201 digital video camcorder. It's small and fun and easy and inexpensive -- and white! What more could you ask for as the perfect gift for wedding crashers to have on hand?
It's light (around 5 1/4 ounces), small (about the same size as a deck of cards at around 2 1/2 x 4 1/2 x under 1 inch), and easy to buy at around $129.


This new EZ-201 model is not a huge update to the previous EZ-105 version -- it has a nicer design, and adds a flip-out LCD panel and a SD memory slot for expandable storage.
But the Small Wonder was never about features -- its magic comes from its dead-simple operation, which makes using it so fun.
Check the packaging -- there's nothing on the box about confusing camera resolutions and megapixels, no sign of tech-talk specs on megabytes of storage or video and audio compression formats and bit rates, much less long checklists listing competitive features.
Instead it's all about the simplicity:
- Record 30 to 60 minutes of video, direct to the built-in memory (512 MB, but who's counting?). Nothing more is required, though you can add a SD/MMC card for more storage (up to 2 GB).
- Save by transferring files to your computer. No cables required -- the Small Wonder has a built-in USB connector that slides out the top from behind a hinged flap.
- Share your videos immediately by hooking up the Small Wonder to display on a TV with the AV output jack. Or use the built-in RCA Memory Manger software (which auto-runs on Windows machines) to edit and convert your clips, and also upload them to the Box.net online storage service.
So the video literate may complain at first glance about the tiny 1.5 inch display, relatively low-quality video, and lack of true optical zoom -- but the Small Wonder is not about video quality or expertise, it's about making it easy and fun to shoot video. No-sweat video makes great sense if you're a novice, and even for experienced video fans who just want to grab some quick clips.
See the older article on the RCA Small Wonder Digital Camcorders
See the Consumer Digital Video Camcorders Gallery

Look up the RCA EZ201 Small Wonder digital video camcorder on Amazon.com.
Using the Small Wonder is dead simple, with a few straightforward controls clustered on the back under the 1.5-inch LCD panel: Hold On/Off to power on, press the red Record button to start recording, then use Play/Pause to play back your clips. During playback, use the 4-way controller to adjust volume up/down (or zoom during recording), and press or hold forward/back to skip between saved clips or scan through clips.
When you connect to a PC, you can just copy the files (Windows or Mac), or use the built-in RCA Memory Manger software to view, edit, save, and share your video clips. (The software is Windows-only, and set to auto-run when you connect the camera over USB.)
When sharing video files, you can shoot standard-res videos in HQ (Higher-Quality) mode (640x480, up to 30 minutes), or use the only other control on the camera (a slider) to shoot lower-res LP (Long Play) mode (448x336, up to 60 minutes). HQ runs around 20 MB per minute of video, and LP around 11 MB/min., so you may want to use the built-in software to trim your clips and convert to an even smaller format before trying to upload or email them.
Just to emphasize the simplicity theme, the Small Wonder runs on two AA batteries -- no special battery pack or external charger is required.
Gory details:
Video formats: MPEG4ASP video, MPEG-1-L2 audio
LP mode: 448x336, 30 fps, 1.4 Mbps video, ave. 11 MB/min.
HQ mode: 640x480, 30 fps, 2.5 Mbps video, ave. 20 MB/min.
Also check out the original Flip digital camcorder from Pure Digital Technologies, makers of easy-to-use and one-use digital cameras and camcorders.