The new Pinnacle Studio 20 has been released, featuring support for editing 360-degree video (aka immersive or spherical or VR videos -- see Wikipedia on 360-degree video, and the YouTube 360° Videos channel).
Pinnacle regards this as a first cut at editing for 360-degree videos, so you can experiment with taking advantage of these new cameras -- for example, doing virtual exploration of a space or event, or getting the full experience from an action cam experience.
You can start with cleaning up and enhancing the full-size (but distorted) 360 video frame, and then adding titles and other graphics in the "360-degree" video space, so they look straight when you explore the space by projecting into a standard-size window.

Studio also has a nice feature to extract a standard video from the 360 video, which works much like multi-cam -- you dynamically pan a window around the video while it plays, and Studio then saves the result as a timeline that you then can edit further.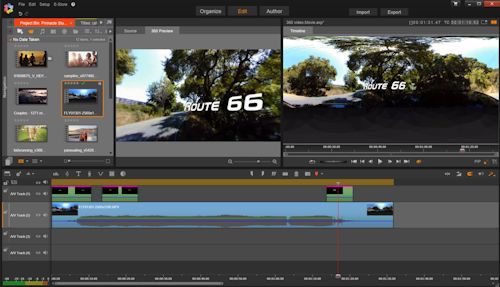 Studio version 20 is the latest in a long line of video tools -- Corel acquired the Pinnacle Studio line from Avid in 2012, joining its previous acquisition of VideoStudio (for consumer editing, from InterVideo / Ulead in 2006), and Roxio and its Creator line (from Rovi, also in 2012).
Corel positions Pinnacle Studio as a step beyond VideoStudio, targeting Studio to video editing enthusiasts who want to focus on editing beyond casual use, and who therefore need "the control, innovative features and advanced capabilities" that bring you "closer to professional results."
Studio 20 therefore adds other advanced features seen in VideoStudio and other editors, including multi-point motion tracking, with mosaic blur to obscure faces or signs, and stop-motion support for Canon or Nikon DSLR cameras (including overlays to help position each frame).
It also adds import/export support for HEVC (H.265) video, using hardware support from Intel 6th generation or specific NVIDIA cards.
Pinnacle Studio comes in three editions:
The Standard edition starts at $59, and supports 6-track editing and 2-camera multi-cam editing.
The Plus edition for $99 steps up to 24-track editing and 4-camera multi-cam, adds features including the new motion tracking and track transparency features, and includes more effects, templates for MyDVD authoring, and other assets.
The full-up Ultimate edition for $129 then supports unlimited-track editing and 6-camera multi-cam, provides advanced editing with the new 360-degree support and 4K Ultra HD, and includes more assets along with effects from NewBlue.
This is a welcome update to a venerable product, and opens intriguing possibilities for not just shooting 360-degree video, but also editing and enhancing the results.

Find the Pinnacle Studio 20 Ultimate on Amazon.com