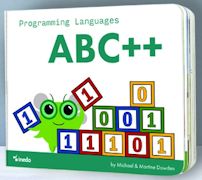 Yes, Programming Languages ABC++ is a toddler's ABC board book -- It indeed features a different programming language for each letter (although C++ actually is not one of the languages).
The book obviously is not intended to actually teach toddlers to write code, but it is a fun way for software developers to share a little of what they do with kids.
Each letter features information about the associated language and "Hello World" sample code, plus a playful "bug" cartoon that illustrates a "normal" word for the letter (S for spaghetti, P for python snake...).
This is a one-off Kickstarter project from Alex Papadimoulis, whose day job is running Inedo, a small software development company, and who also hosts the popular software blog, The Daily WTF.
Inedo has kindly posted a free copy of all the pages of the book online, so you can check out your favorite letters before getting the book.
The Programming Languages ABC++ board book is available for $11.95 for your enjoyment, or even to share with kids.
You also can find associated ABC++ "bug" posters, coloring books, and T-shirts.
- See Holiday Gadgets 2015 for more on fun holiday tech.
- And the full article in Princeton's U.S. 1 Newspaper:
Gift Ideas for the Mobile Tech Crowd.

Find Progamming Languages ABC++ on Amazon.com