NoPhone Zero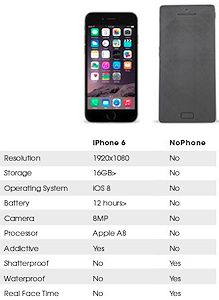 The NoPhone is exactly that, a plain black plastic rectangle about the size of a smartphone that was created as a Kickstarter project for people who are "addicted to rectangular devices."
It has a thin, light, and "completely wireless" design, and provides a "technology-free alternative to constant hand-to-phone contact," so you can stay connected with the real world.
This is the brainstorm of a group of friends from the United States and the Netherlands, reacting to the omnipresent glowing screens seen in any group of people.
Their idea was that the NoPhone could provide the comforting feel of a phone shape in your hand, while still encouraging "a life of direct eye contact and improved conversational skills."
The original NoPhone, now available for $10, has phone-like indents in the surface to provide tactile comfort with the suggestion of controls. You also can get it with the "selfie upgrade" -- a reflective mirror sticker -- for $15.
And now there's the NoPhone Zero -- "the least advanced NoPhone ever," with exactly zero features (yes, it's just a plain black slab) -- available for $5. It's positioned as a downgrade from the original NoPhone, with "no buttons, no logos and most importantly no phone."
And, of course, the NoPhone has no warranty and, "is not intended to be used for anything."
So you can pick up a NoPhone for yourself, or as an intervention for friends and family -- It's also available in multi-packs.
- See Holiday Gadgets 2015 for more on fun holiday tech.
- And the full article in Princeton's U.S. 1 Newspaper:
Gift Ideas for the Mobile Tech Crowd.

Find the NoPhone on Amazon.com