'Tis the holiday season, and this year the Internet offers a fascinating new aspect to holiday giving, through "crowdfunding" -- direct person-to-person support for things that you are passionate about.
This can be philanthropy for individuals and organizations in need through websites like GoFundMe and DonorsChoose, early funding for artists and entrepreneurs creating new works and products through sites like Kickstarter, Indiegogo, and RocketHub, and even directly sponsoring artists through sites like Patreon.
The crowdfunding model brings together creators on a mission with groups of individual contributors who provide small donations that add up to a new flowering of charity, artistic expression, and product invention. And this is serious business -- there are multiple such sites that have raised billions of dollars from tens of millions of donors.
My holiday tech coverage for this year explore these possibilities for both your holiday giving and your holiday shopping.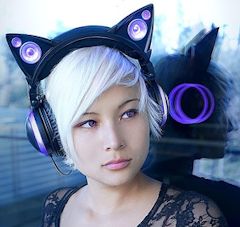 Crowdfunding Examples -- Recent crowdfunded projects, from personal and organizational fundraising, to musicians and artists, to creators and entrepreneurs who have taken advantage of this new world.
And yes, including the Cat Ear Headphones from Brookstone.


Crowdfunding Sites - Breakdown of different kinds of crowdfunding sites, including charitable, creative, artists, investment, and lending.
Includes site summaries, statistics, types of projects, fees, and noteworthy successes.
Full article in Princeton's U.S. 1 Newspaper:
Holiday Giving: A Digital Twist to Coins in the Kettle.
Enjoy!

Find the Cat Ear Headphones on Amazon.com