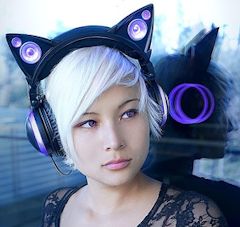 Yes, Cat Ear Headphones from Brookstone -- really.
These are the brainchild of Victoria Hu and Wenqing Yan, recent graduates of the University of California at Berkeley who are also anime fans (think of Japanese cartoon drawings with waifish figures that often incorporate animal features).
They thought it would be cool to have cat-ear headphones with an anime look.
So they did the product design, worked out the manufacturing, produced prototypes, and then started a crowdfunding campaign on Indiegogo to try to raise the $250,000 they needed to get to market.
And it turned out people really, really liked the idea -- They raised $3.4 million in pre-orders from 21,000 backers in November 2014, at an introductory price around $115.
And the story gets better. Indiegogo then approached Brookstone, which signed up to bring the headphones to market for this holiday season, along with two other crowdfunded projects.
The Cat Ear Headphones do indeed have cat ears. These are actually external speakers, so you can continue to listen and share your music when you take off the headphones. And they have LED accent lights around the earcups and on the ears. The lights and speakers are controlled by separate buttons.
But otherwise these are straightforward over-ear headphones. They are wired only (with play controls on the cable), and not Bluetooth wireless (so there's no battery to worry about). There's no active noise reduction. They don't have a companion app, or special sound enhancement modes. They do come with a detachable boom mic for gaming
The Cat Ear Headphones are now generally available for $149, with your choice of LED colors -- blue, green, purple, or red.
And they do make people smile when they put them on.
- See Crowdfunding Examples for more on fun crowdfunded projects.
- And the full crowdfunding article in Princeton's U.S. 1 Newspaper:
Holiday Giving: A Digital Twist to Coins in the Kettle.

Find the Cat Ear Headphones on Amazon.com