Whatcha looking at? With the Pivothead Video Recording Sunglasses you can capture the scene and the action in videos and photos -- as you look around.
Pivothead actually has several lines of stylish sunglasses, some with interchangeable lenses (gray, yellow, clear; polarized and not), or you can order prescription versions.
But these glasses also sport a camera lens at the center of the bridge between the lenses, plus slightly oversize areas on the front of the arms for the electronics, behind the hinge.
So go ahead and look around, or head out on a bike ride, and the glasses will shoot as you go.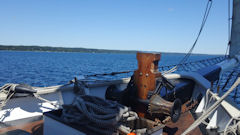 And this is not crummy, low-res video -- It's stunning quality 1080p HD quality, plus 3 MP photos. And you can take photos at the same time that you are shooting video.
(Click photo for full 1920 x 1080 res shot simultaneously with HD video while sailing on a tall ship on Lake Michigan.)
Of course, you do have to think about the viewer for your video -- Watching the viewpoint of someone else's bopping head can be rather disconcerting. Actually, watching even the natural motion from walking can be troublesome, while it seems fine to the person who was wearing the glasses.
The glasses are easy to control. Power them on from the side, and then push the video/photo toggle on the left side to start/stop recording and to shoot photos.
You do need to pay attention to your presses, though, since the LED indicators for power and recording are set back so they don't interfere with your vision as you wear the glasses. (They automatically stop video recording after 30 minutes, just in case.)
To access your videos and photos, connect to your computer through the microUSB port, and copy the files as you would from any external storage device. The Pivotheads have 8 GB of onboard memory, enough to store approximately 60 minutes of 1080p HD video.
Amazingly, the Pivothead glasses actually support a wide range of video and photo shooting options, including resolution, auto focus and exposure modes, macro and ISO levels, burst / time lapse photos, and face tracking.
You can change the video res and shooting mode though button presses, but it's a lot easier to download the Control Settings Dashboard Software for PC or Mac.
Even with today's ubiquity of cameras and camcorders, the Pivothead glasses bring even more fun and freedom to shooting your activities. They're an impressive combination of design and function, ease of use and customization.

The Pivothead Video Recording Sunglasses are available for $349 in 4 models and 16 styles. Take a look.
See my summer update on gadgets -- Portable Accessories - Mid 2012 -- for more on portable devices and accessories.

Find the Pivothead Video Glasses on Amazon.com