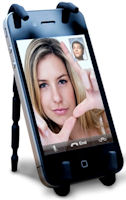 The Breffo Spiderpodium lives up to its name as a multi-purpose gadget grip and podium to holster, dock, and display for your compact handheld devices, including smartphones, cell phones, portable media players, and game systems.
Its eight soft-touch rubberized notched legs flex and bend into any position, to grip your device securely and then set it at virtually any angle, in any position, in any location.
You can set up the Spiderpodium to view on a desk or table, hook or hang it in a car, or wrap it on a bike or backpack to go. And it spreads down flat for storage and travel.
The original Spiderpodium for handheld devices has legs that reach approximately 8 inches, and is available for $19.99 in white or black.
There's also a larger SpiderpodiumTablet for the iPad and other tablet devices, for $34.99 in grey or black.
See related article - iPad Cases for 2011 and previous post on the Joby GorillaMobile Yogi.

Find the Breffo Spiderpodium on Amazon.com