Apple has just extended its FaceTime video calling application from the iPhone to the Mac -- although it's still not available for Windows.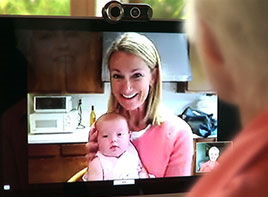 Meanwhile, Logitech is pursuing a different approach with ts own simple video calling application -- Logitech Vid HD -- Vid is available as a free download, works with any webcam, and is available for both Windows and Macintosh (see earlier post).
And Logitech Vid works in HD, conveniently supporting the new line of Logitech HD webcams. Video calls in HD mean you can capture more detail, see the whole group, whether business or family, and even digital zoom in for close-ups.
Plus Logitech has brought video calling to the set-top with Logitech Revue with Google TV (see earlier post). Google TV combines TV plus the Web, with integrated search, full Web browser, and Android apps. Logitech Revue integrates Google TV with your other home entertainment system components, including simultaneous Web and picture-in-picture TV. Then add the Logitech TV Cam for $149 for video calls with other TVs or webcams, so you can video conference on the big screen.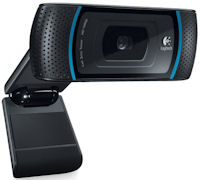 The Logitech HD webcam line supports video calls in HD 720p (1280 x 720). In particular, the portable Logitech HD Webcam C510 folds up for easy travel for $59, and the top of the line Logitech HD Pro Webcam C910 (shown here) features Carl Zeiss optics with autofocus, dual stereo audio mics, video capture to Full HD 1080p (1920 x 1080), and still photos up to 10 megapixels (software enhanced) for $99.
Logitech also bundles an extensive line of webcam software in addition to Vid, including video and photo editing, quick upload to Facebook or YouTube, fun video effects, and even face tracking and facial recognition.
See my Home Networked Media Gallery for more on Google TV and webcams.

Find the Logitech HD Webcam C510 and Webcam C910,
and Logitech Revue with Google TV on Amazon.com