After all the years of rumors about the Apple iPhone coming to Verizon Wireless, the first breach of AT&T's exclusivity is -- the iPad (see my earlier post)!
Yep, the Apple iPad will be available through the over 2,000 Verizon Wireless stores nationwide beginning on Thursday, October 28 (see Verizon iPad site and press release).
But there are a couple details that explain how this has happened ... And how the iPad is also coming to AT&T stores at the same time.
First, Verizon is selling only the Wi-Fi versions of the iPad, and not the models with 3G cellular mobile data service -- so there's no Verizon service plan built in to these iPads.
Instead, Verizon is bundling its MiFi 2200 Intelligent Mobile Hotspot with the iPad purchase (see earlier post).
The MiFi is a pocket-sized device that turns a cellular connection into a local Wi-Fi hot spot for up to five Wi-Fi-enabled devices. With the MiFi, the iPad can go online, as can your laptop and/or netbook, and/or iPod touch -- all simultaneously sharing the MiFi's 3G mobile broadband service over Wi-Fi.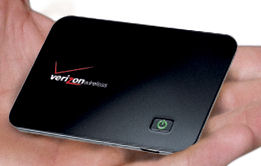 The MiFi is certainly portable -- about the size of eight stacked credit cards and weighs just over 2 ounces rechargeable battery. It provides up to four hours of active use and 40 hours of standby time on a single charge.
Verizon is pricing these bundles of iPad plus MiFi at $629 for the 16 GB Wi-Fi iPad, $729 for 32 GB and $829 for 64 GB. (This compares to Apple's pricing of $499, $599, and $699 for the Wi-Fi iPad alone. Verizon's current pricing for the MiFi is $269, or $99 with 2 year contract, or free with an online discount.)
So Verizon's bundle pricing is the same as Apple's pricing for the Wi-Fi + 3G models -- but while the MiFi is a separate device, it also can share with up to five devices.
Verizon also will offer all three iPad Wi-Fi models unbundled, apparently at the same price as Apple. So you can use the iPad with any Wi-Fi connection, or with a smartphone that offers Wi-Fi tethering to share the smartphone cellular service as a Wi-Fi cloud (as with some Android 2.2 devices, including the Droid Incredible).
Of course, the ongoing cost is the monthly cellular data service plan. Verizon is offering a monthly plan for iPad customers for up to 1 GB of data for $20 a month. (In comparison, Verizon's data plans for the MiFi alone include $39.99 for 250 MB a month, and $59.99 for 5 GB a month.)
Meanwhile, the three 3G cellular iPad models also will be available at AT&T stores also starting on October 28 (see AT&T press release). These are priced the same as the Apple Store -- $629 for the 16 GB Wi-Fi + 3G iPad, $729 32 GB and $829 64 GB. AT&T offers data plans of 250 MB for $14.99 a month, and 2 GB for $29.99.
See my Apple iPod / iPhone Gallery for details on the iPad, iPhone, and iPod products and product line history.
See my Mobile Communications Gallery for more on the MiFi and mobile data services.

Find the Apple iPad and Verizon Wireless MiFi on Amazon.com