Aliph Jawbone ICON -- Simply Better
The Aliph Jawbone line of Bluetooth headsets has been a stand-out since its 2007 U.S. introduction, combining leading noise reduction with aggressive styling.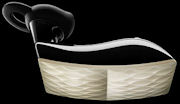 And the new Jawbone ICON is another significant step forward, not only boosting the noise reduction technology and supporting downloadable apps to customize your experience, but also taking advantage of features found in other headsets to make the ICON simpler and more fun to use.
The Jawbone designs historically have a unique look, bulging out to touch your face with a small nub that acts as a voice activity sensor, allowing the Jawbone to more accurately separate your voice from the background noise.
But the Jawbone's historical focus on style also made it something of an acquired taste, best targeted for connoisseurs who were heavy users of wireless headsets. For example, the controls were "invisible," with the buttons embedded under the outside shield, and so needed to be learned with experience and burnt into your muscle memory. And the Jawbones used a proprietary charging cable that fit with the minimized design, so you needed to bring along an extra charger and cable on trips.
The Jawbone Prime, introduced in mid 2009, began breaking down these idiosyncrasies by incorporating traditional noise reduction technology that no longer required that the touch voice sensor always be pressed securely to the side of your face (see earlier post).
And now the Jawbone ICON further opens the design to a broader range of users by offering simpler controls and a broader range of helpful features. These begin with simpler and clearer controls, now with a dedicated on/off switch and a distinct Talk button to control the call connection. Plus, the ICON uses the standard microUSB connector for easier charging.
As another assist, the ICON provides voice announcements to speak information, including the caller ID phone number and the battery level. It also displays the remaining battery life on the iPhone status bar. And it now supports simultaneous multipoint, so you can switch between two calls from two different phones at same time.
For more fun, the ICON supports MyTALK software updates, downloadable apps to enhance and customize your experience. These include Bluetooth A2DP streaming audio, AudioApps to change the voice and language, and DialApps for a customized easy access button.
Finally, the ICON further steps up the Jawbone NoiseAssassin technology for background noise elimination and wind noise reduction, combining dual microphones and the voice activity sensor to better isolate the best audio. It also has enhanced the inbound audio quality, including adjusting the volume to a consistent level.
The Jawbone ICON is available for $99 (to $80 street), in six designs and a range of colors. The Jawbone Prime also is available for $89 ($60 street). The ICON is a welcome enhancement that makes the traditional Jawbone technology easier to use and more helpful to a broader range of users.
See my Audio Accessories Gallery for details and related products.

Find the Aliph Jawbone ICON and Jawbone Prime on Amazon.com