(with Brian Dixon)
USB provides a handy interface to easily add speakers to your laptop, as with products like the Logitech Clip-on USB Laptop Speakers (see earlier post), and Altec Lansing Orbit USB Portable Speakers (see earlier post).
But you can also feed audio in the other direction, with sound flowing into your computer from a USB microphone. With plug and play ease, you then can turn your laptop into an audio recording station, for interviews or podcasts or even performances. There's no drivers or specials software required -- just fire up your favorite audio recording software.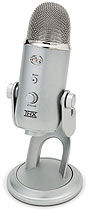 But you still need a quality mic, and preferably a flexible mic that can be used in a variety of situations. This is the idea behind the Blue Microphones Yeti USB Microphone, part of a family of innovative and interestingly-named audio recording equipment from Blue.
The key innovation in the Yeti design is the use of three internal condenser microphone capsules, which allow you to customize the pickup pattern for different recording situations. Turn the pattern selector switch on the mic to choose stereo recording, or to select one of three polar patterns: Cardioid to capture a single source (e.g., vocals, podcast, voiceover), Omnidirectional for groups (musicians, conversation, conference table), or Bidirectional for front and rear (musicians with presence, interview).
For example, we used the cardioid setup to record voiceover for video, since we did not want room ambience. The Yeti delivered excellent sound quality, with great presence in the recorded voice that required very little post-processing to fit with the video.
The Yeti provides additional handy controls, with master volume, mute, and microphone gain. And it has a headphone output jack for real-time monitoring with a volume control, along with the mini USB jack.
The Yeti should work well with almost any standard recording software. It's flexibility is in the recording pattern -- the recording format itself is fixed at 48 kHz, 16 bit digital audio format.
It's also not particularly portable at 3.4 pounds with the stand -- the mic itself is 1.2 pounds, with a threaded mount for a mic stand. You can't just carry the Yeti around and hope to record something on the spot. But it's great for quick setup on your desk for recording podcasts and other voice work, and certainly transportable for other similar work at other controlled locations.
The Blue Microphones Yeti is a quality mic (it's THX Certified) that provides recording versatility and good sound quality with quick and easy USB plug and play connection, for around $149. You'll find it to be the quickest / easiest / best-sounding option for a variety of recording projects.
See my Audio Accessories Gallery for more on audio components and portable speakers.

Find the Blue Microphones Yeti USB Mic on Amazon.com