Plantronics has a strong line of Bluetooth headsets, each designed with a clear focus on a particular the type of user.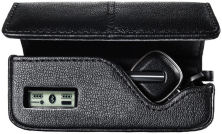 For example, the Plantronics Voyager PRO is an over-ear design designed for comfortable long-term wear, for on the road or around the office (list $99, street $69, see earlier post).
In comparison, the Plantronics Discovery 975 is a minimalist but even elegant design for occasional use, with a squared base and thin boom mic, plus a protective carrying case that is also a charger to triple the talk time (list $129, street $81, see earlier post).
Then the recent Plantronics Explorer 395 is designed for first-time and casual users. It has simple controls, with a clean design with black and silver accents, plus Plantronics DSP technology for echo cancellation and to reduce wind noise.
To simplify operation, the Explorer 395 has separate buttons for Power on/off (slider along one edge), and Volume level (on the other edge), plus Call answer/end control (on the face), and a clear red/blue LED status light.
For extended use, it provides up to five hours of talk time, and seven days on stand by. It charges easily with a standard microUSB connector, with full charge in two hours.
And for comfort, the Explorer 395 includes a contoured ear tip and swivel earloop for over the ear (but not multiple shapes, materials, and sizes), so you don't have to root it in your ear canal or worry about it falling off while you're on the go.
The result is a nice and straightforward headset that also small and light. It's inexpensive (list $49, street $30), and a good choice for new or occasional users.
See my Audio Accessories Gallery for details and related products.

Find the Plantronics Explorer 395, Discovery 975,
and Voyager PRO on Amazon.com