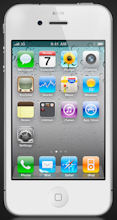 It's June, and time for the next generation Apple iPhone 4. Some of the surprise may be missing this year, but it's fascinating to see how Apple has redefined this product -- originally as an iPod music phone, then as an App phone, and now as a Video phone, complete with an HD video camera with LED light, a second inward-facing camera, plus FaceTime software for video calls and an iMovie app for editing and sharing your movie.
Interestingly, Apple actually is working its users in two directions: first positioning the iPad as a media consumption device for passive viewing (i.e., with no camera), and now re-positioning the iPhone as an active, creative device to shoot and edit and share (albeit on a smaller screen).
This focus on lots of flowing video also goes against AT&T's recent move away from unlimited pricing, so, for example, the video calls will only work over Wi-Fi, and not over the wireless broadband connection (and only communicate with other iPhone 4 devices).
The new iPhone steps up further as an audio / visual device with the "retina" display, featuring four times the pixel resolution of the previous model, from 480 x 320 to 860 x 640 (compared, for example to 800 x 480 on the Verizon / HTC Droid Incredible). At these resolutions (326 pixels per inch) you no longer notice the individual pixels. The new iPhone also adds a second microphone for reducing background noise.
But the iPhone is more than features and functions, as expected from Apple it's also an impressive piece of design -- not just the look and interface, but the industrial design to squeeze more magic into an even smaller form. Apple started by squeezing the thickness by 20 percent, from 0.48 to 0.37 in. (compared to 0.47 in. for the Droid Incredible or 0.33 in. for the iPod touch). The other dimensions and weight remain the same.
The exterior then is enhanced with hardened glass panels on both the front and the back, which are scratch and fingerprint resistant, supported by a stainless steel band around the sides (which also works as the antenna). The device also now includes a three-axis gyroscope for more expressive motion gestures. And still there's room for a larger battery for increased phone talk and video playback time.
Along with the new iPhone, Apple announced a new software update, now called iOS 4, with real multitasking for background apps, folders to organize thousands of apps, a unified e-mail inbox, iBooks app for the iBookstore, and iAds for the joys of mobile advertising, among a hundred some new features.
The new iPhone 4 ships June 24 at the same introductory pricing as its predecessor, $199 for 16 GB flash memory, and $299 for 32 GB. Meanwhile, the previous iPhone 3G S will now be available for only $99 with 8 GB of storage (see last year's post).
As usual, do check out the Steve Jobs keynote introducing the new iPhone as a wonderful example of showmanship.
Apple also has posted an iPhone 4 Design video with plenty of superlatives, and a video showing the FaceTime video calling.
See my Apple iPod / iPhone / iPad Gallery for more details on the iPhone line
Also see my Mobile Communications Gallery for more on smartphones