Bluetooth wireless gives you the freedom to enjoy your music on the move with wireless headphones, and share with others with a wireless speaker (see previous post). But not all media players support Bluetooth, including the Apple iPods (though the Apple iPhone added Bluetooth for wireless headsets).
So how can you free the music from these non-wireless player devices? You can open up a laptop with a USB Bluetooth dongle, to connect a wireless mouse or keyboard (see previous posts).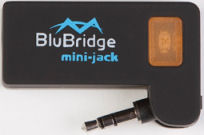 And for other music playback devices, you can use a Bluetooth transmitter like the Miccus BluBridge Mini-jack. Simply plug in to the standard 3.5mm stereo headphone jack on your device and pair with your headphones or speaker, and you can be streaming wireless music.
The BluBridge Mini-jack has a simple pairing process that works with most Bluetooth-capable receivers (with pin codes 0000, 1234, or 8888). The power/pairing button has an LCD underneath that blinks to indicate connection or charging status.
The Mini-jack charges though a mini USB port (with included cable) and runs for up to 7 hours of playback with the internal battery, or can run continuously if the cable is left connected. The headphone jack also swivels down to fold against the unit for more compact storage and portability.
The Miccus BluBridge Mini-jack is priced at $59, but is currently available for around $19. There are also similar products designed for specific devices, like the Miccus BluBridge for iPod with dock connector that runs off the iPod battery to transmit wireless music (list $59, street $24).
See my Portable Audio Accessories Gallery for more on wireless audio.

Find the Miccus BluBridge Mini-jack
and BluBridge for iPod on Amazon.com