SanDisk continues to develop interesting ideas in USB "thumb" drives, building on the U3 smart technology that lets you run a variety of Windows software applications directly from a flash drive. The idea with U3 is that you can not only carry your files and data with you on a flash drive, but bring along your favorite applications as well, so you can plug in to any computer and continue on with your work.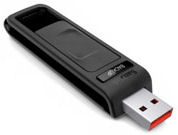 The SanDisk Ultra Backup USB Drive (see press release) is a USB drive that comes preloaded with backup software, plus a Backup button on the drive to launch the application and start saving your files, with no other fuss or software installation required.
The Ultra Backup Drive also protects your data with password-protected access control and AES hardware-based encryption.
The drive has a slide-out USB connector (so there's no cap to lose), with the Backup button above the connector.
The SanDisk Ultra Backup USB Drive is available with 8 to 64 GB of storage, priced from around $39 to $179 (street).
Also check out the SanDisk Extreme Contour (see previous post) for a more rugged design (metallic body) and faster performance (read 25 MB/sec., write 18 MB/sec.).
See more in my Portable Storage Gallery, under Flash USB Pocket Drives.

Find the SanDisk Ultra Backup USB Drive
and SanDisk Cruzer Contour on Amazon.com