Logitech has an extensive line of QuickCam Webcams for notebooks and desktop use, ranging from around $29 to $129, some with built-in mics, high-quality glass lenses, autofocus, and even motorized tracking.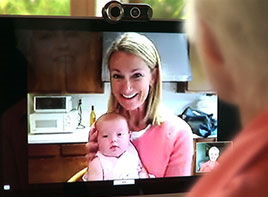 These are compatible with video instant messaging and calling applications like Windows Live Messenger, AIM, Yahoo! Messenger, and Skype. And Logitech includes several QuickCam software applications for capturing photos and sending video e-mail, options to enhance the video and audio quality, plus Video Effects to overlay fun face masks and decorations and apply photographic-style filters.
But Logitech has found in its consumer research that setting up IM applications for video can be difficult, and trying to use them can be confusing as the video part gets lost among all the other features. Meanwhile, Logitech acquired SightSpeed last year to develop its own video calling technology and services. (SightSpeed offers consumer video calling services including video e-mail, and business video conferencing with 4- and 9-way connections and collaboration.)
The result is today's introduction of Logitech Vid, simple video conferencing software for PC or Mac. Vid has a simple setup, which uses e-mail addresses to identify you and your contacts. It automatically finds your webcam, mic, and speakers, although you can change them in the settings dialog. (It also automatically reduces background noise and performs echo cancellation.) There's also a handy Practice Call option on the main screen to record a brief clip to test your equipment.
The main screen then shows thumbnail photos of your friends, so you can just click to start a video chat. Again, there aren't a lot of confusing options -- just mute, full-screen display, and picture-in-picture to show your local camera view. It also works fine without a camera for audio chats. You can leave Vid running in the background to show other users that you are available, and respond to calls.
The video is good quality, VGA 640 x 480 resolution, at full 30 frames per second. It's designed to run over a 768 Kbps connection (receive and send), but will run down to a minimum of 256 Kbps.
Vid is compatible with SightSpeed and Dell Video Chat, but does not work with the various instant messaging and calling applications -- although you still can run them on the same machine.
Logitech is making Vid available as a free download for users with Logitech webcams. You also can send e-mail invitations to friends to download the software for free and connect with you, no matter what kind of webcam they are using.
Otherwise, if you don't have a Logitech webcam and have not received an invite, you still can use Vid on a 30-day trial basis. You can't by the software by itself, but you can get a Logitech webcam (starting at $29) to authorize the software -- or find an old model.
See more on webcams in my Home Media Gallery

Find the Logitech QuickCam Pro 9000
and QuickCam Pro for Notebooks on Amazon.com