You probably have a digital camera for taking pictures at official events -- family gatherings, vacation trips -- but more and more we're using the camera in our mobile phones to shoot whenever the whim or the situation catches us. After all, there are some 2 1/2 billion (with a "B") mobile phones worldwide, and over a billion more being sold each year, so that's a lot of opportunities for camera phones.
But camera phones are a compromise for picture taking, typically with limited resolution, lower-quality fixed lenses (no focus, no zoom), no flash, and without all those great automatic features to help take better shots, for example face recognition to adjust focus and exposure.
There's only so much photo features that you can squeeze into a tiny cell phone, but each new product manages to cram more in. The Samsung Omnia smartphone from Verizon Wireless, for example, has a 5 megapixel camera, which is a step up from the 2 to 3 MP found on other devices, including the iPhone.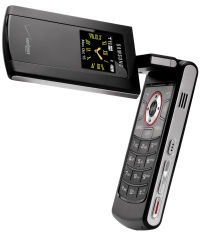 However, phones still are designed for their primary function, and are clumsy to use for taking photos, which is why the Samsung Flipshot from Verizon Wireless (SCH-u900) is such an interesting design.
The phone starts as a standard clamshell design, closed up with a smaller display on the one side and a substantial lens with 3 PM camera on the other. It flips open to access the keypad and larger 2.2 inch inside display. But then you can twist the display around 180 degrees and close up the phone again -- So now you have something much closer to a digital camera, with the large display on the back, the lens on the front, and controls along the top.
The Flipshot also supports camera modes including scenes (landscape, night, macro), multi-shot (panoramas), color effects, and self timer. And it has video out though a separate accessory to display on a TV or monitor.
It has has stereo Bluetooth wireless, expansion microSD memory card slot, and
It's not too tiny at 3.76 x 1.83 x .73 inches and 3.88 ounces. The Flipshot is available from Verizon for $99 with service plan and online discount.
See my Mobile Communications Gallery for more on mobile phones.

Find the Samsung Flipshot on Amazon.com