Usually I try to explain why a new product is interesting, and set it in the context of the market, but the heck with that -- this is just too amazing --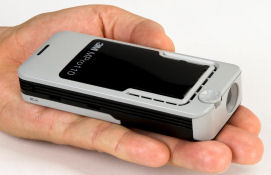 The new 3M MPro110 Micro Professional Projector is a portable video projector that literally fits in your pocket.
It's around the size of a digital camera, a bit smaller than a Palm Treo at around 4 1/2 x 2 x 3/4 inches and 5 1/2 ounces.

Just hook it up to your notebook computer, DVD or MP3 player, or handheld video game system and project the image up to around 6 feet, for a big 50 inch diagonal display. Yes, it's not super bright at around 8 lumens, but you can still see the picture clearly as long as the room is not flooded with light.
So now you can carry a video projector to share your fun anywhere (OK, or business presentation). Just project on the wall, or a piece of poster board -- or on the ceiling to add ambience to the room. There's a focus knob on the front to adjust the picture from around 1 to 6 feet. And a tripod mount for stabilizing the display.
The MPro110 uses a LCOS imager with LED light, which means it runs cool (no need for a fan), and long (10,000 hours, so no worry about replacement bulbs). The battery runs for 40 to 60 minutes.
The display itself is 640 x 480. The MPro110 comes with a VGA cable for displaying from a notebook (it accepts higher resolutions), and a RCA cable for displaying NTSC and PAL video signals.
(However, there's no speaker, so you'll need more equipment to show movies from a portable player. And you'll need an additional video adaptor to display from an iPod.)
The 3M MPro110 Projector lists at $359, and is already available for around $300.
Also keep an eye out for the Optoma PK-101 Pico Pocket Projector, due around December for $399, which uses DLP technology (tiny mirrors), is a little smaller (4 x 2 x 3/5 inches, 4 ounces), and includes speakers and an iPod kit.
See my Home HDTV Gallery for details

Find the 3M MPro110 Micro Projector and
Optoma PK-101 Pico Projector on Amazon.com