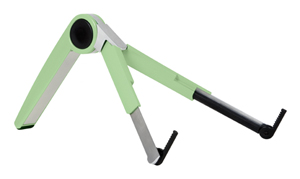 The Cricket Laptop Stand from Innovative Office Products is a clever portable and adjustable way to get your laptop (or tablet PC) up off the desk for a more comfortable viewing height.

It collapses and folds up to 8 x 2 x 1 inches. Press the hinge button to swing it open. Lay it almost flat to raise the level of the keyboard (and get some airflow underneath to cool your system). Or lift it up to tilt the base of the computer from 11 to 60 degrees to share the screen display.
The Cricket supports laptops up to 12 pounds, and pretty much any size. The front legs spread apart and extend from 6 to 9+ inches, with flip-down rubber feet to hold the base securely.
You also can add a mouse and a portable keyboard (like the Adesso Flexible Keyboard) for a much more comfortable setup for working on the road.
The Cricket Laptop Stand is available from Innovative Office Products for $39.95, in Charcoal black, Mac White, and Eco Green.
See my Portable Peripherals and Accessories Gallery for more fun devices, organized by company.