The Samsung BS300 Bluetooth Portable Speakers (see previous post) are wonderfully small and portable for trips (the same size as portable media players), and put out a respectible 2W of output -- good enough to be heard across a quiet room.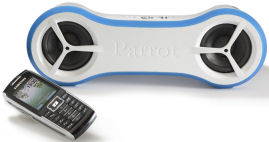 But for less controlled enviroments, you can step up the Parrot PARTY Stereo Portable Bluetooth Speakers, with a stronger 6W of output (around $119).

Though these are not pocket size at 9 x 3 x 3.3 inches and 21 ounces, they're still quite compact to bring along for some fun -- or to fit easily under a monitor or on a shelf.
Besides volume controls, the Parrot PARTY also has buttons for two audio effects -- Stereo Widening and Virtual Super Bass (which reinforced bass frequencies well). You can use it up to the Bluetooth range of around 33 feet, or it also does have a line-in audio jack.
Parrot's focus is Bluetooth, with hands-free car kits and digital photo frames, and now extending into speakers with the Parrot PARTY, and even higher-end products:
- Parrot BOOMBOX
hi-fi compact digital speaker
2.1 sound, 60W stereo
($279 list)
- Parrot SOUND SYSTEM
wireless Hi-Fi speakers
60W (per speaker)
($449 list)

The other way you can use these is for better sound for music stored on your notebook. Use your computer's built-in Bluetooth, or a Bluetooth USB adapter, and then your media player software can be blasting sound through these external speakers.
- Parrot USB Bluetooth DONGLE
($37 list)

See my Audio Accessories Gallery for details and related products

Find Parrot PARTY Speakers on Amazon.com