TECHNOLOGY & SOCIETY ARTICLES

Manifest Technology Blog -- Site: | Articles | Galleries | Resources | DVI Tech | About | Site Map |
Articles: | PC Video | Web Media | DVD & CD | Portable Media | Digital Imaging | Wireless Media | Home Media | Tech & Society |
Technology & Society: | Technology & Society Articles | PC Technology References |

---
Our Digital Life (2/2007)
by Douglas Dixon
Portable devices and digital media may be disruptive to established businesses, but there's no question that consumers have made their passions clear for these new modes of storage and entertainment, voting not only with their actions, but also with their wallets.
This excitement is demonstrated by the annual DigitalLife show, held in the fall in New York City (www.digitallife.com). Last year's show in mid-October was the third annual, and was again crowded with kids, families, and tech fans of all persuasions.
DigitalLife is held in the Javits Center like other trade shows, but unlike general IT conferences like PC Expo that have faded in New York, DigitalLife is unabashedly a consumer show, "dedicated to educating consumers on what the digital lifestyle means in every aspect of life - at work, home and play. And, how the convergence of affordable, accessible technologies is enriching and empowering people's lives."
So there's a lesson here about the appeal of this digital lifestyle to a very broad audience, especially when 50,000 people show up for DigitalLife in New York, while the IT-based C3 Expo (Corporate and Channel Computing) draws less than 10,000, and a more focused show like Streaming Media East draws around 2,000.
Because consumers are indeed empowered: attendance at the four-day event (Thursday through the weekend) grew another 21 percent to over 53,000, and the show floor grew 40 percent, with over 200 exhibitors.
DigitalLife returns to the Javits Center in New York on September 27 - 30, 2007. Plus, it's joined by DigitalLife Chicago, June 8 - 10, 2007 -- www.digitallife.com.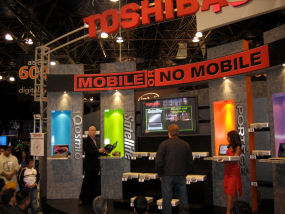 DigitalLife booth
Hot Technology
Key trends for the 2006 show included mobility and gaming, plus an emphasis on security and safety for home computing. The keynote presentations by high-profile VPs and CEOs reflecting this emphasis, with presentations on personal computing by Microsoft ("The Beauty and Power of Windows Vista") and Intel ("Living the Digital Life"); on consumer electronics by Sony ("HD World: The Fusion of Entertainment and Electronics"); and on gaming by Electronic Arts ("The Future of Entertainment") and Alienware ("The Immersive Worlds of Tomorrow's Technology").
But the real action was on the show floor, with the crowds visiting booths exploring hot areas including PCs (i.e., Microsoft, Intel), digital imaging (Kodak, HP), mobile media (LG, Sony, Toshiba), and storage (Maxell, Verbatim, Seagate), and communications (Verizon, Palm).
For physical media fans, the show included demonstrations of Blu-ray running on Sony players, and a dedicated HD DVD booth with a busy demo suite highlighting the interactive features on new releases.
However, the real lesson here for entertainment delivery was found in the large Accessories Zone area, where content and delivery were trumped by fashion and flash -- with a profusion of stylish and colorful iPod cases, speakers and docking stations, wireless Bluetooth headsets (for phones and music), clever adapters and chargers, plus snazzy bags and cases. Personalization and accessories are in, reflected by the fun designs being offered even for formerly-generic memory cards and USB thumb drives, much less MP3 players and mobile phones.
Yet all this paled in comparison to the excitement of gaming -- which took up easily a third of the show floor, with some fifteen publishers demonstrating their latest games. Plus there were tournaments for F.E.A.R. Combat, Dance Dance Revolution, Guitar Hero II, and American Idol; and special events including a 15th birthday celebration for Sonic the Hedgehog, the $100,000 DigitalLife Pro Am Video Gaming Tournament., and the Boost Mobile MLG (Major League Gaming) Pro Tour.
DigitalLife gaming
And there's a much different feel to this event, from the level of excitement and interest, the much broader age range of the audience (including lots of school children), and the hands-on involvement with everything from game demos to iPod cases.
A New Audience
And the digital life is not just about iPod bling and video game shooting -- it's about leveraging technology like storage and communications to make people happy, and willing to spend:
Bluetooth lets people listen wirelessly to music, and then seamlessly switch to an incoming phone call (you even can get a Bluetooth watch/phone, with a faceplate that detaches to use as an earphone).
WiFi allows one phone to serve for both traditional landline and low-cost Internet VOIP.
Power line networking allows sharing electronic media throughout the house without complicated networking configuration.
Mobile connections to portable devices allow almost arbitrary combinations of text, voice, Web, and media in an overwhelming variety of form factors.
The bottom line, however, is not just that it's a new world out there, it is a very different audience. Our baby boomer perceptions are being outmoded by the gamer generation, as described by John Beck and Mitchell Wade in their book, Got Game: How the Gamer Generation is Reshaping Business Forever (hardcover at Amazon.com, paperback at Amazon.com retitled The Kids Are Alright: How the Gamer Generation is Changing the Workplace, at www.gotgamebook.com):
"Looking closely at this group's connection to games tells us that video games are central to understanding the generation. The relationship between the gamers and their technology is powerful, more powerful than the boomers' once-frightening rock and roll revolution, or the insidious teachings of television."
Gaming is the formative experience of this new generation -- to the extent that rock and roll was to the baby boomers. (Mario and Sonic now trump the Beatles and the Rolling Stones!) These consumers are interested in new technology, and willing to pay -- for the right products.