Manifest Technology Blog -- Site: | Articles | Galleries | Resources | DVI Tech | About | Site Map |
Articles: | PC Video | Web Media | DVD & CD | Portable Media | Digital Imaging | Wireless Media | Home Media | Tech & Society |
Portable Media: | Portable Media Articles | Portable Media Player Gallery |

---
Palm Handheld Photo Viewers (4/2001)
by Douglas Dixon
The Palm Platform - Images on the Palm -
Club Photo AlbumToGo - Dream House PocketPhoto -
Firepad FireViewer - TealPoint TealPaint - MGI PhotoSuite Mobile
Photos are lots of fun, for sharing with family and friends. Photos and diagrams are also good business tools, for selling to customers or as reference material. But photos are clumsy to store and index and carry around with you. And digital photos can be even more troublesome, especially if you need to lug around a laptop to show them.
Now there's a solution as close as your pocket: A PDA (portable digital assistant) like the Palm handheld (www.palm.com - now www.palmone.com/us) is not just an organizer, it can also serve as a portable photo album. After all, the Palm is still a real computer with a graphical display, which means that it certainly can be used for displaying photos and even image editing. It's just that the display is a little smaller than you might be used to, around 160 x 160 resolution, and is grayscale on some models, with 16 shades of gray.
So now you can have your photos to go. "No more bulky wallet photos or pictures stuffed into purses," says Eric Buchbinder, CEO of Dream House Software, makers of PocketPhoto. "It's an ideal application for professionals who need to have advertising, product shots, or real estate photos with them for display, or simply to keep favorite pictures of loved ones on hand."
In this article, we'll take a look at several photo and graphics applications for the Palm, to store and view photo albums, display photo slide shows, and edit images. You can download these applications from Palm software sites such as Palmgear.com, Handango.com, or Smaller.com.
The current Palm product line includes the basic Palm IIIx ($249 street price), the color Palm IIIc ($329), the "stylish" thin and light (4 oz.) Palm Vx ($399), the Palm VII connected organizer for wireless Internet access ($449), and the new fun consumerized Palm m100 ($149 with 2 MB of memory). Most of the Palm line now has 8 MB of internal memory. While that may not seem like a lot these days, Palm applications are written compactly and data files are typically compressed.
Palm has also licensed the Palm platform design and OS to other third-party vendors to develop compatible units, including the IBM WorkPad c3 PC Companion, the TRGpro from TRG Products (HandEra) (www.trgpro.com) with a compact flash expansion module designed for mobile professionals, and the new Handspring Visor (www.handspring.com - now www.palmone.com/us/products/smartphones) with an array of Springboard plug-in expansion modules.
In a further boost for the Palm platform, Sony released a Palm-based PDA product in the Fall of 2000 (www.sonystyle.com). The Sony CLIE is an 8 MB system that includes a 8MB memory stick removable memory ($399).
The Palm handheld unit interfaces to desktop applications though a "HotSync" cradle and associated software to synchronize and transfer data between the handheld and a personal computer. The Palm Desktop software is available for both the PC / Windows and Apple Macintosh platforms.
The Palm photo applications discussed here require a corresponding PC-based desktop tool for converting image files to Palm format and resolution. Once converted, the files are scheduled to be downloaded to your Palm the next time you HotSync. Some of the desktop converter applications also let you manage a list of image files, and add or delete entries from either the desktop or the handheld. These associated desktop tools for these applications are platform-specific, for Windows and sometimes the Macintosh.
Since Palm organizers are available in both color and grayscale, and with different levels of gray, these desktop converter applications have options to select the desired display type for your Palm when you convert a file. When you then display the image, the Palm viewers typically can adjust it as needed to the display by dithering a 16-level grayscale image to a 4-level display, but most cannot show a color image on a grayscale display.
Most of these applications also support the common features of the Palm platform. Some let you attach text notes to your image files so you can search through them on the Palm, or assign viewing functions to the Palm buttons, such as scrolling up/down or left/right, and switching to the previous / next image. Most applications also let you beam your media files to a friend's handheld through the Palm infrared interface. In fact, I tested these applications on both a grayscale Palm Vx and a color Palm IIIc by beaming the applications and their files between the two units.
One fun application for your Palm is to use it as a portable electronic photo album. You can select a group of digital photos, convert them to Palm format, and download them to your handheld. You can then use a Palm photo album application to view the images and even present a slide show for your friends.
AlbumToGo from Club Photo (www.clubphoto.com) is an easy to use photo album application that can display photos individually or in a slide show. Club Photo provides AlbumToGo as a free download to encourage the use of its photo sharing web site, which offers free online photo sharing combined with online photo finishing services. Version 1.6.1, released in November 2000, supports both color and grayscale images.
The main screen of AlbumToGo provides a list of your photos. You can also use the five icons at the bottom of the screen for file management functions: view, rename, add note, beam, and delete.
When you view an image, you can cycle through the images by using the scroll buttons at the bottom of the Palm unit to move up or down through the list of files. You also can have AlbumToGo present all the images as a slide show. You specify the duration that each image is displayed, and can choose different transition effects.
The AlbumToGo Desktop application converts one image at a time for display on the Palm, and reduces it to fit the Palm display size. You can open images in JPEG, GIF, Bitmap, Icon, and metafile formats. The Preview window lets you compare the original image to a representation of how it will look on the Palm. You also can adjust the contrast and brightness, and select the display format as color or grayscale. It then schedules the resulting image to be downloaded at the next HotSync. The AlbumToGo Desktop application is available for Windows and the Macintosh.
PocketPhoto from Dream House Software (www.dreamhs.com) is a very convenient photo album manager and viewer. It is a commercial application with a clean interface on the Palm and a flexible desktop application that can organize photos into albums and import a wide variety of image formats.
With PocketPhoto, it does not get much easier: you load up a list of images with the PocketPhoto desktop application, HotSync to your Palm, bring up the PocketPhoto Palm application, and then tap on the screen to view your images.
PocketPhoto Color, version 2.01, was released in July 2000, and supports both grayscale and color images and displays. It also adds the ability to organize photos into multiple albums, present slide shows, and beam photos to other handhelds.
The desktop application, PocketPhoto Album Creator, lets you create and organize multiple albums in different categories, and organize the order of images in each album. It can import images in most major formats, including JPEG, Bitmap, TIFF, Targa, Photoshop, and Macintosh PICT. It also can copy images from the clipboard, capture a photo from the screen, and acquire an image directly from a scanner or digital camera. Version 2.1 from late 2000 also adds the ability to download photos directly from Kodak Photonet Online.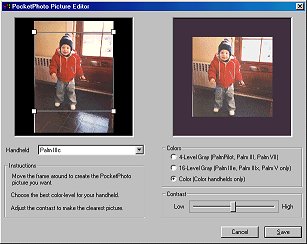 PocketPhoto is a commercial application priced at $24.95. A demo version is available for downloading that has a time limit of 30 days, and only allows you to download two photos. The full version can manage hundreds of photos, depending on available memory. The desktop application is available for Windows.
FireViewer from Firepad, Inc. (www.firepad.com) is a viewer for large images that lets you zoom in and scroll around images that are much larger than your Palm display. It is especially useful for examining the detail in large maps or schematic diagrams. Version 3.7.1 from September 2000 added large image support, for images over 8000 x 8000 pixels. Version 4.0, from October 2000 added the ability for wireless Palm users can access ImageBox, a free photo-sharing service. It also expanded FireViewer from an image viewer to a document viewer, with support of HTML to view and navigate complete documents with text and large images.
To work with large images on the small Palm display, You can use FireViewer can preview the entire image, reduced to fit the screen size, and tap on the image to zoom in to see a portion of the full-size image. At full size, you can then use the stylus to scroll around in the image. The scrolling is very smooth and immediate, with no delay or jumping.
The FireViewer interface is very clean, with minimal menus and icons. Instead, if you tap and hold the stylus it displays a pop-up menu with the available options. The main FireViewer screen shows a list of all your images, and you can select to show the full view, preview, details, or edit notes. The information screen also provides file management functions, including rename, delete, and beam, and lets you organize your images in different categories.
When displaying the image preview, FireViewer displays a small icon in the upper corner with the zoom ratio, and you just tap to zoom in. When displaying the full-size image, it displays navigation icons in the upper corner, or you can use the pop-up menu to perform image functions. You can also use the Palm scroll button to flip directly between different images.
The new FireViewer can follow hyperlinks and download images wirelessly, so you can set bookmarks and control whether downloads are temporary or saved.
The FireConverter desktop application converts files to the FireViewer format. FireConverter supports variety of formats, including Bitmap, GIF, and JPEG, or can import an image from the clipboard, or can capture an image from the screen. It provides options to define the image format, grayscale or color, and dithering. For large images, it provides the option to shrink or crop the image. It also provides an option to compress the image to take less space in Palm memory.
Firepad distributes FireViewer as a free application. It supports both grayscale and color images. A Spanish version of the FireViewer Palm application is also available. The version discussed here is 3.7.1. The FireConverter desktop application for Windows is distributed separately, with a Macintosh version under development. Other Mac image tools can convert images to FireViewer format.
For corporate customers, FirePad sells a FilePublisher product as an enterprise server suite to perform server-based automated conversion of image libraries, and is developing a FireProducer server suite for converting rich media, and streaming video to wireless Palm devices. In October 2000, FirePad announced that it had licensed the Adobe Acrobat PDF library, so that FirePublisher can deliver an even wider range of structured documents with text and graphics to Palm devices.
While viewing photos is fun, eventually you will feel the urge to edit them, or the need to use a bitmap paint program to draw your own images. TealPaint from TealPoint Software (www.tealpoint.com) is a feature-packed paint and sketch program for the Palm. It offers pens and brushes, drawing tools and text, ovals and polygons, drawing colors and fill patterns, with magnified draw and grid snap options. TealPaint also includes a grab screen option that will capture an image of the Palm screen after waiting for you to switch to another application.
TealPaint is a member of a family of Palm tools and utilities from TealPoint. In particular, it works well with the TealDoc document reader, so that documents can include images, and TealDoc can launch TealPaint to view and edit them. TealPaint also integrates with the TealPoint Print tool to print images from the Palm. All TealPoint shareware products are distributed as completely usable versions, not as limited evaluation versions or with a time out. After you finish evaluating TealPaint, the shareware price is $17.94. Version 4.76 from October 2000 added the ability to work with template images, and draw in a layer on top of a locked background.
The main TealPaint screen displays a list of images along with a small thumbnail. You can view an image, edit an image, or play an animation. In addition to providing file management functions, TealPaint also organizes your images by grouping them into separate databases.
When you edit an image, TealPaint provides not only a complete array of image drawing functions, but also provides options for selecting and adjusting regions and flipping the image. It also provides a single-level undo function.
TealPaint also has a simple animation function for flipping through a series of images in a database. You can easily build an animated sequence by using the built-in tools to create new variants of an image by duplicating it, or by working from a template image. You can also set the playback speed.
TealPaint includes a Windows desktop tool, TealPaint Image Manager, for converting images to Palm format and for accessing images that have been created or edited on the Palm. TealPaint Image Manager manages images by actually opening the desktop backup file of a TealPaint database, which is updated each time you HotSync. You can add new image files to the database and download them to the Palm, or extract files from the backup database back to a PC file. You can access images only in Bitmap format, or via the clipboard. A separate command-line tool, PicUtil, is available for both Windows and the Macintosh.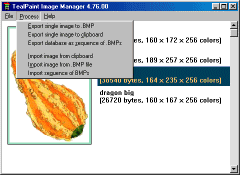 MGI Software Corp. (www.mgisoft.com) -- now Roxio (www.roxio.com) also has released PhotoSuite Mobile, a photo and video viewer application bundled with new Palm handhelds. This is the first established desktop imaging company to release a Palm application. It became available in early 2001 for $24.95.
The PhotoSuite Mobile Album application for the Palm platform allows you to store, view, and share both photos and video clips on your handheld. MGI claims to support video playback up to 30 fps, and video pause with single frame advance. The product also includes PhotoSuite Mobile Organizer, desktop software to organize, edit, and convert photo and video files.
Photos and Video
These are still exciting times for multimedia support on Palm platforms. You can see it in the very different approaches taken by a wide array of small developers. But you can also see it in the lack of standardization and interoperability. These applications each use their own independent image file format. This means you cannot share files among different applications, and you can beam an image file to a friend's handheld only if they have the same application. There is no common interchange format or mechanism on the Palm platform, like copying through the clipboard on a desktop operating system.
Yet this is just the beginning of multimedia on handhelds. The next step, video playback on the Palm, is already happening. ActiveSky (www.activesky.com) offers a free video player application for the Palm, PocketPC, and Windows CE, and has demonstrated wireless streaming of video from a PC server to multiple handhelds. ActiveSky is partnering with content sites to offer short video clip and cartoons that you can download and play. FirePad also has demonstrated its streaming media technology, which is due to be released with the next version of FireViewer. And TealPoint has demonstrated a TealMovie player that plays full-screen video, with audio, on the Palm.
But to start with images, there already is a wide array of choices for photo viewers, organizers, and even image editor applications on the Palm platform. You can download photos to show to friends and family, present them as slide shows, view the detail in large images, create and annotate images, and even beam them to other handhelds.
For starters, you cannot beat the price of AlbumToGo, free from Club Photo, to download photos to show to friends and family and present them as slide shows. You can also upgrade to PocketPhoto from Dream House, for a more flexible interface to organize albums and directly import a wide range of image file formats. Use FireViewer from Firepad to view large images in detail, so you can scroll around easily in maps or diagrams on your handheld screen. Finally, to edit your own images, try TealPaint from TealPoint, a feature-packed image painting program that also can create flip-book animations.
All these programs are available for free, or as trial downloads, so go ahead and try them out. But if you like them, please remember to pay the registration fees in order to allow these developers to keep improving these products and developing new ones.
References
Palm
www.palm.com now
www.palmone.com/us
Sony CLIE
www.sonystyle.com
Club Photo - AlbumToGo
www.clubphoto.com
Dream House - PocketPhoto
www.dreamhs.com
Firepad - FireViewer
www.firepad.com
TealPoint - TealPaint
www.tealpoint.com
MGI PhotoSuite Mobile - Roxio
www.mgisoft.com - www.roxio.com