Manifest Technology Blog -- Site: | Articles | Galleries | Resources | DVI Tech | About | Site Map |
Articles: | PC Video | Web Media | DVD & CD | Portable Media | Digital Imaging | Wireless Media | Home Media | Tech & Society |
Portable Media: | Portable Media Articles | Portable Media Player Gallery |

---
Creative ZEN Media Players: Mosaic and X-Fi (3/2009)
by Douglas Dixon
Creative ZEN Stone
Creative ZEN V Plus
Creative ZEN
Creative ZEN Mosaic
Creative ZEN X-Fi / with Wireless LAN
References

Find related Creative articles in the Manifest Tech Blog

See my Portable Media Players Gallery for more on MP3 and media players
The Apple iPod line of media players is spare (but colorful) -- with just a handful of clearly-differentiated products: the tiny shuffle, mini nano, heftier classic, and wired touch (www.apple.com/itunes). But what if you want more options in your player -- like FM radio, voice recording, speakers to share the clips with friends, replicable batteries for long trips -- or just a wider choice of different shapes and sizes?
Creative has designed to a different beat with its line of Creative ZEN and MuVo media players, with a broader line of products and options (www.creative.com/products/mp3). These are all flash memory based, with up to 32 GB of internal memory (but not mini hard drives like the iPod classic).
The Creative line includes the ZEN Stone (a mini MP3 player), and two older designs, the ZEN V (mini video player) and plain old ZEN (with larger screen).
Then last year Creative added two more designs: the ZEN Mosaic (a small handheld player) and ZEN X-Fi with expanded sound and X-Fi with Wireless LAN with built-in Wi-Fi.
The Mosaic and X-Fi play music (and Audible audiobooks), photos, and videos, and are loaded with features, including FM radio, voice recording, a built-in speaker (so you can enjoy and share without headphones), and an organizer to sync with Outlook.
And they are relatively easy to sync with under Windows -- you can drag and drop files directly (if they are in supported formats like MP3 and JPG), or sync with Windows Media Player. Creative also offers the Creative Centrale software to organize your media collection (see www.creative.com/getstarted/zenmozaic) and ZENcast Organizer to manage video and audio podcast channels (www.zencast.com).
The Mosaic and X-Fi also use a stand mini-USB interface to connect to a PC and to recharge, which should mean that you don't need to carry special cables. But -- unfortunately, they do not charge from a USB hub or from USB power adapters, which means that if you want to use them on a trip, and are not bringing along a computer, you will need to buy and carry the special Creative ZEN charger.
So if you're interested in a fun media player with an attractive combination of features, then do check out the ZEN Mosaic and ZEN X-Fi.
A note on prices: The pricing on these products varies dramatically, depending on capacity, color, and specials, so make sure to check retail stores and the Creative site.
---
For basic music playback, the Creative ZEN Stone is a tiny portable music player with playback controls but no display.
It also comes in a ZEN Stone Plus model with a little blue OLED display, FM radio and voice recording, plus plays AAC audio.
And both of these come in a two more versions with a built-in speaker -- the ZEN Stone with Speaker and Zen Stone Plus with Speaker.
Depending on model and color, these are available for around $34 to $54 with 2 GB of storage (1000 WMA songs, 64 hours of playback -- so having a display to select songs is helpful).

Find the Creative ZEN Stone with Speaker on Amazon.com
Find the Creative ZEN Stone Plus with Speaker on Amazon.com
---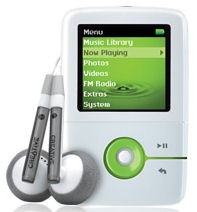 For viewing photos and video in color, the Creative ZEN V and ZEN V Plus are tiny players with a 1.5" color screen that play music and photos, with voice recording, plus line-in recording!
The Plus adds FM radio and video playback.
These are older players, with a mini-joystick interface, currently available with 4 GB of storage for around $89.

Find the Creative Zen V Plus on Amazon.com
---
For a bigger screen, the Creative ZEN has a 2.5" display in a credit card size, plus a SD card slot for additional memory.
It's available with up to 16 GB for around $179.

Find the Creative Zen on Amazon.com
---
The newer Creative ZEN Mosaic has a 1.8" color display, with 128 x 160 pixels. It's small and light at 3.1 x 1.6 x 0.5 inches, and 0.1 pounds. The display has a portrait orientation, so you need to flip the player on its side when playing videos (www.creative.com/zenmozaic).
It has built-in support for a variety of music file formats (MP3, WMA, WAV, Audible) and displays album art and photos (JPEG). However, videos need to be transcoded by the Creative software before downloading (see www.creative.com/getstarted/zenmozaic).
The Mosaic has FM radio, voice recording, plus clock, stopwatch, and radio alarm, and organizer to sync Calendar, Contact, Task List with Outlook.
The built-in battery lasts up to 32 hours for continuous audio play, 5 hours for video. There's no expansion memory slot.
It's available with 2 to 16 GB for $59 to $149, in black, silver, and pink.
See http://us.creative.com/products/product.asp?category=213&subcategory=214&product=17897
ZEN Interface
The ZEN Mosaic has an interface like the older ZEN, using a 4-way control pad (for menu selection and volume), with a selection button in the middle. Plus there are four more dedicated buttons, above and below: Back (previous menu) and Options (context menu), Shortcut (assignable) and Play/Pause.
The "mosaic" name comes from the fun pattern below the display, where the buttons are part of the jumble of grayish squares. The one white square is the center select button, but the four directional buttons do not have the same color, and the only identification is a subtle icon embedded in the surface. As a result, controlling the Mosaic can be frustrating for first-time and casual users -- the play/pause button is particularly non-obvious.
The ZEN menu structure is clean and straightforward. It has a nice alphabet bar to use when scrolling a long list of songs -- click right to jump into the bar and quickly skip by first letter.

Find the Creative Zen Mosaic on Amazon.com
---
The Creative ZEN X-Fi line (www.creative.com/zenxfi) expands on the capabilities in the Music by featuring Creative's X-Fi Xtreme Fidelity Audio technology to restore the quality of compressed music, with X-Fi Expand to expand sound forward for natural listening experience over headphones that simulates the sound from stereo speakers. The product also includes Creative's EP-830 earphones.

The ZEN X-Fi adds a larger 2.5" color display in landscape orientation, with 320 x 240 pixels. It's still fits in your palm or shirt pocket, and is rather light at 3.3 x 2.2 x 0.5 inches and 2.4 ounces.

In addition to built-in music file formats, it supports MJPEG, WMV, and MPEG-4 (DivX and XviD) video formats.

And it adds a SD card slot for additional memory (SD or SDHC -- full SD, not microSD).

The built-in battery lasts up to 36 hours for continuous audio play, 13 hours with the speaker, and 5 hours for video, 4 hours with the speaker.

The ZEN X-Fi with Wireless LAN adds Wi-Fi networking (IEEE 802.11 b/g, with WEP, WPA-PSK, and WPA2-PSK security). But this is not general wireless support, for web browsing or Internet radio and video. Instead, the ZEN X-Fi with Wireless supports three specific features:

- You can chat with instant messaging for free using Yahoo! Messenger or Windows Live! Messenger. This requires setting up a ZEN X-Fi chat account to configure your IM gateway, username, and password. From the X-Fi you can customize your virtual avatar by choosing various facial features. (See demo http://www.creative.com/products/mp3/zenxfi/?pageLInk=chat.)

- You can stream your own music and photos wirelessly from a PC (or download files to the ZEN X-Fi) by connecting over your home network to a system running the Creative Centrale Media Server.

- And you can stream content from the Creative MediaBox server by connecting over the Internet at a public Wi-Fi hotspot. The Creative server has some 19 categories, from Comedy and Business, to Health & Fitness and Travel & Vacation, to Music and Radio. But each category seems to have only a handful of options, with some of the more recognizable being Discovery Channel, CNET News, and WGBH Classical. But it's basically a sampler of some content, not a fleshed-out smorgasbord like you might be used to from iTunes podcasts or Internet radio stations. (In comparison, the earlier SanDisk Sansa Connect connected to a variety of Internet radio stations and used Yahoo to communicate via Yahoo! Messenger, browse Flickr photos, and access music via a Yahoo! Music Unlimited To Go subscription.)

The ZEN X-Fi is available with 8 GB for $149
The ZEN X-Fi with Wireless LAN is available with 16 GB for $199, and 32 GB for $279

ZEN X-Fi - http://us.creative.com/products/product.asp?category=213&subcategory=214&product=17810
ZEN X-Fi with wireless - http://us.creative.com/products/product.asp?category=213&subcategory=214&product=17811
X-Fi Interface
The design of the controls on the X-Fi is even more obscure than the Mosaic. To the right of the display the X-Fi has a 3 x 3 grid of buttons, plus another pair of buttons above and below. The four outside buttons have very subtle markings (Back, Options, Shortcut, Play/Pause).
The middle unmarked 3 x 3 grid serves as the control panel, with the center for Select, and the middle buttons on each side for left/right and up/down for menus and play control. The left corner buttons then jump to the beginning or end of a menu list, and the right corner buttons jump forward or back one page in a list.
Where the 3 x 3 pad becomes more useful is in entering text, especially for chatting. The X-Fi then displays a phone keypad, which you can navigate to select a key, and then press multiple times as you do to send text messages on a mobile phone. The corner buttons help in moving around the virtual keypad, since you can move diagonally to the next letter.
But, like the Mosaic, the button design can be an acquired taste, and can be off-putting to a new user just trying out the X-Fi.

Find the Creative ZEN X-Fi on Amazon.com