Manifest Technology Blog -- Site: | Articles | Galleries | Resources | DVI Tech | About | Site Map |
Articles: | PC Video | Web Media | DVD & CD | Portable Media | Digital Imaging | Wireless Media | Home Media | Tech & Society |
Portable Media: | Portable Media Articles | Portable Media Player Gallery |

---
Archos Portable Media Players / Recorders (3/2007)
by Douglas Dixon
Archos 404 / Camcorder
Archos 504 -- Capacity
Archos 604 -- Widescreen
Archos 704 -- WiFi
Interface
Video Recording

See more on the Archos 704-WiFi
See the new ARCHOS Generation 5 Portable Media Players
Archos has introduced a new latest Generation 4 line of hard disk-based media players focused on a larger-screen experience, video capture, and wireless connectivity (www.archos.com)
Smaller disk-based players are a little bigger and noticeably heavier than flash memory devices, but still fit comfortably in a shirt pocket. Yet they are still a personal device, for one person to watch while listening with headphones. But YouTube and the like have convincingly demonstrated that video is for sharing, which leads to the next step to the full-up portable media players, complete with larger screens and built-in speakers.
The Archos 404 has a 3.5 in. screen and 30 GB for $299 (4 x 3 x 0.6 in., 6.75 oz). It has a stereo headphone mini-jack, and TV output jack, and supports voice recording. Archos also offers a model with an integrated camera.
Archos 404
It supports video playback with MPEG-4 and WMV, up to DVD resolution; audio playback for MP3 CBR & VBR, WMA (DRM), and WAV; photo viewing of JPEG, BMP, and PNG formats; and has a PDF viewer.
The Archos 504 is bulked up to 160 GB of storage (40 GB $349, 80 GB $399, 160 GB $599). It sports a 4.3'' TFT, widescreen display, 16/9 480 x 272. The unit is 5.1 x 3 x 0.9 inches, 11.15 oz.

The Archos 604 sports a 4.3 inch widescreen display (480 x 272), with 30 GB for $349 (5 x 3 x 0.6 inches, 9.3 oz.). It also offers a model with built-in Wi-Fi for $449 -- beyond the Zune's device-to-device file-sharing to providing real Internet access, to also browse the Web and access e-mail.
Archos 604
The Archos 704 adds wireless networking (802.11g) for sharing and streaming media (80 GB $549). It has a 5 x 7-inch touch-screen, 800 x 480 pixels, in a unit that is 7.05 x 4.96 x 0.78 inches, 22 oz.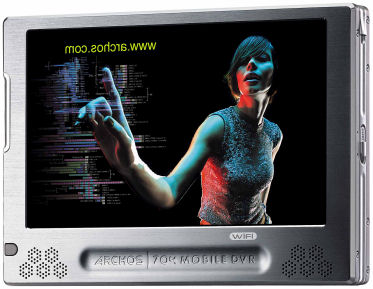 These Archos products share a common design and interface, including built-in speakers. They are controlled by a set of rocker switches on the navigation pad down the right side of the unit -- press left or right to navigate, fast scan, select / cancel, and access the menu. Plus, there's a Power switch on the top, along with a LED / TV (video out) switch.
The Home screen then displays the main functions: Video, Music, Photos, file Browser, Resume, TV Scheduler, VideoCorder, and AudioCorder. There's also a second screen for system settings, plus the Menu key provides access to the User Manual -- preloaded in PDF format, in 10 languages.
Select Video and you're in for a treat -- the 604 comes preloaded with a slate of movies: Any Given Sunday, Batman Begins, Enemy of the State, and War of the Worlds -- and the menu screen displays the format and time information for each, and plays a thumbnail video preview for the current selection.
To connect to your PC, use the supplied cable to hook up to a USB port. The 504 / 604 can connect in Windows Device mode for easy syncing with Windows Media Player 10, or in Hard Disk mode for direct access as a mass storage device.
The new Archos line also goes beyond playback and audio recording to offer video recording with a separate Archos DVR Station module that can be added to the players to even offer scheduled recording -- your player can grab your favorite shows overnight for you to watch the next day, for free ($99). It also serves as a docking station (each player model comes with a matching adapter), with power, USB connectors, and an IR remote control.
Plus, there's a smaller DVR Travel Adaptor to record video and recharge ($69).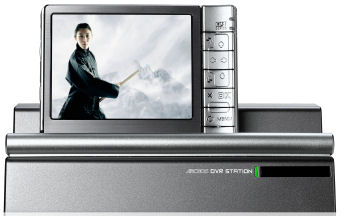 Archos 404 with DVR Station
The DVR station is equipped with a full set of connectors -- composite and S-Video in and out, and component and SPDIF out. It records 640 x 480 VGA video in AVI format at 30 and 25 fps, in MPEG-4 SP with ADPCM stereo sound. It also records audio in IMA ADPCM or PCM stereo sound in WAV format.
Portions originally published in Camcorder & Computer Video magazine, 23, 1, February 2007.