Manifest Technology Blog -- Site: | Articles | Galleries | Resources | DVI Tech | About | Site Map |
Articles: | PC Video | Web Media | DVD & CD | Portable Media | Digital Imaging | Wireless Media | Home Media | Tech & Society |
Portable Media: | Portable Media Articles | Portable Media Player Gallery |

---
Portable Players Go Wireless: Archos 704-WiFi (5/2007)
by Douglas Dixon
The Interface
Playing Media
Wireless Access
UPDATE: Wireless Media Playback
DVR Station

Overview of the full line of Archos Portable Media Players
See the new ARCHOS Generation 5 Portable Media Players
See more in the Portable Media Players Gallery, under Hard Disk Video Players
Now that mobile phones are encroaching into the domain of media players with downloadable and streaming music (see the impending Apple iPhone), it's only fair that media players return the favor by also becoming connected devices.
For example, the SanDisk Sansa Connect is a flash-based music player with WiFi connectivity, but focused on subscription music (www.sandisk.com). Users with a Yahoo! ID can listen to Internet radio, browse Flickr albums and photos, and see what friends are listening to. And users with a Yahoo! Music Unlimited subscription can download tracks and albums, and receive song recommendations from friends.
Meanwhile, Archos has been developing fill-fledged portable video players with full WiFi access, including Web browsing and access to files on your local network (www.archos.com). Yes, you can check your e-mail from your media player, and stream videos wirelessly from local computers or Internet sites.
I've had a chance to try out the Archos 704-WiFi, part of the Archos generation 4 product line -- larger-screen portable players with hard disk storage for serious video clips, plus models with wide screens, massive storage, build-in camcorders, and WiFi.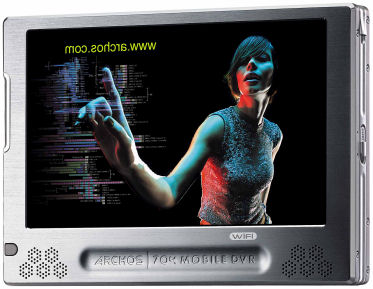 Archos 704-WiFi
The 704 is focused on video playback, with a large 7-inch widesceen color display (800 x 480) and stereo speakers below to share the fun. There's even a kick-stand in the back so you can stand it up on a table. Plus, the 704 sports a touch screen interface, so it has a very clean design with a minimum of buttons.
It's available with an 80 GB hard drive for $549.99, to store up to some 40,000 songs, 100 movies, or 800,000 photos.
Just be aware that this is not a cute little player to carry in your shirt pocket -- it's 7.05 x 4.96 x 0.78 inches, and weighs a noticeable 22 ounces. It's powered by a removable Lithium-Ion Polymer battery, and rated to run for up to 25 hours of music playback and 5.5 hours for video.

Look up the Archos 704 WiFi on Amazon.com.
With its touch-screen interface, the Archos 704 has only two buttons -- Power and TV/LCD for switching the display to an external device. Once powered on, it displays the main Home screen, with icons for Video, Music, and Photo playback, Web access, file Browser, Resume previous playback, and external VideoCorder and AudioCorder.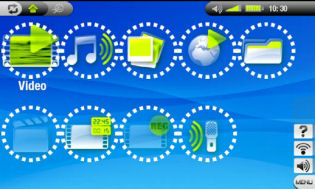 Home screen (applications icons circled)
To activate an icon, tap it once to select it, which also displays identifying text. Then tap a second time to launch the application. When browsing the web or local files, you can also double-tap to launch a file or song or video. Archos supplies a stylus with the product, but a pen or even a fingernail work well -- Although pressing with an entire fingertip does not work well (you just need to tap with a distinct point).
To switch between main applications, you also can tap the Tabs in the upper left corner of the screen, depending on the context -- Home Screen, Setup Screen, etc.
There's also a non-clickable Status Bar in the top right of the screen, displaying volume, battery level, current time, and a "X" to tap to exit a nested screen.
Finally, the interface includes a Contextual Menu in the lower right corner with options that apply to the current screen, including Help and Sound / volume. Tapping the bottom Menu entry displays a helpful text description with each icon.
The Archos 704 plays videos, audio, and photos, as well as including a Acrobat PDF viewer.
It supports the JPEG, BMP, and PNG photo formats, and stereo MP3 (30-320 Kbits/s CBR and VBR), WMA (Windows Media Audio), Protected WMA (PlaysForSure), and WAV (PCM/ADPCM) audio. For video, the 704 supports up to DVD resolution MPEG-4 (ASP@L5 AVI) and WMV (MP@ML).
Archos also offers plug-ins for additional format support ($19.99 each, or $30 for both). The Cinema plug-in adds support for DVD-format VOB and MPEG-2 video files and AC3 audio files (for 5.1 surround sound). The Video podcast plug-in adds support for H-264 video files and AAC audio files.
You can transfer and sync files from a computer over the USB port, or access them via WiFi. The 704 supports both Mass Storage Class (MSC) and Media Transport Protocol (MTP) over USB, so you can access it as an external disk drive, or sync files using Windows Media Player 10 or higher.
For Video playback, you can browse by folders, or scroll through a nice annotated video list of your clips, including clip information and a thumbnail image that plays when selected. Use the on-screen sliders to adjust volume and scan through the clip. Use the Context Menu to adjust the display format (full screen, original), playback speed (slow and fast), and even to save a frame as a thumbnail or as wallpaper.
For Music playback, the main screen lists the files by artist, album, genre, etc., and also provides a nice summary of all the files in the current category, as well as the total play time. It also displays the cover art on the album's page listing each song, but not when browsing the list of albums.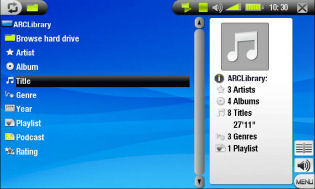 You then can choose ratings, set bookmarks and build playlists to further organize you collection. The 704 also has options to boost and equalize the audio, and repeat and shuffle your music.
And for Photo viewing, you can browse by folders, dates, and names, or use the Photo Wall to scroll through thumbnails of all your images. You can zoom and scroll into your images, and then start a slideshow with fun transitions and music playing in the background.
But playing stored music files is just the beginning of the Archos 704 -- the WiFi (802.11g) support opens it up for so much more. You can scan for available networks and connect to an open network, or enter parameters for a specific network configuration, including protected connections using WEP/WPA keys. You also can set up the 704 as a wireless file server.
Then tap the Web icon to fire up the Opera Web browser, and you're surfing the web from your video player! Not bad -- you get a pretty good rendering of the web page, although 800 x 480 resolution is a bit small for today's online world, so you'll need to use the stylus to scroll around the pages, and use the Smart rendering mode that avoids the need to scroll horizontally.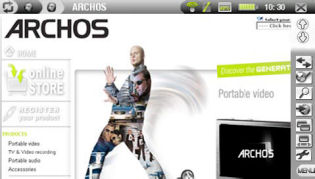 The small text and links also will require a stylus point to activate them. The browser is tabbed so you can quickly flip between pages, although it could be clearer about providing feedback about what state it's in when drawing a page or responding to a tap on a link. The browser also does not support Flash or Java.
Within the browser, you can go to Google Mail and similar Web portals to check your e-mail, and even interact with some forms-based websites (to check the status your connecting flight). But there's no support for Flash or Java.
However, the Archos 704 supports wireless playback of media files only from files on a local network, but not using the Opera Web browser.
To play files over the network, place them in a shared folder on a networked Windows machine. From the 704, use the file Browser application (not the Opera Web browser) and tap on Network to view available shares, listed under the Windows workgroup name. Then tap the networked machine and then shared folder name to browse and play stored media files.
However, the Opera Web browser does not have built-in support for playing media files over the Web. If you click on a link to a file with a known image file format like JPG or GIF, it displays the file. If you click on other file formats it recognizes like PDF and WMV it offers to download them, so that you then can play them back locally. But if you click on a link to a media file with an unrecognized media format, the browser happily displays the contents of the file as if it was a Web page -- showing all the binary data as unprintable text.
Oddly, there's no general way to check what a link points to, and then specify that you want to download the target of a link -- even though the software is already capable of downloading files. So you can view image files, but not download them; and you can download some video files, but not view them directly; and you can't download files that the browser does not recognize.
The Archos 704 also supports a Travel Adaptor for recording, plus the Archos DVR Station, a $99 docking station which is designed to fit all the generation 4 devices (with a device-specific adaptor). This is a docking station that not only provides power, USB connectors, and an IR remote control but also serves as a digital video recorder with video capture and scheduled TV recording in MPEG-4 video and WAV audio formats.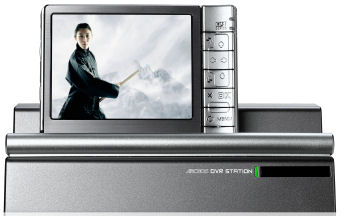 The 704 also has a USB 2.0 host connection for transferring files directly from a digital camera.
| | |
| --- | --- |
| | The Archos 704 WiFi has a large 7-inch widesceen color display (800 x 480) with a touch screen interface. It's available with an 80 GB hard drive for $549.99, and weighs 22 ounces |