Manifest Technology Blog -- Site: | Articles | Galleries | Resources | DVI Tech | About | Site Map |
Articles: | PC Video | Web Media | DVD & CD | Portable Media | Digital Imaging | Wireless Media | Home Media | Tech & Society |
PC Video: | PC Video Articles | Video Software Gallery | Video Editing Resources |

---
Summary: MotionDSP vReveal Video Enhancement Software (8/2009)
by Douglas Dixon
Forensic Video Software
vReveal - Video Enhancement for Consumers
According to James Bond and CSI, any piece of video can be magically cleaned up, no matter how distorted and dark and shaky. Just talk to the computer, and suddenly you can clearly see the color of someone's eyes way in the background, or read tiny writing on a paper lying on the ground.
The real world version of video enhancement capabilities has been available in professional video editing tools and dedicated forensic applications. And now MotionDSP vReveal brings single-click enhancement to consumer video (www.vreveal.com).
With vReveal, just import your clip, select and preview the enhancements (Clean, Sharpen, Brighten, Enhance Contrast, Stabilize, Double Resolution, Deinterlace), and then save the result. It's made for quickly fixing up clips, for example before you share them online, without requiring firing up a video editing application (although you can trim the beginning and ends of clips).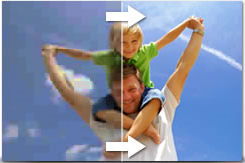 Split-screen preview
With vReveal, MotionDSP has brought its forensic video enhancement technology to consumer videos. The interface is clean and simple, although it could be clearer about stepping though the process and showing you what enhancement options are being applied. It provides a preview of the enhancements (in almost real time for at least some of them), with a helpful split-screen option to see the results -- although not necessarily at the actual video frame size.
The available enhancements are useful for a lot of consumer video, including sharpening blurry clips, enhancing contrast, adjusting brightness (without blowing out the bright areas), and general cleaning of noisy video. The two especially interesting options typically found only in pro software are super-resolution, to double the dimensions of a smaller clip with more detail from adjacent frames, and stabilization, to smooth out jitters from hand-held cameras. There's also a somewhat-hidden deinterlace option.
vReveal can process video files in MPG and Windows formats (AVI, WMV), and more with QuickTime installed (MOV, MPEG 2, 3GP). You than can upload your video directly to YouTube, or save as a file, but only in WMV (Windows Media Video) or uncompressed AVI format. You'll then have to use a separate tool to convert clips to other popular formats for web, DVD, mobile, and other uses.
vReveal clearly can do some nice work on sub-optimal videos. It would be helpful if it gave more feedback about how well it was working -- there was no indication when the stabilization could not handle some tough racing car footage (with much more severe vibration than a handheld camera).
vReveal is priced at $49.99 online. But the real test is to try it out to see how it works with your own videos. You can download the free 30-day trial (it applies a watermark to exported and captured videos) at www.vreveal.com/download.
Forensic video enhancement applications designed for law enforcement and military use include Ocean Systems dTective which has some 1500 installed systems (packaged with Avid workstations starting at around $12K, www.oceansystems.com/dtective), as well as products that run on Windows PCs like MotionDSP Ikena (starting at $7K, www.motiondsp.com/products/Ikena) and Sarnoff Video ResolvR (around $4K, www.sarnoff.com/products/video-enhancement).
Ikena is designed to enhance video from sources like surveillance and security cameras, unmanned aerial vehicles (UAVs), cell phone cameras, and YouTube videos. There's also the Ikena Live version for enhancing live, streaming video, for example from an unmanned aerial vehicle (UAV) or casino surveillance cameras, which also is optimized for CUDA-enabled NVIDIA graphics processors (GPU) to run up to five times faster.
Ikena stabilizes shaky video, cleans up noise, performs super-resolution enhancement to pull more detail out of the scene. Instead of trying to enhance just a single image, these video analysis algorithms can take advantage of the information from an entire run of adjacent frames to reconstruct the original scene with more detail by tracking common features across multiple frames.
This kind of video analysis obviously can require some significant processing power and time, but it's also trickling down into professional and even consumer video editing software. These days, digital cameras can do real-time face-finding and tracking of multiple faces in scene. And video editing tools provide a variety of video enhancement filters, although more advanced capabilities like stabilization still require more specialized professional tools.
More and more these days we're shooting short mini-clips on our cell phones or pocket video camcorders, ready to post directly online. However, these kinds of clips are the most in need of some clean-up, since they're shot with inexpensive imagers, though small fixed lenses, hand-held and under less-than ideal conditions, and without sophisticated in-camera adjustments.
But who wants to fire up a video editing tool to fiddle with a clip to try to clean it up. There's no time (or interest) in doing fancy video editing anyway -- no need for titles, credits, music track, or fancy transitions. At most, make a quick trim to remove some junk from the beginning or end of the clip, and it's ready to post.
And this is the scenario for which vReveal is designed -- quick and easy -- import the clip, apply and preview the enhancements, and then export and save -- including directly to YouTube. There's no project settings, no timeline, no properties window, just pick a clip and click to enhance.
Gallery - Import
vReveal uses a three-step interface, with three tabs for the workflow: Gallery (import), Enhance (options), and Share (export).
Use the Gallery tab to import and review the clip or clips that you want to enhance. vReveal can scan your computer for folders containing video, and monitor the folders for changes.
Gallery
Use the preview window to play your clips. You can apply simple edits while previewing in both the Gallery and Enhance tabs to rotate a clip, and to trim the beginning and end (though it would be helpful to have single-step controls for this). You also can capture a still image snapshot of a frame.
VReveal can import video clips in MPG, AVI, ASF, and WMV file formats, and, with QuickTime installed, adds MOV, MPEG 2 and 3GP files.
Enhance - Fine Tune
Then use the Enhance tab to apply and preview the video enhancements. There's a One Click Fix button that applies a default set of enhancements (which you can specify), or you can select them individually.
The preview window shows the result of the selected enhancement, although the required processing can slow down the preview, especially for Clean and Stabilize. Click the split-screen button to compare the original vs. enhanced video.
Enhance
The six enhancement buttons are:
Clean - Remove noise, graininess, pixilation
2x Resolution - Improve detail in low-resolution videos (videos up to 352 x 288)
Sharpen - Sharpen edges of objects in blurry video
Auto Contrast - Improve dark or washed-out video
Stabilize - Smooth shaky video (also zooms in slightly)
Fill Light - Add brightness in foreground (without overexposing dark areas)
These are the Basic enhancements, with default parameters. Click the Fine Tuning tab within Enhance for further options on these enhancements, including adjusting light and contrast vs. color, plus an additional Deinterlace option that's a good idea for any video to be displayed on the web.
As you work with the enhancement options and preview the results, you can move back and forth between the Gallery and Enhance tabs to set up and compare multiple clips. vReveal displays a check mark on clips that have enhancement options applied.
However, while you can resize the application window to enlarge the preview window, and display it full-screen, there's no option to view your video at its actual size to best view the enhancement results. Also, the interface seems too subtle at showing which enhancement options are selected vs. disabled, particularly in the Fine Tuning tab.
vReveal can enhance videos up to PAL resolution (576 vertical pixels), and do simple edits on video up to HD resolution. vReveal then can save enhanced videos up to 720p (1280 x 720) HD resolution.
Share - Export
When you are ready to save the clips that you would like enhanced, vReveal will process the original clips to render the enhanced frames, and then save them to files on disk. From the Gallery tab, you can click Save to Disk to process a group of selected frames in a folder. Or from the Enhance tab, click over to the Share tab to save the current clip to a file or directly to YouTube.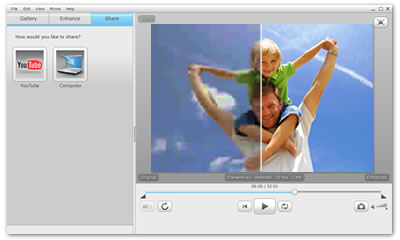 Share
vReveal only exports to the Microsoft WMV (Windows Media Video) and uncompressed AVI formats -- but not, for example, in MPEG-2 or MPEG-4 formats, so you'll need to export and then re-process to convert your videos for other purposes. And if you want multiple copies of a clip enhanced to different formats or resolution, you'll need to go through the export process over and over again for each format.
The basic save operation will export at the clip's original resolution, or resize to one of 240p, 480p, or 720p HD. The Advanced options let you specify the output file name and folder, provide a quality slider, and can create a split-screen video so you can compare the original and enhanced result when playing back the full clip.
Enhanced
vReveal was originally released in March 2009, and is priced at $49.99 online. It's optimized for NVIDIA CUDA-enabled graphics processors (GPUs) to run up to five times faster. It's actually sold through the NVIDIA online store (www.vreveal.com/redirect/nvidia_store_usa).
In my testing, vReveal worked nicely to clean up clips. I stressing it by trying to stabilize a difficult video shot from a racing car, and it did nothing -- which is not surprising since the clip had much more intense vibration and shaking then found in a hand-held video. What was frustrating, however, was that vReveal did not give any feedback that it was unsuccessful in processing the clip. Yes, video analysis is hard, especially for consumer software with automated features, and there will always be particularly difficult clips that can't be analyzed successfully. It's still better to tell the user about this, rather than to silently continue exporting clips that have not been processed usefully.
I also found the interface somewhat frustrating, especially in trying to keep track of which enhancements and options had been applied to which clips. And it would be helpful to have more options for exporting clips in common formats, and in multiple formats to share in different ways. There also are some rough edges, like an ugly System Exception message when you try to save to an invalid folder name.
But the real test is to try out vReveal for yourself to see how it enhances your own videos. You can download a free 30-day trial (which applies a watermark to exported videos) at www.vreveal.com/download.
PR 3/09 - vReveal released - www.motiondsp.com/press/motiondsps-vreveal-puts-csi-style-video-enha