Manifest Technology Blog -- Site: | Articles | Galleries | Resources | DVI Tech | About | Site Map |
Articles: | PC Video | Web Media | DVD & CD | Portable Media | Digital Imaging | Wireless Media | Home Media | Tech & Society |
PC Video: | PC Video Articles | Video Software Gallery | Video Editing Resources |

---
Summary: Ulead VideoStudio 11 (5/2007)
by Douglas Dixon
VideoStudio 11 Editing Styles
Working in Ulead VideoStudio 11
New in Ulead VideoStudio 11 / Plus
See also: Summary: Ulead DVD MovieFactory 6
Ulead VideoStudio 11 was released in April 2007, still focused on easy consumer editing with more automated assists for creating quick movies and snazzy-looking movie-style opening sequences ( www.ulead.com/vs).
VideoStudio is also bulked up with the latest technologies, especially for editing high-definition formats including AVCHD, with Dolby Digital 5.1 surround sound, authoring to HD DVD discs, and exporting to portable devices like the Apple iPod and Sony PSP with MPEG-4 and H.264 format support.
VideoStudio is available in two editions:
- The base Ulead VideoStudio 11 for capturing video and images from any source, editing movies, and sharing on tape, DVD and the Web (USD $89.99 suggested retail).
- The full Ulead VideoStudio 11 Plus with MPEG-4 support, new high-def technology (HDV, AVCHD, HD DVD, Dolby Digital 5.1 surround sound), enhanced portable device support (MPEG-4 and H.264), and the full set of easy corrective and creative filters ($129.99).
You can download trial versions of VideoStudio and related applications over the Web, so go ahead and give it a try.
VideoStudio 11 Editor

Find Ulead VideoStudio on Amazon.com.
---
VideoStudio offers three working modes:
- Use the VideoStudio Editor for full editing with a step-by-step workflow to capture and import clips, organize on a storyboard or timeline, and then enhance your production with overlays, animated text, video filters and effects, and audio. The Plus version adds an expandable timeline and expands from 2 to 6 video tracks for overlay picture-in-picture and montage effects.
- For new users, use the Movie Wizard to quickly assemble a preview movie from clips (including capturing from HD camcorders). Choose a design theme, with multi-layered templates for an opening sequence. Organize and trim video clips and stills on a storyboard, with transitions. Also automatically create and photo slideshows with Smart Pan & Zoom.
- To transfer from DV tape direct to DVD disc, use the DV-to-DVD Wizard. Hook up your camcorder, choose the clips, and automatically generate a finished DVD complete with menus, titles, transitions and music. San the tape at up to 11X speed, and save tape digests with thumbnails for reference.
VideoStudio Launcher
Plus, VideoStudio has built-in DVD authoring to create fully-interactive DVD or HD DVD [Plus] discs with motion menus and submenus, including 16:9 widescreen. Customize menus by resizing and positioning buttons. Apply smooth menu transitions between menus and DVD content, and menu filters to create movement even on static menus.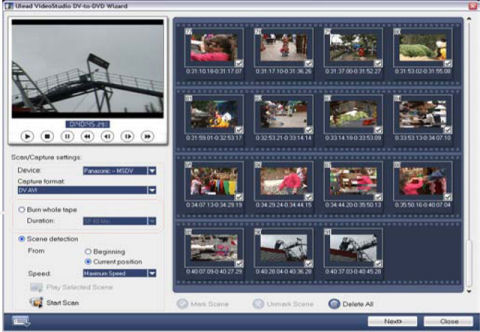 DV-to-DVD Wizard
---
Capture
- Capture from tape camcorders (DV, HDV, AVCHD), with batch capture,
hard drive camcorders (MOD file format), USB camcorder devices,
mobile phones, set-top DVD recorders,
digital and analog TV tuners, VCRs and Webcams
Edit
- Multi-format: Mix all supported formats on the timeline,
output to selected format
Supports MPEG-2 HD, MPEG-4, H.264
- Edit HD in real time, on high-spec systems,
or with Smart Proxy video even on mid-range machines
- New Expanded Timeline for multiple overlay and audio tracks
- Multi-Trim edit, rotate, choose fast or slow motion, reverse
- 162 customizable Transition effects, apply/replace to all
- Video enhancement: Anti-Shake and Enhance Lighting filters
New Auto White Balance & Tone filters for image and color correction
New DeBlock filter for blocky compression artifacts
New DeSnow filter for analog video noise, low light
- Overlay video for picture-in-picture and montage effects, fade in/out,
transparent mask or chroma key effects, New Preview window
Over 80 overlay frames, objects, Flash animations
- Overlay titles with animated text
- Audio import and rip from CD, filter and adjust speed, pitch shift
- SmartSound Auto Music Maker with 26 royalty-free music styles
- Multi-channel audio: Dolby Digital 5.1 surround sound
one-click 2-to-5.1 channel upsampling, surround mixer
- New Templates for animated Hollywood-style openings
Share
- New MPEG Optimizer to choose best compression settings when combining clips in multiple formats
- New Safely Pause rendering to free up PC resources
- Post videos online: YouTube
- New Export to portable devices: Microsoft Zune, Apple iPod, Sony PSP, mobile phones
- Built-in DVD authoring, 4:3 and 16:9 widescreen, direct DV-to-DVD Wizard
- Burn HD DVD projects to "DVD 3X" discs that plays on HD DVD players
Movie Wizard
---
High-definition editing and disc authoring [Plus]
- High-def editing: Real-time HD Editing without proxies on high-performance systems
- AVCHD camcorder support: Import high definition video from hard drive and disc-based AVCHD camcorders
- HD DVD authoring: Burn HD DVD authored projects or folders to HD DVD-R or DVD discs
Flexible editing
- Expandable Timeline: View all overlay tracks [Plus]
- Preview Window for overlays shows original overlay image, making it easier to adjust chroma key settings.
- Place cue marks on timeline
- Transitions "Apply to all," Favorites folder
- Movie Wizard templates: Automatically create animated movie-style openings using your video clips, then personalize
Filters and Effects
- Corrective Video filters
Auto Color & Tone: auto-correct for low light or white balance
DeBlock filter cleans blocky compression artifacts
DeSnow filter removes digital noise from videos shot in low light
- Combine transparency and mask or chroma key effects for striking overlays
New Encoding Options
- MPEG Optimizer analyzes bitrates of all clips on timeline,
suggests encoding settings for least re-rendering for best quality and speed
- Safely Pause: Stop rendering at any time to free up PC resources for other tasks
Title and Subtitle Support
- Rotate titles to any angle directly in preview window
- Supports multi-language titles such as double-byte Chinese, Japanese and Korean characters
- Supports Unicode character set for multi-language titles
- DVD Sub-Title Import: Import subtitle set in alternate languages
- Sync subtitles to downloaded movies, often have subtitle files available in .srt format
will automatically synch to the video when burning a DVD.
- Auto Subtitles in DV-to-DVD Wizard: Automatically add DV date and timestamp as videos are captured
Enhanced DVD Menus and Authoring
- New Content: Overlay Flash animations, Movie Wizard Video & Slideshow Style Templates; HD DVD menus [Plus]
- Distort menu objects including buttons and overlays [Plus]
Expanded Export
- Create movies for mobile devices
Handheld device templates for WMV; MPEG-4 and H.264 [Plus]
Microsoft Zune
Apple iPod, Sony PSP [Plus]
Smartphones (Windows Mobile 5.0), PDAs and other portable devices
Nokia mobile phones [Plus] - including import from videophones
- Supports Windows Vista
- Improved performance for dual-core CPUs, Intel Core 2 Duo
- Smart Project Package: Export trimmed and edited project to a new folder,
saving disc space by archiving of the clips used in the final movie
Bonus Software [Plus]
- InterVideo WinDVD 8 Silver: software DVD player for any video and audio files, including AVCHD
---