Manifest Technology Blog -- Site: | Articles | Galleries | Resources | DVI Tech | About | Site Map |
Articles: | PC Video | Web Media | DVD & CD | Portable Media | Digital Imaging | Wireless Media | Home Media | Tech & Society |
PC Video: | PC Video Articles | Video Software Gallery | Video Editing Resources |

---
Ulead Media Studio Pro 8 (1/2006)
by Douglas Dixon
Editing Workflow
HDV Editing with Smart Proxy
Effects
Smart Compositor
Export
Wrap
References
Ready to do more with video? Once you have some experience editing video with "consumer" tools like Ulead VideoStudio or Pinnacle Studio (priced starting at around U.S. $50), what's your next step?
Moving up to a much more professional editor like Adobe Premiere Pro or Sony Vegas is a big step at around $599 and up, and a big investment in learning to be proficient with the tool, especially if you're only using it occasionally. Adobe and Sony offer one solution with Adobe Premiere Elements and Sony Vegas Movie Studio at around $99. These provide the basics of the more professional applications, plus the growth path to the full versions, but are tailored for more casual use and focused on DV editing.
Ulead offers another approach with the new Ulead MediaStudio Pro 8, released in October 2005 for $399, on Windows 2000 and XP (www.ulead.com/msp). The company describes MediaStudio Pro as a "mid-range" video editing application, providing easy to use but professional features. In particular, it supports editing HDV video with a nice Smart Proxy mode that allows you to edit high-def video on mid-range or mobile machines.
Let's talk a tour of MediaStudio Pro 8, highlighting some of the new and interesting features.
At first look, it's clear that Ulead has updated the MediaStudio Pro 8 multi-track interface to be familiar from other editors. The main window is tiled into the Production Library to manage the project clips, the Preview window to play video, the multi-track Timeline, and the Effects Manager to fine-tine effect parameters. You also can use your own preferred layouts.
The Timeline is more flexible: you can expand and contract tracks, place transitions on any track, and set overlay options for clips on every track. To help manage larger projects, you can work with multiple Timelines, and also create Virtual Clips from a group of tracks.
MediaStudio Pro actually consists of three applications, the main Video Editor, a Video Capture module, plus a separate Audio Editor for waveform recording, editing and effects. These tools are available on a Switch menu that appears in each application, along with Ulead DVD Workshop (if installed separately).
The Video Capture module can capture from analog sources, USB cameras, and DV and HDV camcorders. You can manually capture sections of clips, or batch capture from a list of time codes. For previewing the contents of a tape, MediaStudio Pro offers a helpful Scan DV Tape option to zip though the entire tape and create a thumbnail list of its contents (based on breaks in the stop and start timecodes). You even can save the result, or export it as an HTML file to use as a visual index of the tape.
For audio editing on the timeline, the main MediaStudio Pro application includes a variety of audio filters, plus an Audio Mixing Panel for real-time mixing with VU meters. Plus, you now can create Dolby Digital 5.1 audio tracks with surround channel steering.
The Auto Music option integrates with SmartSound QuickTracks to insert custom royalty-free soundtracks, automatically adjusted to match your desisired duration.
To help you experiment while you work, MediaStudio Pro includes an Undo/Redo History, and the enhanced Auto-save can automatically make incremental backups.
MediaStudio Pro is particularly interesting if you're getting tempted to move up to high-def video with a HDV camcorder. It supports full HDV editing, from 720p up to 1080i (www.hdv-info.org). You can batch capture HDV video from HDV camcorders, and edit directly on the timeline, mixing with clips in different formats.
MediaStudio Pro can convert between the HDV MPEG-2 Transport Stream and Program Stream formats (.m2t from the camera and .mpg for editing), to view and edit HDV on your PC, and export back to a HDV camcorder. You then can export your productions in high-def in Windows Media Video WMV-HD format, or downconvert to great looking SD formats, including widescreen MPEG for DVD authoring.
However, the huge HDV frames really do require a high-end computer to process and edit in real time. Some applications offer the option to convert the HDV originals to a more usable intermediate format for editing, but it's clumsy to do this manually and it can lead to some loss of image quality.
Instead, MediaStudio Pro offers an automated Smart Proxy mode, in which it downconverts the HD video to a lower-res proxy, all in the background as you edit. You then can edit the video with real-time performance on more typical computers and laptops. The proxy video is used only for editing; when you export, the proxy clips link back to the HDV original, so the final output is generated at full HD quality.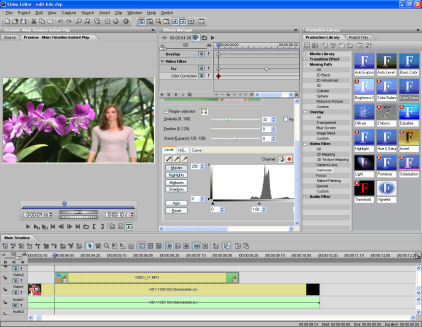 HDV Effects
MediaStudio Pro includes a variety of fun video transitions and audio and video filters, including camera and lighting adjustments, motion paths, and overlay masks with chroma keying. Use the Effects Manager pane to adjust parameters and add keyframes. And use the new Color Correction tools to perform both primary and secondary color correction to selected areas of the clip.
Then use the Title Tool to position text anywhere in the frame, apply styles, and then animate with crawls and add snazzy effects.
To save time in building opening sequences or segues, MediaStudio Pro 8 also has a new Smart Compositor tool that provides a variety of pre-designed animated sequences already laid out in a timeline with effects and overlays.
Smart Compositor

You select a sequence from the provided themes, and then use the Smart Compositor to replace the default clips with your own materials: video/images, audio, title text, filters, and overlays. You then can export the final sequence as a virtual clip on your timeline, which then can be further edited.

MediaStudio Pro 8 can export back to tape, or in a variety of video file formats: AVI and QuickTime, Windows Media Video (including WMV-HD) and RealNetworks, and MPEG-1 and -2 for VCD and DVD. It also has a handy Batch Convert feature. Ulead also offers separate plug-ins for MPEG-4 and 3GPP (MPEG-4 for mobile phones) formats ($29.99 each).

To create DVDs, you can export to Ulead DVD MovieFactory for designing a disc, or Ulead DVD DiskRecorder to write to DVD-R and DVD-RAM.

MediaStudio Pro 8 is a comfortable video editing tool for people who understand the basics of using timelines and effects, but who do not have the time to invest in becoming an expert in a professional tool. It's a nice step up from Ulead VideoStudio (it can import existing projects directly). And it's more than just a DV editor for standard-definition video, as you can not only work with high-res HDV video, but also mix SD and SD content directly in the timeline. The HDV Smart Proxy feature is particularly helpful, since you don't need to get involved in manually converting and managing intermediate-format clips.

Ulead has kept MediaStudio Pro accessible to less professional users, with a straightforward interface and friendly icons. The response is a bit sluggish on my main test machine, and I did see a couple of crashes, particularly related to using HDV clips before the Smart Rendering was complete.

MediaStudio Pro 8 is available for $399.99, or $249.99 to upgrade from related Ulead products. Ulead also offers a Video Production Suite bundle with DVD Workshop 2 for $499.00 (download only). You can check it out by downloading a 30-day trial version from the Ulead website.

Ulead Media Studio Pro 8
www.ulead.com/msp

HDV Information
www.hdv-info.org

Originally published in Camcorder & Computer Video magazine, 22, 1, Jan. 2006.