Manifest Technology Blog -- Site: | Articles | Galleries | Resources | DVI Tech | About | Site Map |
Articles: | PC Video | Web Media | DVD & CD | Portable Media | Digital Imaging | Wireless Media | Home Media | Tech & Society |
PC Video: | PC Video Articles | Video Software Gallery | Video Editing Resources |

---
Turtle Beach Ear Force AK-R8 Surround Headphones (7/2007)
by Douglas Dixon and Brian Dixon
Surround for Games and Movies
Surround for Audio Editing
Audio Advantage SRM
Whether you're a dedicated gamer who loves the excitement of chasing through virtual worlds, or a movie fan who enjoys playing DVDs on your widescreen PC, it's the power of 5.1 surround sound audio that gives the you-are-there feeling to make the entertainment come alive.
But we don't all have room to set up five speakers plus a subwoofer around our rooms, or we use notebooks that don't even have 5.1 connections. In addition, the neighbors might not appreciate our cranked-up audio, especially late at night. So we resort to stereo headphones, and miss out on the full surround experience.
So welcome the Turtle Beach Ear Force AK-R8 -- a "Professional Surround Sound Gaming Headphone System" (www.turtlebeach.com/products/akr8). The AK-R8 bundles surround-sound headphones with a USB audio interface to provide an immersive and personal listening experience on desktops or notebooks.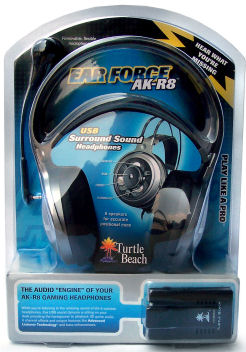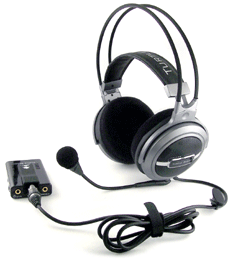 Turtle Beach Ear Force AK-R8 -- with Audio Advantage SRM USB audio adapter
Key features include:
- True 5.1 surround sound from 8 discrete speakers
- Dual sub woofers for deep vibrating bass
- High fidelity large diaphragm drivers
- Detachable boom microphone -- removable and flexible
- Monitor outside sounds while wearing headphones
- USB audio interface with multi-channel amplifiers
- DSP surround sound environments with presets
- Comfortable, cushioned ear cups, self-adjusting headband
- Professional grade, durable construction
The surround headphones actually have eight separate speakers to provide more accurate audio positioning -- each earpiece has individual speakers for the front, center, rear, and subwoofer channels.
The Audio Advantage SRM USB audio adapter works as a USB sound card to add 5.1 / 7.1 channel surround sound to your system. Beyond built-in amplifiers to drive the 5.1 headphones, it also has an impressive array of analog and digital inputs and outputs. And it comes with Control Panel software to adjust virtual speaker configurations, equalization, environment, and effects.


Bottom line:
- The Turtle Beach Ear Force AK-R8 works very well at adding a new dimension of depth to your sound (creating a more open space and fuller/richer sound).
- While they are not as convincing as a real 5.1 speaker setup, they are as close to "true" surround sound as you could expect from a set of headphones.
- They are very effective in creating a more immersive environment for gamers and movie watchers without disturbing anyone nearby
- And they are a useful and accessible alternative to a large and expensive speaker system -- you can connect the USB interface to any system, and enjoy the headphones without bothering anyone else.
Released in June 2007, the Turtle Beach Ear Force AK-R8 is priced at $149.95, including surround headphones and USB audio adapter. The box also includes a USB cable, optical S/PDIF adapter for connecting to home theater equipment, installation CD, and quick-start manual. The AK-R8 is compatible with Windows 2000, XP or Vista. (Purchased individually, the stand-alone Ear Force HPA2 5.1 surround gaming headphones are $129, and the Audio Advantage SRM USB Audio Adapter is $79.)

Look up Turtle Beach Ear Force HPA2 (headphones only) on Amazon.com.
The AK-R8 headphones are extremely comfortable to wear. They have a snug fit without crushing the head. You could easily imagine forgetting that you're wearing these during long gaming sessions.
And this product is focused on the gaming market, to allow you to play immersive games long into the night without bother others around you. Compared to stereo headphones (and even stereo speakers), they certainly provide a better feeling of space and a richer spectrum. Some SFX (bullets, explosions, etc.) do appear more directional, but more so left-right than front-back
For more lean-back entertainment, you can use the AK-R8 when watching movies on DVD to experience the soundtrack on full surround sound. The audio is certainly more open and fuller than plain old stereo headphones -- more speakers increase the coloration of the sound, and having a sub in each can punches up the low-end nicely.
However wonderful, these headphones do not replace true surround speakers -- they're not going to trick you into thinking someone was creeping up behind you.
And there's another interesting use for the AK-R8 -- working with audio, especially as more applications support mixing music and sound in surround. Again, working with surround is not feasible without the space (or funds) to devote to a surround speaker set-up.
The AK-R8s provide a very good alternative -- working out quite well to provide a version of mixing in surround, although a true surround speaker set-up still would be more accurate.
The Audio Advantage SRM USB sound card provides amplification and 3D audio to the headphones (www.turtlebeach.com/products/audio-advantage-srm).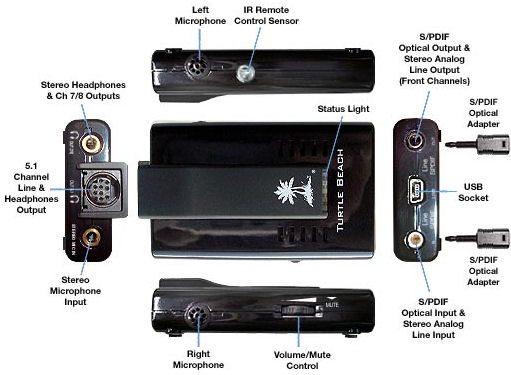 It also offers an impressive array of possibilities for 5.1 / 7.1 channel surround sound, with analog and digital inputs and outputs:
- Multi-pin socket (5.1 output to headphones or speakers via an optional cable)
- Separate stereo headphone output (can also be used to achieve 7.1 surround sound)
- Stereo line input/output (can also be used for S/PDIF in/out with included optical digital adapter)
- S/PDIF output allows pass-through of Dolby Digital and DTS DVD formats
for pure digital quality surround sound on A/V receivers or digital speakers.
S/PDIF input records from digital audio gear with no loss in audio quality.
- Built-in stereo mic for monitoring room sounds, if desired
(disabled when headphone mic attachment is inserted)
- Separate 1/8" stereo mic input
To configure the system, the Audio Advantage SRM Control Panel software can configure the surround sound field, apply digital effects, and expand stereo into surround sound.
Settings can be saved as presets, and include:
- Speakers tab - Set speaker configurations, control speaker volumes and test speaker functions.
- Equalizer tab - 10-band Master Equalizer to modify frequency response / tone.
- Effects tab - Control speaker positions, add Environments for front and surround speakers,
modify the sound with digital effects processing.
- Mixer tab - Control the volume levels for all playback and recording sources.
| | |
| --- | --- |
| | The Turtle Beach Ear Force AK-R8 combines surround gaming headphones (i.e., Ear Force HPA2) and the Audio Advantage SRM USB Audio Adapter. |