Manifest Technology Blog -- Site: | Articles | Galleries | Resources | DVI Tech | About | Site Map |
Articles: | PC Video | Web Media | DVD & CD | Portable Media | Digital Imaging | Wireless Media | Home Media | Tech & Society |
PC Video: | PC Video Articles | Video Software Gallery | Video Editing Resources |

---
Digital Media Suites for Mobile Media:
Nero 8 Ultra Edition and
Roxio Easy Media Creator 10 (3/2008)
by Douglas Dixon
Roxio Easy Media Creator
Roxio Central Control Panel
Media and Mobile
Media Editing and Sharing
Disc Burning and Backup

Nero 8 Ultra Edition
Nero StartSmart Launcher
Media Management and Home Entertainment
Media Editing and Sharing
Disc Burning and Backup
See also Nero 8 suite features and visual tour: Summary: Nero 8 Ultra Edition
See also Roxio EMC 10 suite features and visual tour: Summary: Roxio Easy Media Creator 10
---
Got media? More and more consumers are facing growing collections of media stuff -- music and photos and video -- and facing the desire to get organized, be creative, and share their digital content. But there are some many media formats, stored on a bewildering variety of mediums, and so many ways to share, electronic and on physical devices.
Thus the attraction of digital media software suites like Nero Ultra Edition and Roxio Easy Media Creator, which have grown from their origins in CD copying and burning to add an array of tools for media management, editing, and sharing, along with more general data backup and archiving.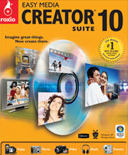 With each succeeding generation of these media suites, we also can see some of the strong trends that are driving digital media for consumers. In the previous releases, in early 2007, these included the beginnings of the next generations of video deliver: high-def video, tiny video for mobile devices, and user-generated content on the Internet. And there was a strong emphasis on networked sharing, both between devices on the home network, and peer-to-peer across the Internet.
But 2007 has seen the maturation of many of these themes (and availability of consumer-priced gear), with new HD camcorders and associated video formats, burners for next-gen Blu-ray and HD DVD discs, portable media player devices like the new Apple iPod nano and iPhone that are video-enabled to take your content beyond the home, and the explosion of interest in Web video and sites like YouTube. Plus, we've seen new processors and PC platforms, and Windows Vista, of course.
The releases of Nero 8 Ultra Edition and Roxio Easy Media Creator 10 in late 2007 have picked up on all these trends, building in support for importing and editing new formats, and sharing even more broadly across discs, portable devices, and electronically.
But all these new features results in piling on even more functionality to already-bursting suites: Nero 8 now includes some 22 applications, and EMC 10 has some 12 major applications plus 18 additional utilities/assistants. As a result, these new versions have also focused on refining the user interface, especially with the new look of Windows Vista. They provide a main launcher / control panel to help users choose the task they want to achieve, and now build in direct connections to the product websites for information and updates.
However, all this functionality also requires additional Windows tasks and services to run in the background on your system, adding to the clutter that can slow down your system and cause conflicts. These include startup programs and services to check for updates, verify you have legal software, continually scan your system to catalog media files, and maintain the UPnP network connection for sharing media files.
For example, the Nero suite includes NeroCheck, NBKeyScan, Nero BackItUp Scheduler Nero Scout to track media files, and InCD for packet writing access to discs. And Easy Media Creator includes RoxWatchTray and DMXLauncher for Cineplayer, plus RoxMediaDB, Roxio Hard Drive Watcher, Roxio UPnP Renderer, Roxio UPnP Server, and LiveShareP2P. One example of this complexity is that RoxWatchTray caused boot-up to fail on my test system until it was disabled. As a result, you may want to use MsConfig to simplify your startup by disabling components that you don't need.
---
Roxio regards EMC 10 as a substantial upgrade its flagship suite of digital media applications, with the focus to "enable consumers to quickly and easily turn their photos, video and music into impressive multi-media projects that can be shared on CD, DVD, the Web, or a range of mobile devices."
EMC also now is Certified for Windows Vista, with the new new Aero user interface, and provides Gadgets for Windows Vista to capture internet and PC audio streams.
The roots of the Easy Media Creator suite are still visible with Creator Classic for disc burning, plus the core media editing applications, Photo Suite, VideoWave, and MyDVD. EMC is particularly strong in these core applications, with clean looks and functions, good integration and consistency between applications, and strong help and on-line information.
But the full suite does include a lot of stuff -- 12 major applications plus 18 additional utilities, actually mostly mini-assistants designed for specific focused tasks. While you can launch the applications individually from the Start menu, it's easier to start with the Roxio Central control panel to choose the task that you want to perform.
Roxio also has released three lower-cost products with subsets of the applications and utilities in Easy Media Creator 10:
Easy DVD Copy 4 Premier, MyDVD 10 Premier, and RecordNow Music Lab 10 / Premier.
See Roxio Media Products for Discs, DVD, and Music
---
Starting off in the main Roxio Central panel, the Welcome screen displays the major categories of applications in the left Project List panel, and the right panel also displays Frequent Tasks.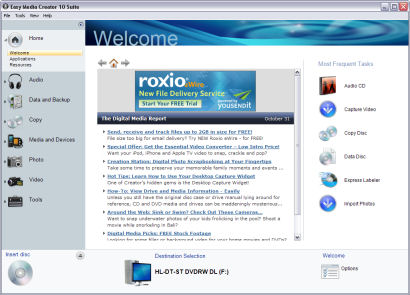 Easy Media Creator 10 Suite Roxio Central control panel
The center Project Window then displays choices and operations for the currently selected task. Some tasks like Copy Disc are built in to Roxio Central, and the bottom Control Panel displays the currently selected destination disc or hard drive, information about the active drive, and the action to be performed. Otherwise, the control panel will launch the appropriate application to perform the selected task.
Or click Applications to display a screen listing all the EMC Applications and Utilities, to jump directly to tools that you are already familiar with.
Roxio provides extensive built-in Help for EMC, plus links to deeper online resources. The center of the main Roxio Central screen displays a Web page with updates and information from Roxio. Then click Resources to display tutorials, discussion groups, and contact information for more help. Also visit the Roxio MyMoments website for examples of how users can "make the most of their digital lives," with buying tips, step-by-step guides, and project examples (www.roxio.com/enu/solutions/mymoments).
Easy Media Creator centralizes the handling of all three digital media types (audio, images, video) into common applications for media organization and playback plus media import. You can then edit, enhance, convert, and share media files using the media-specific tools.
Use Media Manager to organize and view media files, with tools like smart views and albums. And use Media Import as a common tool to record and copy images, audio, video, and DVD titles. EMC also includes CinePlayer for dedicated DVD playback, which now supports enhanced audio formats including Dolby Digital EX 6.1 surround, Pro Logic, and Dolby Headphone.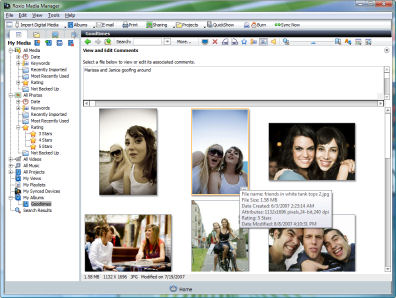 Media Manager
EMC 10 adds more support for mobile devices. Media Manager synchronizes to -- and from -- portable devices. The photo tools correct common problems from cell phone cameras, and optimize photos for display on mobile devices.
The central audio tool in EMC is Sound Editor, to record audio, apply effects, enhance, and convert formats (now with VST plug-ins). But the suite's real focus is working with music to create music discs, with Music Disc Creator to import tracks, clean and edit, add song information, and then export or burn music compilations.
The suite also includes assistants for focused tasks, including Easy Audio Capture, LP and Tape Assistant to convert old media, Audio Tag Editor with automated song ID lookup, Audio Converter to rename and transfer based on ID information, and DVD Music Assistant to create long-playing music DVDs with menus and track lists (25 hours on a single-layer disc).
EMC 10 includes an improved AutoMix to automatically generate playlists of similar music, the new Batch Audio Converter, and the new Multi-CD Ripper to copy CDs in parallel from multiple optical drives.
Working with photos in EMC starts with Photo Suite to repair, enhance, and share digital photos. Or use Multi Photo Enhance to edit a group of photos at once (resize, rotate, adjust, effects, convert).
Again, EMC includes focused assistants to help share your photos, including Slideshow Assistant to create photo slide shows with audio and transitions (which you also can send to VideoWave or MyDVD Express for further enhancements). Use Create Panoramas to combine multiple overlapping photos, Photo Email Assistant to email photos or slideshows, or Photo Projects Assistant to create personalized calendars and greeting cards.
For video editing, the VideoWave timeline now supports up to 32 overlay, audio and text effect tracks, and you can now upload projects directly to YouTube. Or use CineMagic to automatically generate a polished movie from video clips and photos. For more focused tasks, use Video Copy & Convert to copy entire DVDs, or to create video compilations to files, disc, and portable devices.
VideoWave
EMC 10 also adds SmartSound automatic soundtrack creation, sized to fit the length of your production.
For authoring productions to DVD, EMC includes the full MyDVD, plus MyDVD Express for quick burns of movies or slideshows to disc, with customizable menu styles. Or use Plug and Burn to capture direct from DV tape to DVD disc. There's also Label Creator to make disc labels, inserts, sleeves, and case covers.
EMC 10 adds more control over DVD menu styles, menu navigation capabilities, and Fit-to-Disc automatic encoding.
For disc burning and archiving, EMC starts with Creator Classic for archiving files to CD and DVD, plus spanning large projects across multiple discs.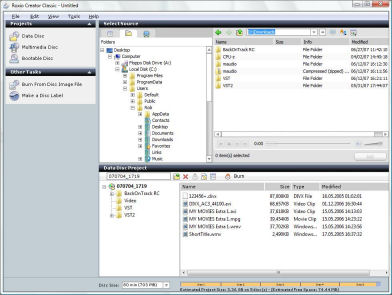 Creator Classic
Then use Retrieve to browse and extract files from these archives, especially when split across multi-disc archives or encrypted. Use BackOnTrack for scheduled backups of selected files. There's also a Disc Image Loader utility to create and load emulated discs on hard disk.
EMC 10 adds more backup options, plus burning to single and dual-layer Blu-ray Disc and HD DVD.
---
Nero has reworked the interface for consumer ease of use, and focused on "extending content beyond the PC" with "easy-to-use features for the creation, management, and protection of multimedia projects" -- To create and edit, convert and share, rip and burn, and backup and protect digital media.
The roots of the Nero suite are in the deep Nero Burning ROM application for CD and DVD burning, plus a variety of helpful tools for drive testing and information. But Nero also has bulked up its suite of media editing and disk backup applications. And it has continued to emphasize media management and sharing across a home network.
The suite has core tools for media editing -- Nero WaveEditor, Nero PhotoSnap, Nero Vision -- plus separate tools for related tasks, such as Nero SoundTrax for audio mixing and Nero Recode for video conversions. The result is a broad suite with deep features and options, particularly for disc burning, but sometimes confusing inconsistencies in how you deal with similar operations on different media types -- viewing, editing, converting, and sharing.
The suite also specifically encourages the use of Nero's flavors of MPEG-4 audio and video, called Nero Digital (www.nero.com/enu/technologies-nerodigital.html). These are versions of the MPEG-4 AVC/H.264 video and MPEG-4/AAC audio standards, branded and licensed to enhance media compatibility, and scaling from desktops to set-tops to small portable devices to high-def.
Nero offers a 15-day trial that you can download and test, and promises continual free updates until the next major release.
See also Nero 8 suite features and visual tour: Summary: Nero 8 Ultra Edition

See earlier article on Desktop Digital Media Trends 2007 -- with Roxio Easy Media Creator 9

Find related Nero articles in the Manifest Tech Blog

Find Nero 8 Ultra Edition on Amazon.com
---
Get started with the Nero StartSmart application launcher, featuring a new cleaner interface to help you get to work on your tasks. StartSmart lists build-in tasks down the left side, has tabs for major categories of talks along the top, and a new bottom strip with Internet newsfeed updates. Or click on the bottom left pop-up menu to go directly to the main applications and tools, and to read the application manuals.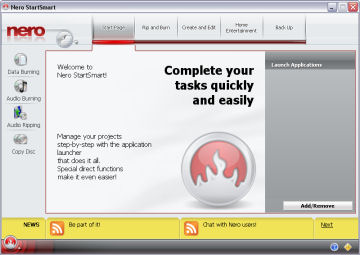 Nero StartSmart launcher - Main screen
The new built-in tasks on the left that run directly from StartSmart are Data Burning to disc, Audio Burning (audio CD, MP3 Jukebox Disc), Audio Ripping (Wave, MP3, Nero Digital Audio/mp4), and Copy Disc.
The category tabs along the top then drill down to the task you want to perform: Rip and Burn, Create and Edit, Home Entertainment, and Back Up. Each then lists different actions for different types of media (photo, music, video).
The suite also uses the common Nero ControlCenter application to check for updates and configure the suite.
The Nero suite has two main applications for viewing and sharing media clips: the Nero Showtime player to view photos, audio, video, and DVDs, and the Nero Home full-screen interface for accessing your media -- and Internet radio and TV. The Nero 8 suite adds TV viewing and recording though an adapter card. There's also the separate Nero PhotoSnap Viewer for reviewing photos.
Nero 8 adds integration with Windows Vista, including live icons to preview files without opening them, and the Rich Preview pane within Windows Explorer.
You also can use the Nero MediaHome application to share your media content with devices on your home network using UPnP technology, now including using the Xbox 360 or PlayStation 3 to stream HD video with surround audio. The Nero suite also installs the Nero Scout tool that runs in the background to index media files and Internet sources to be shared.
Nero Home interface
Nero 8 also has a strong focus on mobile and Internet video. You can convert content to play on mobile devices, including the Apple iPod and Sony PSP. And you can both share to and import from Web sites including YouTube and MySpace. Nero is also promoting sharing and viewing from MyNero.com.
While you can rip and convert CDs with Nero Burning ROM, and create audio and jukebox discs, the Nero suite has two audio-specific tools -- Nero WaveEditor for audio recording and editing, and Nero SoundTrax for music composing and mixing. The suite is particularly focused on converting audio to MP3 and Nero Digital Audio (mp4/AAC) formats, and creating music mixes and jukebox discs on CD and DVD.
There's also Nero PhotoSnap for editing and enhancing photos, or use Nero Vision to create photo slide shows.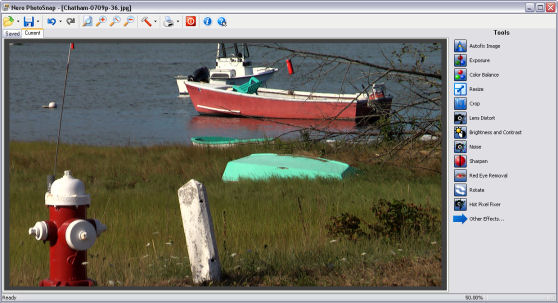 Then for video and DVD, use Nero Vision to capture, edit, and author both video and DVDs. Or use Nero Recode to convert and recompress DVDs to various (but not all) formats, including Nero Digital (MPEG-4).
Nero 8 supports HD video formats including AVCHD, and you can burn HD video in Blu-ray BD-AV and HD DVD (with plug-in) formats, including capturing video directly from a camcorder to Blu-ray discs.
The new release improves converting for mobile devices, Web import and sharing, and DVD menu authoring and templates.
The Nero suite features the deep Nero Burning ROM tool to rip, burn, and copy discs of audio, video, and data. You can also use Nero Express for quick and easy tasks, including burning jukebox audio discs (to play on a PC, with MP3, WMA, or AAC files).
Nero Burning ROM
There's also an impressive collection of disc tools -- InCD for packet writing (burn by drag and drop from Windows Explorer), Nero InfoTool to analyze hard drives and optical discs, DiscSpeed and DriveSpeed to improve performance, ImageDrive for virtual drives, plus Nero CoverDesigner to design labels.
Nero 8 now supports burning to Blu-ray and HD DVD discs, and adds a Nero DiscCopy gadget for Windows Vista to copy discs with one click. It also supports the SecurDisc data protection technology for protecting files on burned discs (www.securdisc.net).
Beyond archiving files to disc, the Nero suite includes Nero BackItUp to create scheduled backups and disaster recovery discs, and restore files from backups.
Nero 8 also adds Nero RescueAgent to recover data and restore deleted files from CDs and DVDs damaged due to problems such as scratched discs, interrupted recording, or poor recording quality.
Portions originally published in Camcorder & Computer Video magazine, 24, 1, February 2008.