Manifest Technology Blog -- Site: | Articles | Galleries | Resources | DVI Tech | About | Site Map |
Articles: | PC Video | Web Media | DVD & CD | Portable Media | Digital Imaging | Wireless Media | Home Media | Tech & Society |
PC Video: | PC Video Articles | Video Software Gallery | Video Editing Resources |

---
Sony Audio / Music Studio Software:
Sound Forge Audio Studio 9 and ACID Music Studio 7
(4/2008)
by Douglas Dixon
It's a glorious time for music! Never has there been so much music, from so many sources, available in so many ways. We can listen to spinning discs, or to a selection of 24-hour cable music channels. We can tune in to the radio on the go, or pick up satellite channels, or carry our own portable players. Music sites and software can help us find new artists, and even small independents can develop fans on MySpace.
Even better, even non-musicians and beginning enthusiasts can collect, organize, mix and mash up, and create new music using today's inexpensive and accessible software tools, such as the Sony ACID Music Studio for music creation and mixing, and Sony Sound Forge Audio Studio for audio recording, editing, and encoding.
---
Sony Studio Product Line (7/11)
Sony Creative Software continues to develop its line of popular and powerful tools for digital video, DVD, audio, and music production, including separate lines of higher-end professional tools and consumer software (www.sonycreativesoftware.com).
Sony's professional product line is built around three core product names: Vegas for video editing, Sound Forge for audio editing, and ACID for music creation (www.sonycreativesoftware.com/products).
Sony's consumer products trade off these names, but under the Home Studio brand, as in Vegas Movie Studio, Sound Forge Audio Studio, and ACID Music Studio (www.sonycreativesoftware.com/homestudio). Sony offers trial versions as downloads from its website.

Sony Vegas Movie Studio, Sound Forge Audio Studio, ACID Music Studio
For more on the Sony Home Studio products, see my previous articles:
Find related Sony Software articles in the Manifest Tech Blog
---
You can get started creating and mixing music with Sony ACID Music Studio 7, which is designed to span music recording, mixing, loop-based creation, and MIDI processing (www.sonycreativesoftware.com/productinfo.asp?product=musicstudio). It's for people creating original music using loops or recording vocals, instruments, or using MIDI -- like DJs and remix artists, home recording studios and musicians, video and multimedia producers, podcast and streaming media creators, educators, trainers, and presenters.
Version 7 adds features including MIDI recording and editing, more music loops and instruments, multiple events per track, freehand envelope drawing, and multicore processor and Windows Vista support.
To help you get started, the Sony Studio products also include interactive Show Me How tutorials to help step though learning new tasks.
Sony ACID Music Studio 7 is available for Windows for $59 (download) or $69 (packaged product).
Mix
But even if you're just getting started with music, you can use Music Studio to get creative with music, especially to create backgrounds for your own video productions. Experiment with creating your own original mixes with the more than 3,000 professionally recorded loops.
Loop
Lay out looped samples to start with a beat, then use the multi-track mixer to add on layers with different instruments. Or begin with some of the pre-built projects, to deconstruct how they are built and then explore your own variations.
MIDI
Music Studio version 7 now also supports MIDI editing, so again you can start by experimenting with simple MIDI tunes such as ring tones on your mobile phone or alarms on your PDA. Have fun combining and trimming segments, and editing individual notes. Then check out the included 1,000 MIDI files in a variety of genres.
More
Of course there's a lot more: Import music from CDs and MP3s, record or capture vocals and instruments. Mix multiple tracks, set pan and volume envelopes, reverse audio, and change pitch and tempo in real time. Enhance with built-in effects such as EQ, reverb, delay, and echo. Then share your compositions, burn CDs, upload to the Web, prepare audio for podcasts, or export to MP3 players.
---
While Sony ACID Music Studio is focused on music creation and multi-track mixing, Sony Sound Forge Audio Studio 9 is focused on the end-to-end audio editing -- recording, editing / restoration, encoding, and mastering (www.sonycreativesoftware.com/productinfo.asp?product=audiostudio).
Version 9 adds high-fidelity 24-bit / 96kHz audio support, the Vinyl Recording and Restoration Tool, the Vocal Eraser plug-in by iZotope, Gracenote CD album identification, and Windows Vista support.
Sony Sound Forge Audio Studio 9 is available for Windows for $59 (download) or $69 (packaged product).

Sony Sound Forge Audio Studio 9
Effects
Again, you don't have to be an expert to get started working with audio clips. Sony provides a 1001 Sound FX library of fun sound effects that you can use for your productions -- people and animals, cars and planes, home and office, liquid and metal, arcade and sci-fi, comical and explosions. Just import them into Audio Studio and have fun manipulating them, with effects including amplitude modulation, distortion, and pitch bend.
Edit and effects
Edit / Enhance
Or import your own recordings, or audio tracks from video shoots, to clean up and enhance the sound. Edit recordings to balance sound levels, trim unwanted sections, or synchronize audio with video. Customize with built-in effects such as EQ, delay, reverb, and chorus. Restore old and damaged vinyl and cassette recordings, or remove vocals.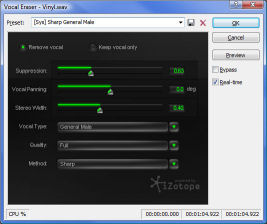 Vocal Eraser
Import & Share
You also can import music from CDs and MP3s, record live performances, and capture audio from vinyl or cassettes. Then share your work, burn CDs, export audio to MP3 players, or upload songs to the Web. Save audio and video in popular formats including MP3, WAV, WMV, and QuickTime -- encode for web streaming or portable music players.
Burn track
[ Top ]
Portions originally published in Camcorder & Computer Video magazine, 24, 2, April 2008.