Manifest Technology Blog -- Site: | Articles | Galleries | Resources | DVI Tech | About | Site Map |
Articles: | PC Video | Web Media | DVD & CD | Portable Media | Digital Imaging | Wireless Media | Home Media | Tech & Society |
PC Video: | PC Video Articles | Video Software Gallery | Video Editing Resources |

---
Summary: Roxio Easy Media Creator 10 (11/2007)
Enhancements and Visual Tour
by Douglas Dixon
New Features Summary
Features and Enhancements
Visual Tour - Interface and Functions

See also the Nero 8 suite: Summary: Nero 8 Ultra Edition
A summary of the new Roxio Easy Media Creator 10 --
Key new features and enhancements, plus a visual tour of the interface and applications.
Roxio (the consumer brand of Sonic Solutions) regards Easy Media Creator 10 as a substantial upgrade its flagship suite of digital media applications, with the focus to "enable consumers to quickly and easily turn their photos, video and music into impressive multi-media projects that can be shared on CD, DVD, the Web, or a range of mobile devices." The idea is that it "provides all of the tools users need to express their digital lives."
Roxio also has released three lower-cost products with subsets of the applications and utilities in Easy Media Creator 10:
Easy DVD Copy 4 Premier, Roxio MyDVD 10 Premier, and RecordNow Music Lab 10 / Premier.
See Roxio Media Products for Discs, DVD, and Music
The roots of the Easy Media Creator suite are still visible with Creator Classic for disc burning, plus the core media editing applications, Photo Suite, VideoWave, and MyDVD. EMC is particularly strong in these core applications, with clean looks and functions, good integration and consistency between applications, and strong help and on-line information. Also visit the Roxio MyMoments website for examples of how users can "make the most of their digital lives," with buying tips, step-by-step guides, and project examples (www.roxio.com/enu/solutions/mymoments).
See earlier article on Desktop Digital Media Trends 2007 -- with Roxio Easy Media Creator 9
Find related Sonic / Roxio articles in the Manifest Tech Blog

Find Roxio Easy Media Creator 10 on Amazon.com
---
Key new features and enhancements in Roxio Easy Media Creator 10.
3 step wizard to auto-edit a movie. Upload to YouTube in one click or burn to DVD
Capture and edit HD video and add surround sound playback
Record internet radio, batch convert files, backup your iPod
Enhance photos and video taken on mobile devices, use in projects with your other media
Certified for Windows Vista, and fully supports Windows XP

EMC 10 Suite - Control Panel - Help and online Resources
Mobile Media Companion
Optimize mobile enjoyment of personal digital media content
New - Media Manager synchronizes media between desktop and portable devices
such as Apple iPod, BlackBerry, Sony PSP
New - Mobile Phone Doctor corrects common photo problems from cell phone cameras
Mobile PhotoFit optimizes digital photos for mobile device displays.
New - Copy audio, movies or TV shows from iPod to PC
New - Windows Vista desktop gadget - Convert audio and video to popular mobile formats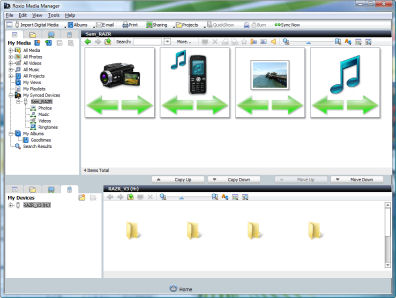 Sync Portable Devices
Audio Mixing and Sharing
New - Batch Audio Converter automatically convert popular audio file types
New - Multi-CD Ripper copy CD collection in parallel from multiple optical drives
New - Capture Internet radio or any PC audio directly from your Windows Vista desktop
Improved - AutoMix dynamically generates playlist for CD, DVD, mobile player
Sound Editor now supports VST plug-ins for expanded audio effects and mixing
DVD Music Album, create 50-hour music DVDs with on-screen navigation
Video Editing and Publishing
3 step wizard lets you auto-edit your movie
32-track timeline, batch video-segment removal, timeline markers
Automatic tools for correcting color or removing background noise
VideoWave timeline now supports up to 32 overlay, audio and text effect tracks
New - SmartSound soundtrack for movies and slideshows
automatically create sound track from selected music, adjust to fit length of production
New - Upload finished project to YouTube with one click
New - menu styles, menu navigation capabilities, and a "Fit-to-Disc" auto encoding
New - CinePlayer playback of Dolby Digital EX 6.1 surround, Pro Logic, Dolby Headphone
Burn and Copy - Data Protection
New - Automatically catalogs CD / DVD discs and contents, even when discs not in drive
Wide range of backup devices and media
New - Burn to single and dual-layer Blu-ray Disc and HD DVD
Archive non-protected iPod music and video files to any PC
Protect only files changed since last known backup
Automatically prompt to archive data when external Hard Drive is connected
Windows Vista
Stunning new Aero user interface
Gadgets for Windows Vista, capture internet and PC audio streams
Convert media files for playback on popular mobile devices, iPhone or Microsoft Zune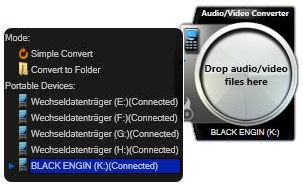 Vista A/V Converter Gadget
---
A visual tour of Roxio Easy Media Creator 10 interface elements and associated features.
The full EMC suite includes 12 major applications plus 18 additional utilities (mostly mini-assistants designed for specific focused tasks).
These are listed below, grouped by major category (as in the Roxio Central control panel). Utilities are indented and prefixed by a dash.
Control Panel / Launcher
While you can launch the applications individually from the Start menu, it's easier to start with the Roxio Central control panel to choose the task that you want to perform. Some tasks like Copy Disc are built in; otherwise, the control panel will launch the appropriate application to perform the selected task.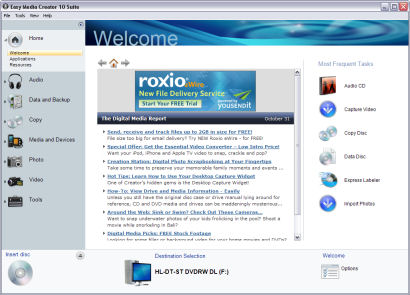 Easy Media Creator 10 Suite Roxio Central control panel
Media and Devices
Easy Media Creator centralizes the handling of all three digital media types (audio, images, video) into common applications for media organization and playback plus media import. You can then edit, enhance, convert, and share media files using the media-specific tools.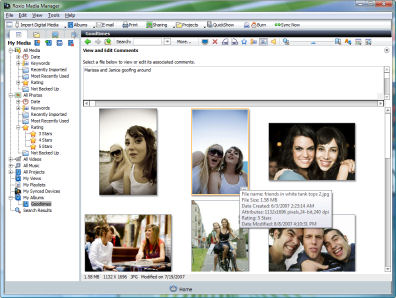 Media Manager
Media Manager Organize and view media files, smart views & albums
CinePlayer DVD/VCD playback
- Media Import Record and copy images, audio, video, DVD titles
Audio
The central audio tool in EMC is Sound Editor, to record audio, apply effects, enhance, and convert formats (now with VST plug-ins). But the suite's real focus is working with music to create music discs, with Music Disc Creator to import tracks, clean and edit, add song information, and then export or burn music compilations -- plus assistants for focused tasks.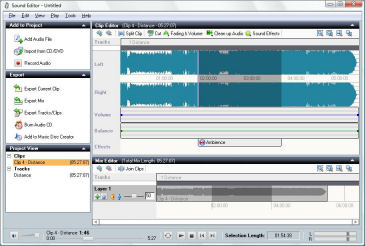 Sound Editor
Sound Editor Record, apply effects, enhance, convert audio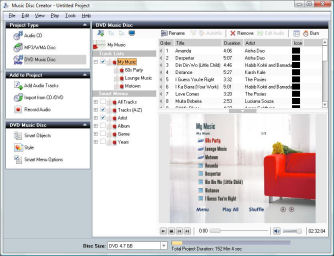 Music Disc Creator
Music Disc Creator Import, clean/edit, add info, export / burn music compilations
- AutoMix Automatically create track lists with similar music
- DVD Music Assistant Music on DVD Video, with menus and track lists, 25 hrs/1 layer
- Audio Converter Convert formats, rename based on tags, transfer to portable devices
- Audio Tag Editor Update audio tags, manually, or online music database
LP and Tape Assistant
- Easy Audio Capture assistant
- Multiple Audio CD Importer assistant - Rip audio CD to portable device
- LP and Tape Assistant Convert LPs and tapes - Record, Identify & Enhance, Output
- Rip Multiple CDs Import and transfer digital audio in parallel from multiple optical drives
Photo
Working with photos in EMC starts with Photo Suite to repair, enhance, and share digital photos. Or use Multi Photo Enhance to edit a group of photos at once (resize, rotate, adjust, effects, convert).
Photo Suite Repair, enhance, share digital photos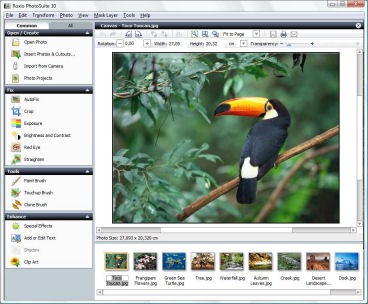 Photo Suite
- [Media Import] (common media capture / import)
- Multi Photo Enhance Edit batch of photos: resize, rotate, adjust, effects, convert
- Create Panoramas Combine multiple overlapping photos
- Photo Email Assistant Email individual photos or slideshows
- Photo Projects Assistant Create personalized calendars, greeting cards, and more
- Slideshow Assistant Create photo slide show with audio and transitions.
Optionally send to VideoWave or MyDVD Express.
Video / DVD
Use VideoWave for extensive video editing, or use CineMagic to automatically generate a polished movie from video clips and photos. For more focused tasks, use Video Copy & Convert to copy entire DVDs, or to create video compilations to files, disc, and portable devices.
VideoWave
VideoWave Create video productions with video, photos, music
Video Copy & Convert Copy entire DVD, or create compilation to files, disc, portable devices
- CineMagic Make auto movie from video clips and photos
- [Media Import] (common media capture / import)
MyDVD
MyDVD Create DVD/[S]VCD projects
- MyDVD Express Easily burn movies or slideshows to disc - menu style, background
- Plug and Burn Capture from DV tape direct to DVD disc
Copy
Basic disc copying is built in directly to the Roxio Central control panel .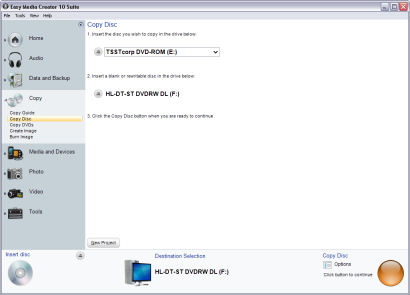 Copy [built-in] Copy Disc, DVD movies, Create Disc Image, Burn Disc Image to Disc
Data and Backup
For disc burning and archiving, start with Creator Classic for archiving files to CD and DVD, plus spanning large projects across multiple discs. Then use Retrieve to browse and extract files from these archives, especially when split across multi-disc archives or encrypted. Use BackOnTrack for scheduled backups of selected files.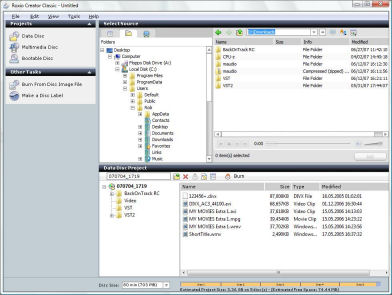 Creator Classic
Creator Classic Archive to CD, DVD, multiple discs
BackOnTrack Scheduled Backup selected files: location, date, type,
- Retrieve Retrieve files from Creator Classic backups, multi-disc, encrypted
Tools
EMC also includes additional disc and labeling tools.
Disc Tools
- Disc Image Loader Create and load emulated disc drives
Label Creator Make disc labels, inserts, sleeves, case covers
- Express Labeler Labels, booklets, cases, insets, sleeves, etc.
Tools [built-in] Disc Information, Erase Disc, Finalize Disc, Load Disc Image,
Disc Gallery (Index files, folders, audio on discs)